Eggplant is a delicate but versatile vegetable when done right the taste of the eggplant dishes will be unforgettable and irreplaceable. Eggplant dishes are especially in abundance in Turkish cuisine. This one we are showing you today is a modern twist on this tasty ingredient with Refika's touch. If you want a tasty easy but different version of an eggplant dish to wow your dinner guests you should try this one! Afiyet Olsun!
Eggplant season has started in Turkey. I can easily say that eggplant is one of the indispensable ingredients of Turkish cuisine. It is an amazing vegetable and can sometimes be a great rescuer, especially for vegetarians. Therefore, we would like to give you a delicious recipe that you can eat either as a main dish or as a meze.
Follow along with the ???? recipes below????????????????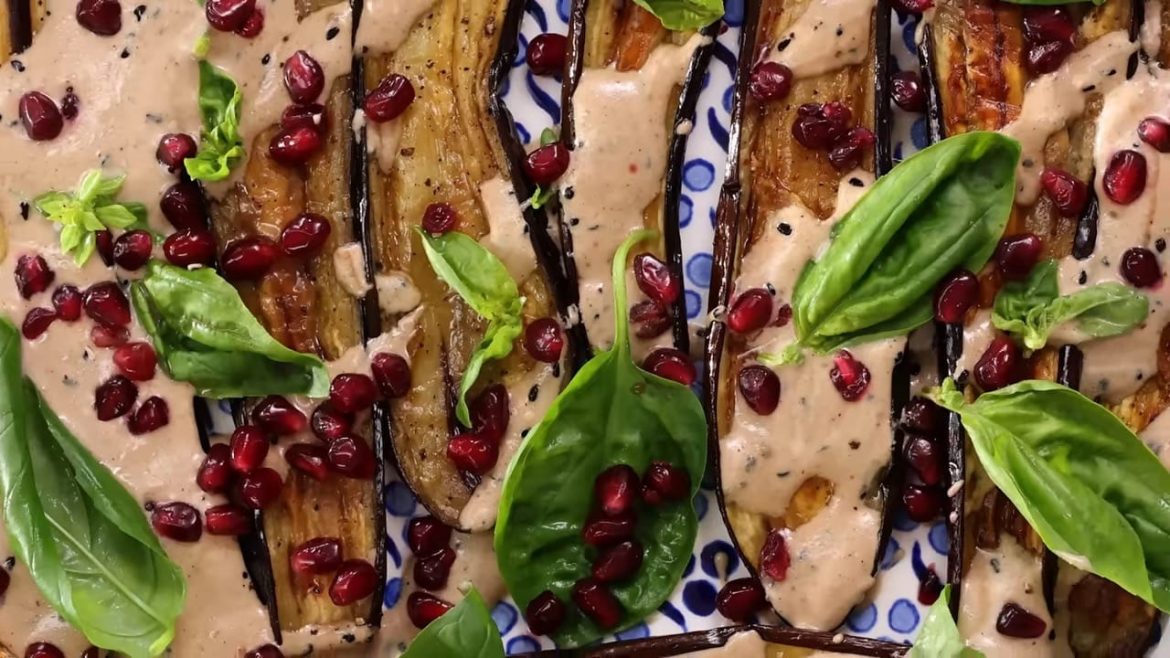 Ingredients
4 eggplants, peeled and sliced lengthwise (2 cm)
1 teaspoon salt
4 tablespoons olive oil
5 tablespoons yogurt
1 clove of garlic, pureed
1 heaped tablespoon nigella seeds
1 teaspoon salt
Half teaspoon black pepper
3 tablespoons olive oil
3 tablespoons pomegranate sour, you can use honey and soy sauce as well
Basil leaves
Pomegranate
Lemon
Instructions
Preheat the oven on upper heat to 190 C (374F).
Line an oven tray with baking paper or lightly grease.
Place the eggplant onto the tray and rub each piece with olive oil and season with salt.
Roast the eggplants in the preheated oven until softened and golden brown, 25 to 30 minutes. After 25 to 30 minutes turn their other side and roast for 10 minutes more.
Meanwhile, to make the yogurt sauce, mix the yogurt, garlic, nigella seeds, salt, black pepper, olive oil, and pomegranate sour.
Place the eggplants on the plate and add the yogurt mixture.
Sprinkle with fresh basil leaves, and pomegranate seeds, and drizzle some lemon juice.
Did You Make This Recipe?
---
Enjoy
Let us know what you think of today's Eggplant tips, tricks, and hacks!