CHOCOLATE PASTA is on the menu in Book recipe, and we are going to teach you how to make this delicious recipe from scratch!
Pasta for dessert? When it's chocolate pasta, most definitely! These white chocolate and hazelnut-filled pasta are shaped like bonbons, and the crema Inglese resembles an alfredo sauce. A little grating of white chocolate on top melts onto the pasta like cheese does with the savory version.
Follow along with the 📝 recipes below👇🏾👇🏾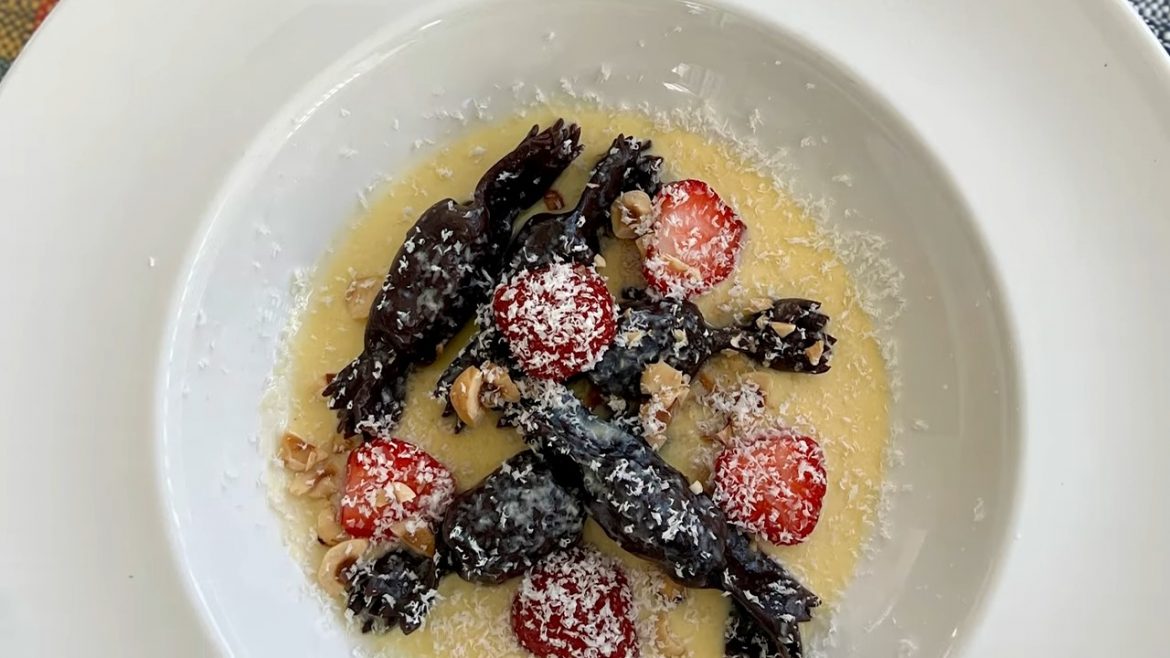 Ingredients
Pasta:
1 ¾ cups (260 g) "00" or all-purpose flour
1/3 cup (40 g) cocoa powder
2 Tbsp icing sugar
¼ tsp fine salt
3 large eggs
1 Tbsp vegetable oil
Filling:
1 cup (135 g) whole hazelnuts, toasted & peeled
4 oz (120 g) white baking (couverture) chocolate, chopped
3 Tbsp simple syrup
2 Tbsp vegetable oil
Crema Inglese and assembly:
1 ½ cups (375 mL) half-&-half cream (10%)
4 large egg yolks
6 Tbsp (75 g) granulated sugar
2 tsp vanilla extract or vanilla bean paste
Butter, for tossing the pasta
Chopped toasted hazelnuts and quartered strawberries, for garnish
Block white or dark chocolate, for shavings
Instructions
For the pasta, measure the flour, cocoa powder, icing sugar and salt onto a large cutting board or work area. Make a well in the centre of the flour, break in the eggs and add the oil.
Using a fork, whisk the eggs and as you gently whisk, start pulling a little flour in as you mix, making a paste. Once this paste becomes too thick to mix with a fork, switch to your hands, using a scraper to help gather everything up into a crumbly dough. As you continue to blend and then knead, the dough will come together, but it will be dense. Knead the dough for about 5 minutes, until elastic. Divide the dough into 3 pieces, wrap and let rest for an hour, or chill for up to a day.
To make the filling, pulse the hazelnuts with the white chocolate, simple syrup and oil until it forms a thick paste – it may seem crumbly, but it should be able to be pressed together with your fingers. Set aside, or chill if assembling later, but bring back to room temperature before using.
For the crema inglese, heat the cream over medium until just below a simmer. Whisk the egg yolks, sugar and vanilla together in a small bowl and have another bowl with a strainer on top ready.
Slowly pour the hot cream into the eggs while whisking them constantly until at least half of the cream has been added and then return the entire mixture to the pot. Switch to a spatula or wooden spoon and cook the crema over medium heat while stirring, until it coats the back of the spoon when lifted for about 3 minutes. Pour the crema through the strainer into the bowl, cool to room temperature and then chill until ready to assemble the dessert.
To make the "caramel", dust each piece of pasta dough well with flour and use a rolling pin to flatten it so that it can fit through a pasta roller. Roll out the pasta into long sheets using a pasta roller, following manufacturer instructions, until the pasta is rolled to the second thinnest setting. You will have to sprinkle the pasta with flour during the early rolling stages, but it will not need it after the first few rolls. Place the pasta sheets onto a parchment-lined baking tray.
Lay one sheet of pasta onto a clean work surface. Use a fluted pastry wheel or pasta cutting wheel and run down the length of the pasta sheet, creating a strip that is 3-inches (8 cm) across. Use a straight-sided pastry wheel or a paring knife to cut the strip pieces that are 2 ½-inches (6.5 cm) across.
Place a generous teaspoonful of the filling in the centre of each pasta portion. Roll up the pasta portion from the straight side to encase the filling, and pinch the pasta together close to the filling, making it look like a paper-wrapped candy (caramel!). Place this on a parchment-lined plate or baking tray and continue until all the filling has been used. Any leftover pasta trimmings can be gathered up and re-rolled or chilled or frozen for later use. Chill the filled caramel loosely covered until ready to cook.
To cook and serve the caramel, gently heat the crema inglese over low heat and hold warm, stirring occasionally. Bring a pot of lightly salted water up to a rolling boil on high heat. Drop in the caramel and cook for about 3 minutes, until they float to the surface. Drain the pasta well.
Return the pot to heat and add the butter over low heat. Add back the drained pasta and gently stir to coat with butter.
To plate, spoon a little warm crema inglese in the bottom of each pasta bowl. Arrange the caramel (4 to 6 pieces) in the centre of the plate. Top with a sprinkling of chopped, toasted hazelnuts and strawberries. Use a vegetable peeler to create shavings of white or dark chocolate and let them fall on the pasta like grated cheese. Serve immediately.
Did You Make This Recipe?
---
Bon Appétit
Let us know what you think of today's CHOCOLATE PASTA tips, tricks, and hacks!