1.5K
Stuffed zucchini blossoms are on the menu in Book Recipe, and we are going to teach you how to make this delicious recipe from scratch!
My trip to Milan inspired today's delicious appetizer: stuffed zucchini blossoms on a fava bean purée! Such an elegant, plated dish to start a fine dinner at home doesn't have to be complicated or time-consuming.
Beautiful zucchini blossoms, stuffed with a ricotta filling and then battered and fried sit atop a fava bean purée. Together, they make an impressive plate that is delicate and complex tasting but is relatively simple to make!
Follow along with the ???? recipes below????????????????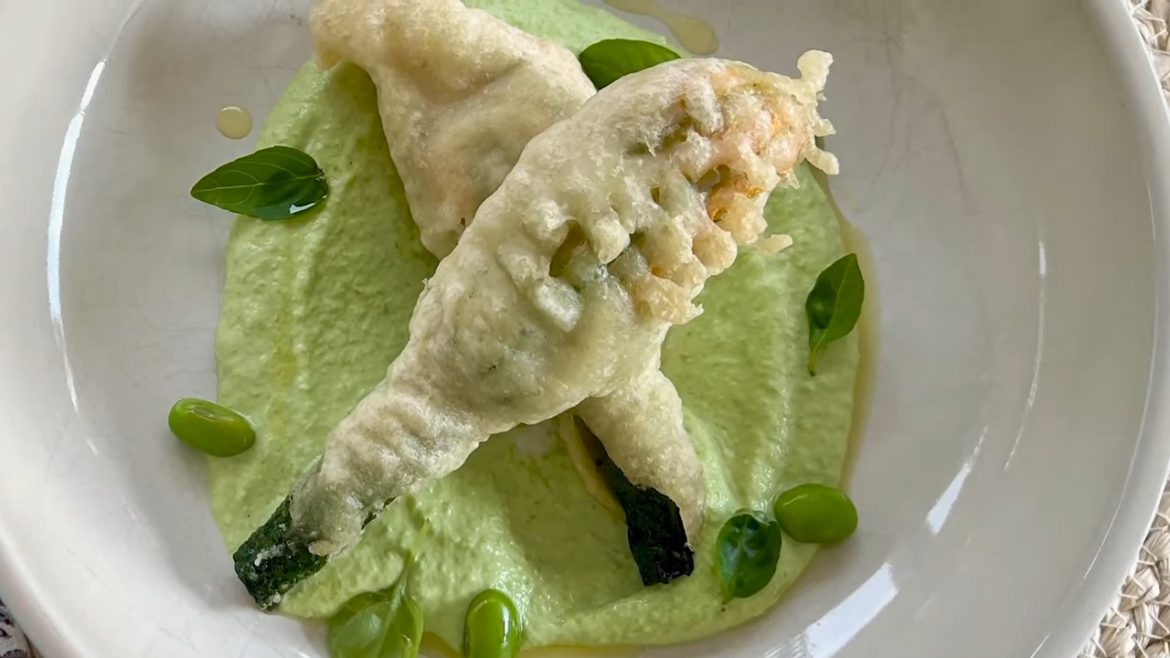 Rating: 5.0/5 ( 1 voted )

Serves: 8 Prep Time: Cooking Time: Nutrition facts: 200 calories 20 grams fat
Ingredients
Fava Bean Purée:
2 cups (300 g) blanched fresh fava beans, garden peas, or shelled edamame
6 Tbsp (90 mL) extra virgin olive oil
1 clove fresh garlic
¾ - 1 cup (175-250 mL) cool water
Salt & pepper
Zucchini blossoms:
1 cup (250 g) creamy ricotta cheese
3 Tbsp (45 mL) grated Parmesan cheese
3 Tbsp (45 mL) chopped fresh basil
1 clove fresh garlic, minced
1 tsp finely grated lemon zest
Salt & pepper
16 fresh zucchini blossoms
Vegetable oil, for frying
Instructions
For the fava bean purée, place the beans (or peas or edamame), olive oil, and garlic into the bowl of a blender. Start the blender and slowly pour in the water until the purée becomes smooth (thinner than a dip, but thicker than a dressing). Season to taste and chill until ready to serve.
For zucchini blossoms, stir the ricotta with the Parmesan, basil, garlic, and lemon zest and season to taste. Fill a piping bag fitted with a large, plain tip with cheese mixture. Gently wash then dry zucchini blossoms on a paper towel. To fill, gently open the flower at the top, trying not to tear the petals open (you can gently remove the stamen if you wish), and pipe in filling. Chill until ready to cook.
Heat the oil in a deep pot (or tabletop fryer) to 375°F (190°C). Make batter. Whisk all ingredients together immediately before using. Sprinkle the filled flowers lightly with flour and dip in batter. Gently set the blossoms in hot oil (you will need to do this in batches), using a slotted spoon, and fry for 2 –3 minutes until golden brown, turning once. Remove onto a paper towel to drain.
Notes
To serve, spoon a little of the fava bean purée onto each plate and arrange 2 zucchini flowers on top. Serve immediately.

Did You Make This Recipe?
Recipe video
Thank you for watching~♥
---
Enjoy
---