Maritozzi are on the menu in Book recipe, and we are going to teach you how to make this delicious recipe from scratch!
Recipe below! Believe it or not, one of my favorite treats on my trip to Milan, Italy was from a food hall in the train station: a delicious pastry filled with strawberry cream! I loved it so much, I wanted to make my own version back home, with a twist – and now, you can too!
A traditional Italian Maritozzo (plural: Maritozzi) is a soft brioche bun filled with a cream filling. This version is stuffed with homemade strawberry ice cream, making it a delicious and decadent ice cream sandwich.
Follow along with the ???? recipes below????????????????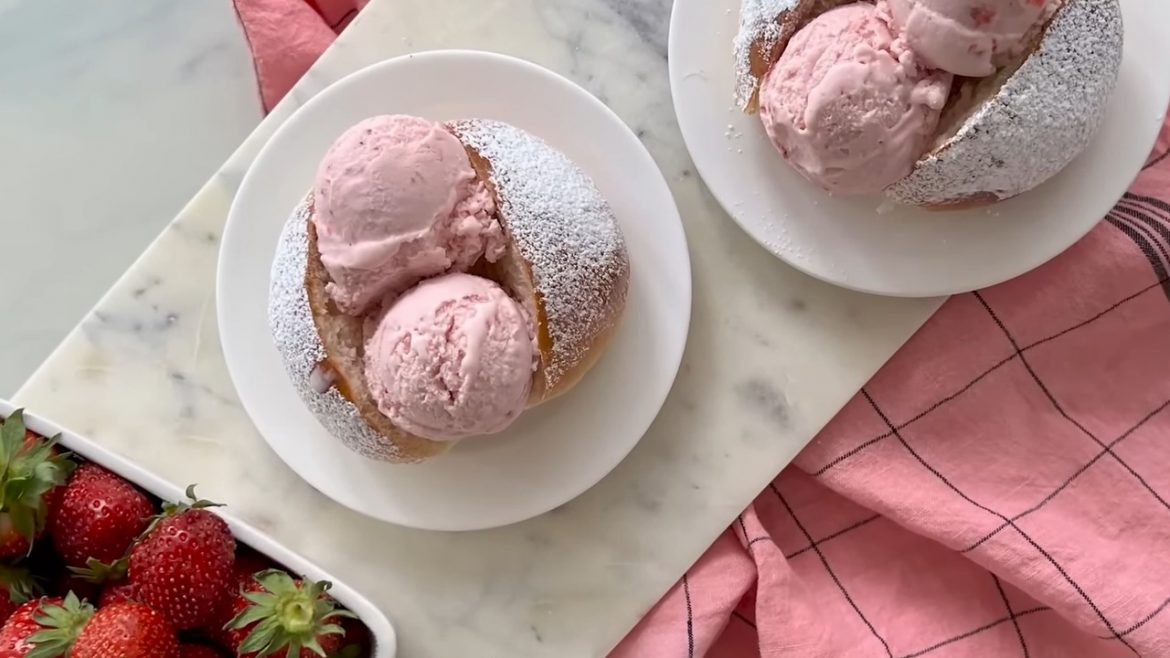 Ingredients
Strawberries & Cream Ice Cream:
1 ½ cups (375 mL) whipping cream
¾ cup (175 mL) of 2% milk
½ cup (100 g) + 2 Tbsp (25 g) granulated sugar
1 ½ Tbsp instant skim milk powder
1 Tbsp vanilla extract or vanilla bean paste
Pinch of ground cinnamon
1 ½ cups (340 g) hulled strawberries
Brioche:
¾ cup (175 mL) of 2% milk
2 ¼ tsp (7 g) instant or regular dried yeast
3 cups (450 g) all-purpose flour
¼ cup (50 g) granulated sugar
¾ tsp of fine salt
1 large egg
1 large egg yolk
¼ cup (60 mL) vegetable oil
2 Tbsp (38 g) liquid honey
1 tsp vanilla extract
1 tsp finely grated lemon zest
Eggwash, for brushing
Icing sugar, for dusting
Instructions
For the ice cream, whisk the cream, milk, ½ cup (100 g) of sugar, skim milk powder, vanilla and cinnamon together. Let this mixture sit for 10 to 15 minutes, whisking occasionally, to give the sugar time to dissolve. Chill until ready to churn.
Mash the fruit and remaining 2 Tbsp (25 g) of sugar with a potato masher until the berries are in small pieces. Chill until ready to churn.
Pour the cream base into an ice cream maker and follow the manufacturer's instructions. Once the ice cream is half frozen, add the fruit while the machine is churning and let it continue to churn until frozen.
Transfer the ice cream to a freezer-safe container, cover, and freeze for at least 2 hours, or until more firmly set.
For the brioche, heat the milk to just above body temperature and then stir in the yeast and set aside for 2-3 minutes.
Place the flour, sugar, and salt into the bowl of a stand mixer fitted with the hook attachment. Add the milk along with the egg, egg yolk, oil, honey, vanilla, and lemon zest. Mix this on low speed to combine and then increase the speed by one level and continue to need until the dough becomes elastic about 5 minutes. Transfer the dough to an ungreased bowl, cover the bowl and let the dough rise on the counter for 90 minutes, until increased in size by 50%.
Turn the dough out onto a lightly floured surface and divide it into eight pieces. Shape each piece into a ball by rolling it under the palm of your hand and place each, well-spaced, on a parchment-lined baking tray. Cover the tray with a tea towel and allow it to rise for 30 minutes.
Preheat the oven to 350°F (180°C). Uncover the buns and brush them with the eggwash. Bake the buns for 20 to 25 minutes until they are a rich golden brown color. Cool the buns on a rack before filling.
To assemble the Maritozzi, slice a bun from the top through the center of the bun but not cutting all of the ways through. Dust the Maritozzi with icing sugar and place 2 scoops of strawberry ice cream into the brioche bun and serve immediately.
Did You Make This Recipe?
---
Bon Appétit
Let us know what you think of today's Maritozzi tips, tricks, and hacks!