WARM Chicken Stew is on the menu in Book recipe, and we are going to teach you how to make this delicious recipe from scratch!
We're making a unique Lebanese dish Moghrabieh, which features GIANT couscous, in a warmly spiced chicken stew. It's fantastic for cold evenings and is packed with loads of delicious flavors.
Follow along with the ???? recipes below????????????????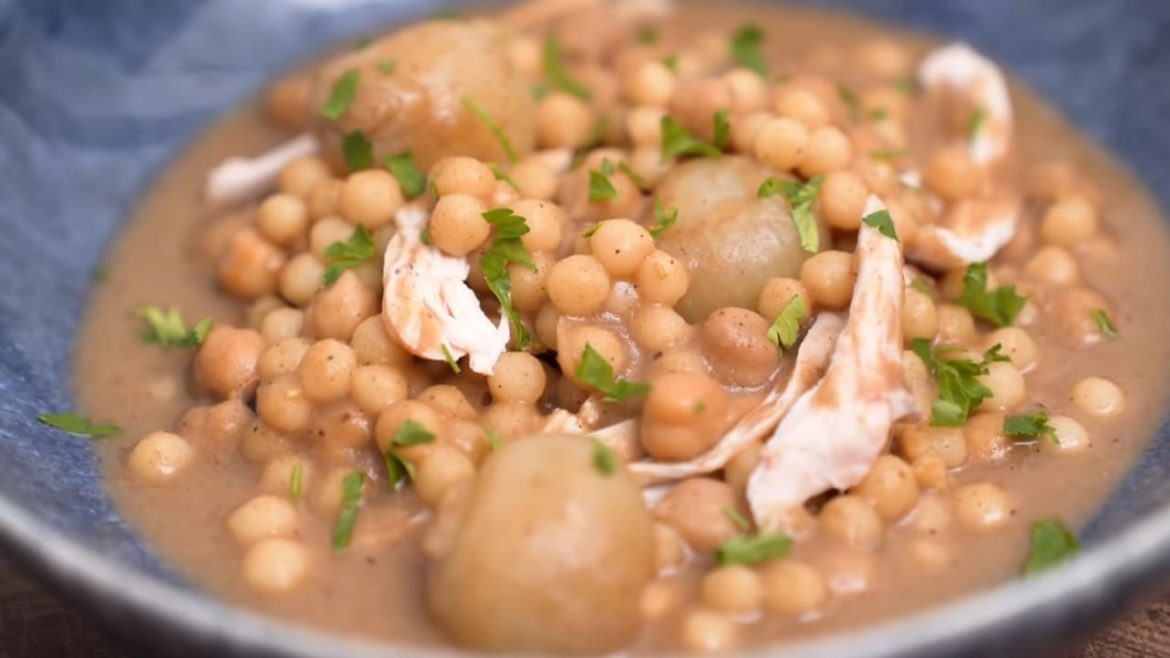 Ingredients
Chicken Stock:
1 small chicken (1kg)
2 medium onions
4 garlic cloves
3 bay leaves
10 cardamom pods
1 cinnamon stick
1 tsp black peppercorns
1 Tbsp salt
Moghrabieh
750g baby onions
500g Chickpeas Drained (2 cans)
400g Moghrabieh / Giant Couscous
2-3 Tbsp Butter
2 Tbsp oil
1.5 Tbsp Caraway
1/2 Tsp cinnamon
1/2 Tsp Baharat
1/2 Tsp Cumin
1/2 Tsp Black pepper
1/4 Tsp cloves
Instructions
To make the stock:
Add your whole chicken to a stockpot without cutting it, and pour over enough water to completely submerge
Turn the heat to high and bring the pot to a boil
Once it boils, there should be a layer of floating scum on the surface, continuously remove this with a spoon or ladle until no more remains
Add the rest of the ingredients, then turn the heat down to medium. Allow simmering for 45 minutes
When the time is up, remove the chicken. Filter the stock by pouring it through a strainer
Shred the chicken into large chunks, discarding the bones and skin
To make the Moghrabieh:
Peel your baby onions then add them to a pan with the oil
Saute over medium heat for around 10 minutes, until they have browned all over and partially softened
In a pot add the butter, then pour in the maghrabieh and toast for 3-4 minutes
Add the spices, then mix well with the maghrabieh. Pour in 2 liters of the chicken stock and turn the heat up to high
Bring to a boil, then turn the heat to medium and cover with a lid. Cook for 10-15 minutes, stirring every minute, so that pasta doesn't stick
Once the pasta has cooked, drain your chickpeas, and add them to the pot with the onions
Cook this for a few more minutes until the stock has thickened slightly and has a velvety texture
Ladle into a bowl, then add on chunks of the shredded chicken and serve
Did You Make This Recipe?
---
Enjoy
Let us know what you think of today's WARM Chicken Stew tips, tricks, and hacks!