Fried Qatayef is on the menu in Book recipe, and we are going to teach you how to make this delicious recipe from scratch!
Today we're going to be making Qatayef. Middle Eastern pancakes that are stuffed with cream or nuts, then fried. They make for a wonderful treat and are classic Ramadan food. It's super easy to customize these and make your own personalized qatayef.
Follow along with the ???? recipes below????????????????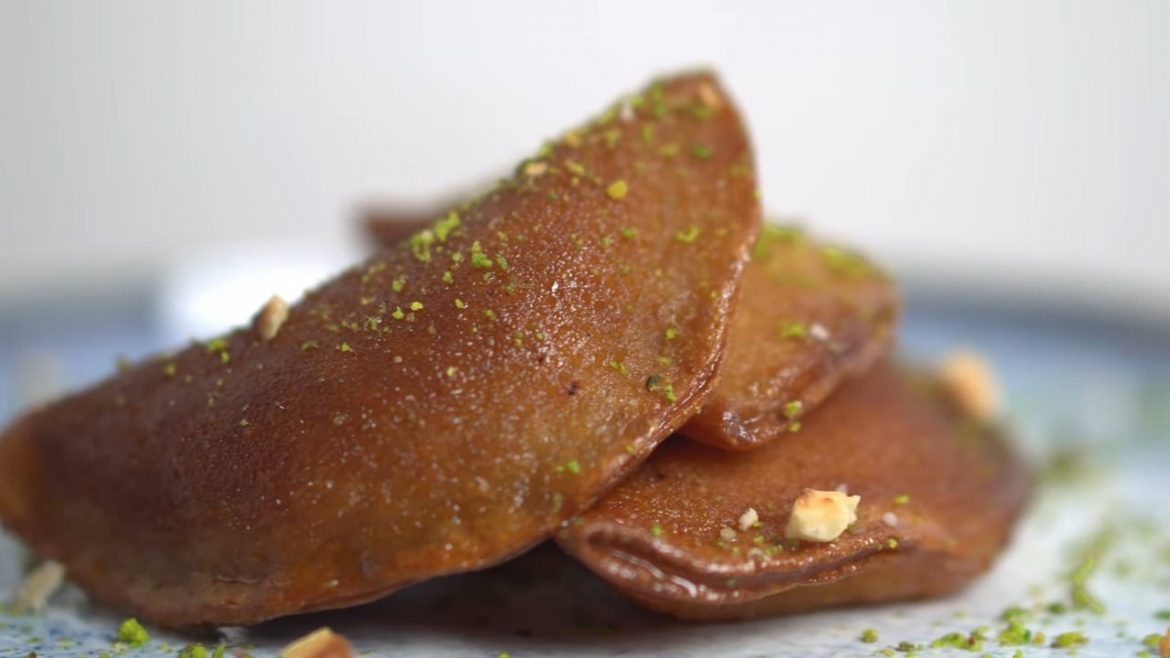 Ingredients
Qatayef Batter Ingredients (makes 36):
200g (7oz) All-Purpose flour
60g (2.1oz) fine semolina
1 Tbsp Powdered Milk
1 1/2 Tbsp sugar
1/2 Tsp Instant yeast
1/2 Tsp Baking Powder
1/2 Tsp Baking soda
475ml (16fl oz) warm water
Fruit and nut filling (makes 18)
150g (5.25 oz) peeled hazelnuts
50g (1.75 oz) Sultanas or raisins
1 Tbsp desiccated coconut
2 Tbsp Sugar
2 Tbsp Butter
1/2 Tsp cinnamon
Syrup - Sharbat (enough for 36):
250g (8.75 oz) Sugar
150ml (5.1 fl oz) Water
1/2 Tbsp Lemon Juice
1 Tsp Vanillin
Ashta (makes 36):
400ml (13.5 fl oz) Heavy Cream
350ml (11.75 fl oz) Whole Milk
30g (4 Tbsp) All-Purpose Flour
35g (4 Tbsp) Corn Starch
8g (2 Tsp) Sugar
Pinch Salt
Instructions
To make the Qatayef:
Add all the ingredients to a food processor, blender, or bowl and whisk together into a smooth and liquid batter
Allow it to rest in a warm area of your kitchen for 10-15 minutes until bubbles form on the surface of the batter
Once a foamy layer appears you can start cooking the batter. Heat a non-stick pan over medium heat
When the pan is hot add a tbsp of batter. The first ones will likely stick. Adjust the heat until you find the right setting that produces many holes on each pancake
Measure the batter using a tablespoon to get a consistent size, and cook the pancakes for about 90 seconds each
Remove them from the pan once the top surface dries up. You should NOT flip the pancakes
Place the pancakes on a plate or tray and overlap them slightly. Keep this covered with a kitchen towel
To make the hazelnut filling:
Take the hazelnuts and place them on a greaseproof paper-lined tray, and roast them in the oven for about 10-15 minutes at 180c or 350f
Once roasted, remove them and allow them to cool for 15 minutes before chopping them into small chunks
Add the chopped hazelnuts to a bowl with the remaining ingredients and mix well
To make the Syrup:
Add the sugar, water, and lemon juice to a pot over high heat and bring to a boil. Don't stir the pot or it can crystalize. If you are using glucose you can add it now
When the syrup boils turn the heat down to low. Swirl the pot if there is any remaining sugar and add any whole spices. Allow the pot to simmer for 15 minutes
When the time is up, you can add liquid flavorings if you are using any. If you do, cook the mixture for 1 minute further
Pour out into a jug or bowl and allow to cool completely
To make the Ashta:
Add the flour, cornflour, salt, and sugar to a bowl/jug, then gently whisk in the milk. Combine them until the mixture is completely smooth and no clumps remain
Whisk the cream into the mixture and once again ensure there are no lumps
Pour the mixture into a pot over medium-high heat and start whisking it continuously
Whisk this together continuously for about 8-10 minutes until it reaches the texture of a thick bechamel
Remove and pour into a bowl or a plastic wrap lined container, place it in the fridge to cool for a few hours
To assemble the Qatayef:
Place a pancake in the palm of your hand and add a tablespoon of filling to it. Fold the pancake in half over the filling, and pinch the two edges together
Go around the entire thing, pinching the whole edge together until it is sealed in a semi-circle shape
Cook immediately or freeze them
To make "Raw" Qatayef
Seal the edges of a pancake, 2/3rds of the way around, leaving an opening for 1/3rd of the pancake
Place your filling in a piping bag, and insert it into the Qatayef. Squeeze the piping bag till the qatayef is stuffed
To cook the Qatayef:
Heat frying oil to 170-180c or 340-360f, then add in 3-4 pieces of qatayef
Let them fry for 2 minutes, then remove them from the oil and drain them
Immediately place them in the syrup and allow them to sit for about 15 seconds before flipping
Turn them over, then place them on a wire rack to drain off excess syrup
Did You Make This Recipe?
---
Enjoy
Let us know what you think of today's Qatayef tips, tricks, and hacks!