Classic Holiday Fruit Cake is on the menu in Chef Anna Olson's amazing kitchen, and she is going to teach you how to make this delicious recipe from scratch!
Follow along with the recipe below!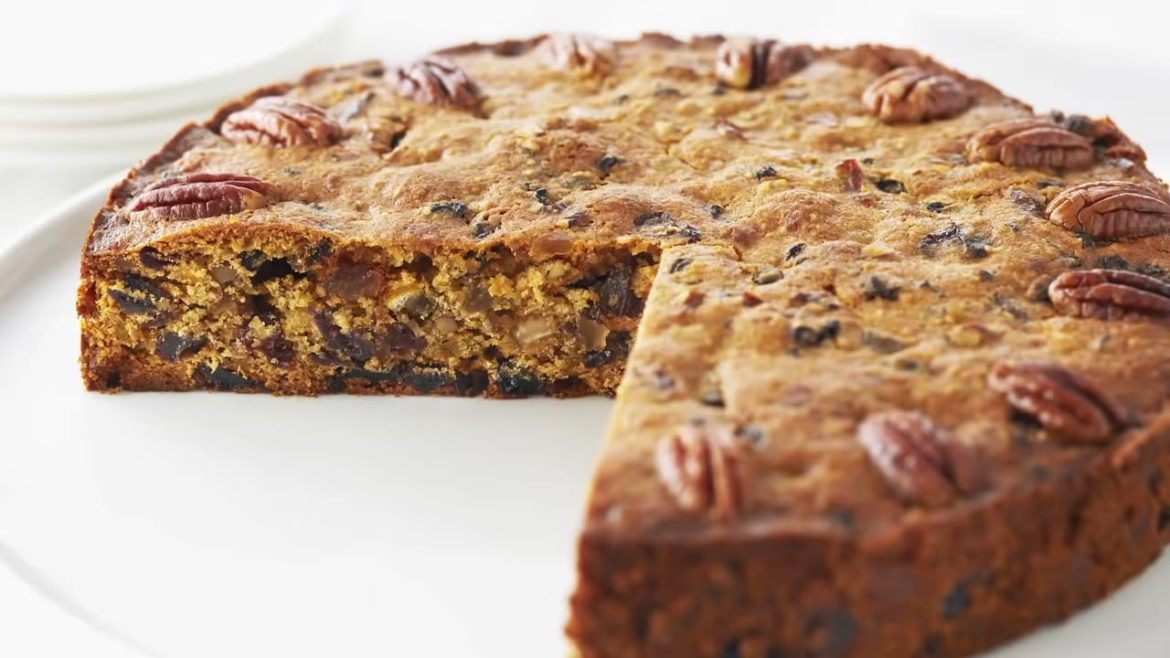 Ingredients
Fruit soak
1 cup (75 g) diced candied orange peel
1 cup (150 g) raisins
1 cup (120 g) dried cranberries
1 cup (125 g) chopped pitted prunes
1 cup (225 g) chopped candied pineapple
½ cup (150 g) dried currants
½ cup (60 g) dried cherries
¼ cup (55 g) finely chopped candied (crystallized) ginger
1 cup (250 ml) sweet sherry or brandy
½ cup (125 ml) orange juice
1 Tbsp (6 g) finely grated orange zest
1 Tbsp (6 g) finely grated lemon zest
1 Tbsp (6 g) finely grated fresh ginger
Cake
1 cup (225 g) unsalted butter, at room temperature
1 cup (200 g) packed dark brown sugar
3 large eggs, at room temperature
¾ (75 g) cup ground almonds
2 cups (300 g) all-purpose flour
1 ½ (5 g) tsp baking powder
¼ (2 g)tsp salt
¼ cup (60 ml) + 1/2 cup (125 ml) sweet sherry or brandy
1 cup (125 g) chopped pecans, plus an additional 1½ cups of whole pecans for garnish (optional)
Instructions
For the fruit soak, toss the candied orange peel and all of the dried and candied fruits together with the sherry (or brandy), orange juice, orange zest, lemon zest and ginger. Cover and chill this mixture at least overnight, up to 3 days, stirring occasionally.
Preheat the oven to 300 F (150 C) and grease 2 9-inch round cake pans.
Beat the butter and brown sugar until well light and fluffy. Add the eggs one at a time, beating well after each addition. Stir in the ground almonds.
In a separate bowl, sift the flour, baking powder and salt and stir this into the batter. Stir in ¼ cup of the sherry or brandy. Fold the chopped pecans into the batter then add the soaked fruits, stirring well to coat the fruit. Spoon this into the prepared pans and spread to level. If you wish, arrange pecans on the top of the cakes in a ring. Bake the cakes for 2 hours and 15 minutes, until a skewer inserted in the centre of the cake comes out clean.
While still hot from the oven, brush the tops of the fruitcakes with some of the remaining ½ cup of sherry or brandy. Brush again one or 2 more times as the cakes cool, then remove the cakes from their pans and wrap well.
Notes
The fruitcakes will keep for up to 8 weeks in a cool place, or can be frozen for up to 6 months.

Did You Make This Recipe?
Recipe video
---
Enjoy