Oatmeal Cake with Coconut Pecan Topping is on the menu in Book recipe, and we are going to teach you how to make this delicious recipe from scratch!
This moist, simple snacking cake has been a favourite of mine for decades. Soaking the oats makes the cake texture fluffy, it's easy to whip up in no time, and it's a great pairing with your regular coffee or tea!
Follow along with the ???? recipes below????????????????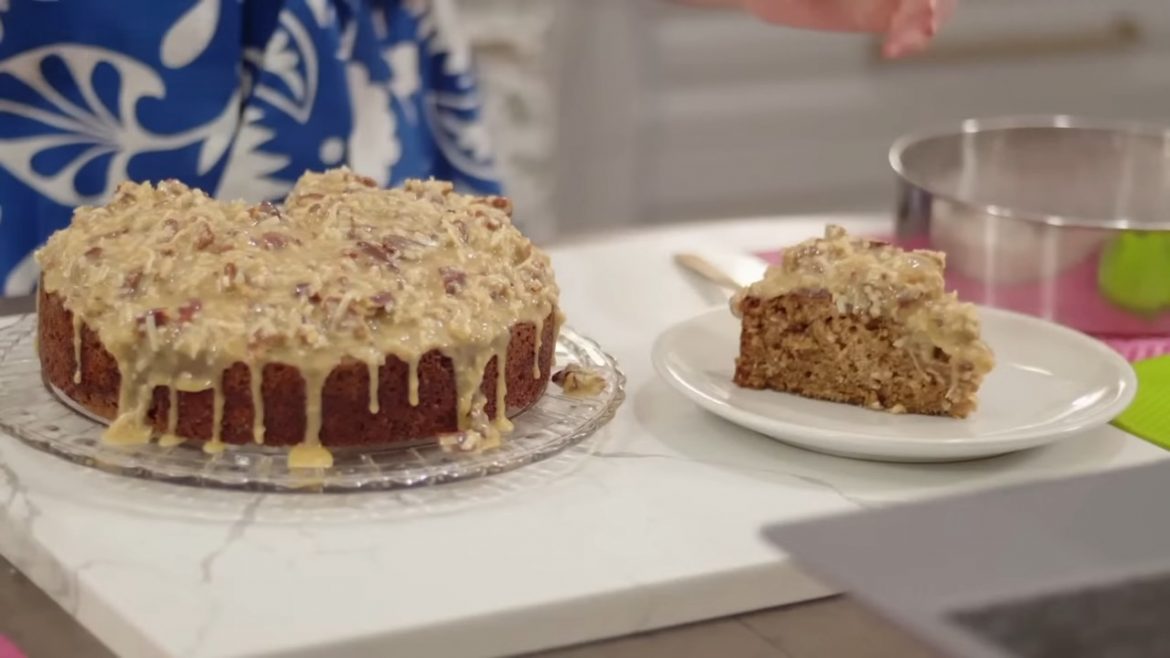 Ingredients
Cake:
1 cup (100 g) regular rolled oats
1¼ cups (310 mL) boiling water
1 cup (200 g) packed light brown sugar
1 cup (200 g) granulated sugar
¼ cup (60 mL) vegetable oil
2 large eggs
1 tsp vanilla extract
1½ cups (225 g) all-purpose flour
1 tsp baking soda
1 tsp baking powder
1 tsp ground cinnamon
½ tsp salt
Pecan-Coconut Topping
½ cup (100 g) packed light brown sugar
2 Tbsp (15 g) cornstarch
½ cup (125 mL) whipping cream
3 Tbsp (45 mL) pure maple syrup
3 large egg yolks
¼ cup (60 g) unsalted butter
1½ cups (150 g) sweetened flaked coconut
1 cup (100 g) toasted chopped pecans (or walnuts)
1 tsp vanilla extract
Pinch of fine salt
Instructions
Preheat the oven to 350°F (180°C). Grease the bottom and sides of a 9-inch (23 cm) round cake or springform pan and line the bottom of the pan with parchment paper.
Measure the oats into a large bowl and pour the boiling water over top. Let sit for about 10 minutes to allow the oats to plump up and the water to cool. Stir in the brown sugar, granulated sugar, oil, eggs and vanilla by hand.
In a separate bowl, sift the flour, baking soda, baking powder, cinnamon and salt and add the dry ingredients all at once to the oats, stirring until evenly blended. Pour the batter into the prepared pan and bake the cake for 45 to 50 minutes, until a tester inserted in the centre comes out clean. Cool the cake on a cooling rack to room temperature.
For the filling, whisk the brown sugar and cornstarch in a medium saucepan to combine. Whisk in the cream, maple syrup and eggs and heat over medium-high, whisking constantly until thickened and the filling just begins to bubble, about 6 minutes. Remove the pot from the heat and whisk in the butter, then stir in the coconut, pecans (or walnuts), vanilla and salt. Scrape the filling into a bowl, cool and then chill completely before using.
Notes
To serve, slice the cake into individual portions. The cake will keep, well wrapped, at room temperature for up to 6 days, or can be frozen for up to 3 months.
Serves 12 to 16 (Makes one 9-inch/23 cm round cake)
Did You Make This Recipe?
---
Enjoy
Let us know what you think of today's Oatmeal Cake with Coconut Pecan Topping tips, tricks,