Chicken caesar salad is on the menu in Book recipe, and we are going to teach you how to make this delicious recipe from scratch!
Caesar salad is in the top five of the most popular salads in the world. Classic caesar is lettuce, croutons, parmesan cheese and original dressing. With time chefs began adding chicken, fish or shrimp into caesar salad. The most popular one is a chicken caesar salad. Our video recipe will help you to cook a genuine chicken caesar salad at home.
Follow along with the ???? recipes below????????????????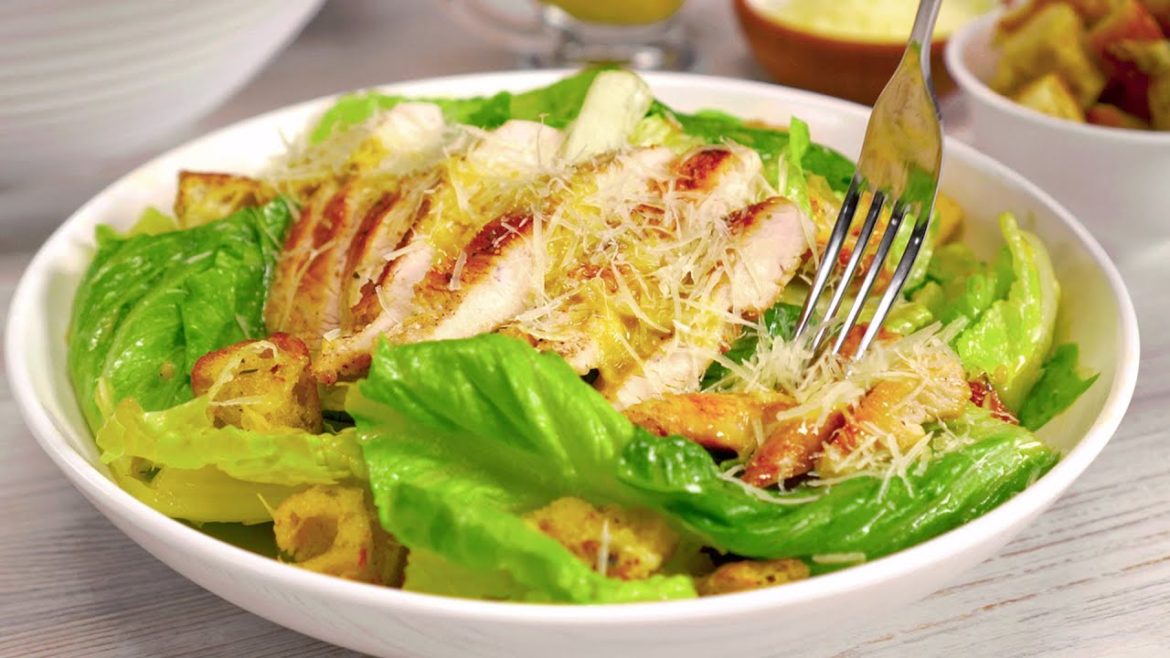 Ingredients
chicken breast fillet – 10 oz /300 g
white bread – 7 oz /200 g
romaine lettuce – 10 oz /300 g
olive oil – 4 tbsp
parmesan cheese – 2 oz /50 g
lemon juice – 2 tbsp
herbs de provence – ½ tsp
ground black pepper – to taste
salt – to taste
Dressing:
2 yolks
dijon mustard – 1 tsp
worcestershire sauce – 2 tbsp
3 anchovies
garlic – 1 clove
parmesan cheese – 1 oz /30 g
lemon juice – 2 tbsp
olive oil – 1/3 cup /80 ml
water – 2 tbsp
You will need:
carving board
salad bowl
bowl
pan
grater
Instructions
Chop up the anchovies and add 1 minced garlic clove, combine until smooth.
Combine and whisk the yolks, dijon mustard and worcestershire sauce in a bowl. Whisking constantly pour in slowly 80 ml of olive oil, the sauce is thickening. Add the anchovy and garlic, lemon juice, water and keep beating, the sauce is becoming lighter. Add 30 g of the grated parmesan and stir, the dressing is ready.
Cut the bread into dices, lay out in the pan heated with 2 tbsp of olive oil, add ½ tsp of herbs de provence, stir and fry until golden crust over low heat, sprinkle with 1 tbsp of grated parmesan, stir and switch the heat off.
Cut the chicken fillet a butterfly-shaped, salt and pepper on each side.
Fry the breast until readiness for 3-4 minutes on each side over low medium heat.
Cut the fried chicken breast across fibers into long strips.
Cut the lettuce leaves, drizzle with 2 tbsp of lemon juice, add the half of prepared dressing and croutons and toss everything neatly.
Lay out the salad onto a big dish and put the chicken breast pieces atop.
Sprinkle with the grated parmesan, drizzle with the dressing and serve to the table. Add the rest of croutons to taste.
Notes
It is possible to replace a worcestershire sauce by red wine vinegar.

Did You Make This Recipe?
---
Bon Appétit