Grilled fish is on the menu in Book recipe, and we are going to teach you how to make this delicious recipe from scratch!
We're making a DELICIOUS grilled fish from Egypt called Singari, using my mother-in-law's recipe. It's got an amazing Garlic and Cumin marinade, that packs a load of flavor into the fish. I'll show you how to butterfly the fish, increase its surface area, then show you how to marinade and grill it to perfection.
Follow along with the ???? recipes below????????????????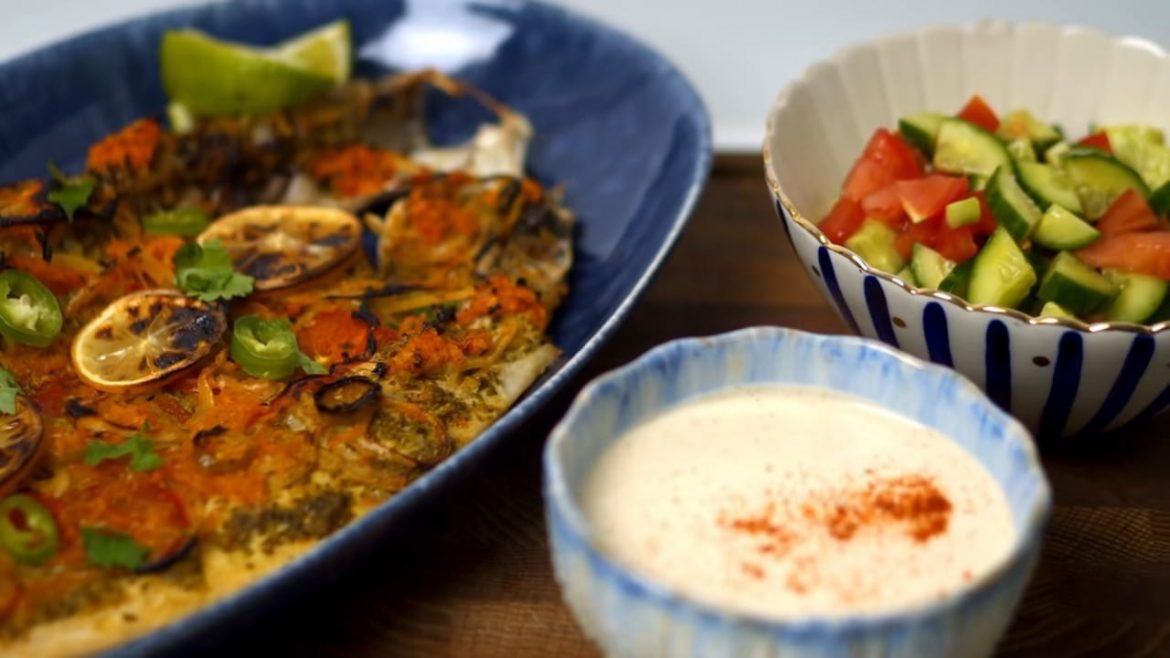 Ingredients
1.5-2.5kg Whole Fish - I recommend Seabass or Seabream for this and you should get them about 750g each in size, ask your fishmonger to butterfly these. If using Fish fillets, reduce the marinade by half for 6 whole fillets (1-1.5kg of fish fillets).
Marinade
8 Cloves Garlic
6 Tbsp Lime/Lemon Juice or 3 limes
2 Tbsp Oil
1/2 Tbsp White vinegar
2 Tsp Salt
1.5 Tsp Cumin
1/2 Tsp Black pepper
1/2 Tsp Ground coriander
1/4 Tsp Red chilli powder
1 green chilli
50g Fresh Coriander small bunch
Topping
1 Carrot
1 Onion
1 Tomato
1 Lemon
1 green chilli
Instructions
Deseed your green chilli and slice it into a few smaller pieces. Remove the tough stems from the coriander.
Add all the marinade ingredients to a blender and blend into a slightly chunky paste
Place your fish on an oven tray, and spread a few tablespoons of the marinade all over the insides of the fish. If making a whole fish, make slits in the sides and fill these with the marinade. Allow marinating for 15 minutes
Slice your Tomato and Onion extremely thin (about 1mm) and grate your carrot finely. Slice the chilli into thin rounds
Add the Tomato, Onion, Carrot and chilli to a bowl with a few tablespoons of the marinade. Mix until well combined.
Add some of the toppings onto your fish (or into the slits) covering the entire thing in an even layer of the vegetables
Preheat your oven with the grill (broiler) set to high. Place the tray under the oven and cook till the fish flesh is tender and cooked through. It took about 16 minutes for my medium fishes
Serve immediately with Fisherman's rice and Tahini sauce
Did You Make This Recipe?
---
Enjoy
Let us know what you think of today's whole grilled fish tips, tricks, and hacks!