Beans and Vermicelli Pilaf is on the menu in Book recipe, and we are going to teach you how to make this delicious recipe from scratch!
Today I would like to cook for you a healthy, balanced, and fulfilling two-course meal in 5 minutes with all preparations! It is going to be a vermicelli pilaf with butter and cranberry beans with sucuk and vegetables. Let's see if I can make the dish exactly in 5 minutes as I promised! ????
Follow along with the ???? recipes below????????????????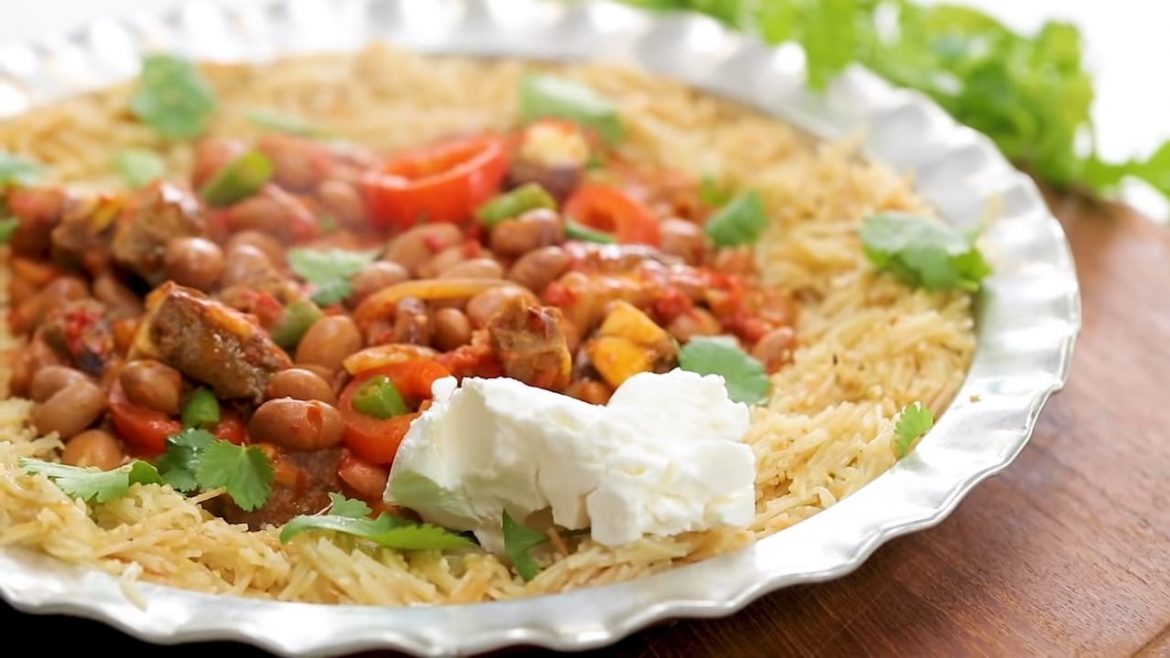 Ingredients
Vermicelli Pilaf
1 tablespoon butter
2 tablespoons olive oil
2 good handfuls of vermicelli, or use orzo but it can take a bit longer to cook
1/2 teaspoon salt
Hot water
Cranberry Beans:
2 tablespoons olive oil
1/4 onion, sliced
3 slices sucuk, diced, or any cured meat such as chorizo, salchica, or pepperoni. Use halloumi and garlic if vegetarian.
Half sweet red pepper, sliced
2 green peppers, sliced
1 heaped tablespoon red pepper paste, or tomato puree
220 g canned cranberry beans, 400 g with aquafaba, any kind of beans would do great like red beans or cannellini beans
To garnish:
Sesame seeds
Coriander
Yogurt or labneh
Instructions
To make vermicelli pilaf, heat the butter and olive oil in a pan.
Add the vermicelli and continuously stir to brown it evenly. You can also add a handful of nuts (peanut, for example) if you want to. Vermicelli should turn into a nice golden brown but watch it not burn.
Season with the salt and pour boiling water up to the level of the vermicelli and cover with a lid. Lower the heat and simmer for 2,5-3 minutes until the water is soaked.
For the cranberry bean, heat the olive oil in a medium frying pan on high heat and add the onion.
Then add the sucuk, and sauté them nicely.
Add red and green peppers. Stir and add red pepper paste to enrich the flavor. Mash the paste with a spatula and stir.
Finally, add the canned cranberry beans with aquafaba and stir it well. Boil for a minute, stirring occasionally.
Transfer the pilaf to the sides of a large dish, making a hole in the middle. Pour the cooked beans into the center of the dish.
Garnish with fresh coriander leaves, sprinkle some sesame seeds and add some yogurt and it's ready to eat and be amazed!
Did You Make This Recipe?
---
Enjoy
Let us know what you think of today's Beans and Vermicelli Pilaf tips, tricks, and hacks!