Menemen Breakfast Pastries are on the menu in Book recipe, and we are going to teach you how to make this delicious recipe from scratch!
I loved my trip to Istanbul, which was everything people said it would be – so much so, that I decided to bake one of my favorite meals I had: Menemen breakfast pastries! Recipe below!
Menemen is a delicious scrambled egg and tomato dish served as part of a bountiful Turkish breakfast. This recipe makes a portable version of this dish by baking or frying it inside a soft dough, replicating the fresh, warm, fried, and baked bread that is also served as part of this breakfast feast.
Follow along with the ???? recipes below????????????????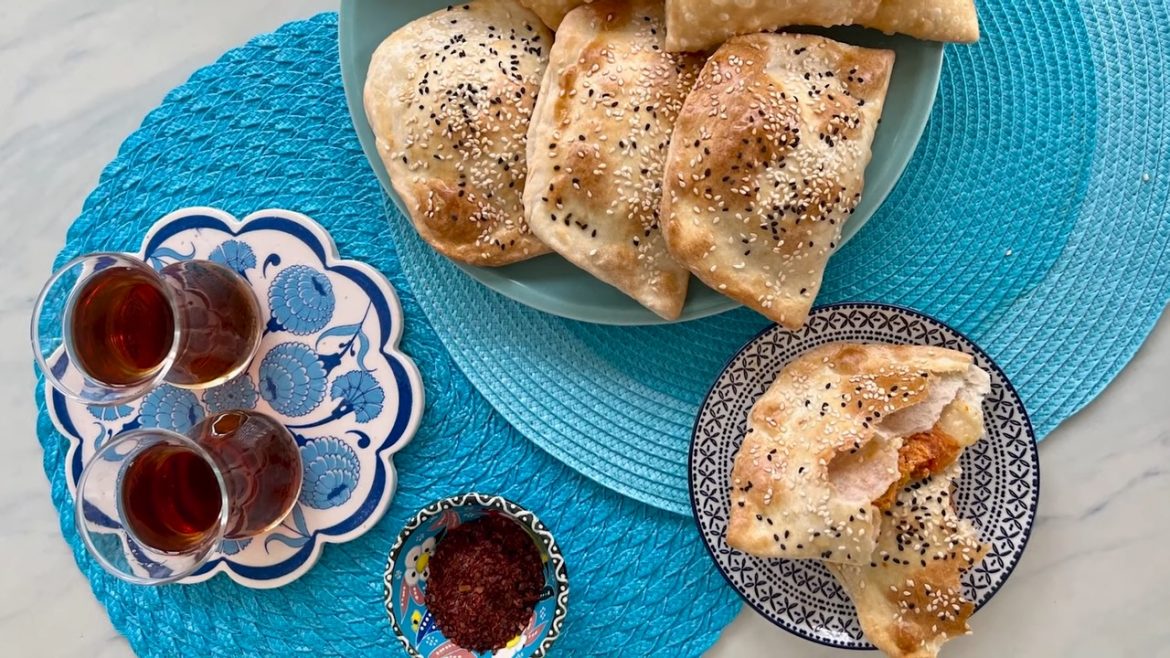 Ingredients
Dough:
4 cups (600 g) all-purpose flour
2 Tbsp (25 g) granulated sugar
½ tsp fine salt
1 ¼ cups (310 mL) hot water (from the tap)
3 Tbsp (45 g) unsalted butter, melted
Menemen Filling:
2 Tbsp (30 mL) olive oil
1 medium onion, finely diced
1 green pepper, finely diced
1 large tomato, diced
2 Tbsp (30 mL) tomato paste
2 tsp finely chopped fresh thyme (or 1 tsp dried)
Salt
Aleppo pepper (optional)
4 large eggs
3 oz white cheese (similar to Feta cheese)
Egg wash and Nigella seeds (if baking)
Vegetable oil (if frying)
Instructions
For the dough, measure the flour, sugar, and salt into a large mixing bowl and add the hot water and melted butter. Stir with a wooden spoon until too difficult to do so anymore, and then turn the shaggy mixture onto a work surface and continue to knead by hand until elastic, about 5 minutes. Place the dough back in the bowl, cover the bowl and set aside to rest while preparing the Menemen.
Heat the oil over medium heat in a large non-stick pan. Add the onion and pepper and sauté for 5 minutes, until the onion turns translucent. Add the tomato, tomato paste, and thyme and cook this stirring often, for about 10 minutes or until most of the liquid has evaporated from the pan. Season lightly with salt and Aleppo pepper.
Whisk the eggs in a little bowl and pour this into the pan, still over medium heat. Gently stir the eggs a few times as they cook through, about 2 minutes. Remove the pan from the heat and crumble in the cheese, stirring gently. Cool the Menemen for about 15 minutes before using, or it can be prepared ahead of time and chilled.
To assemble, turn the dough out onto a lightly floured surface and divide it into 12 pieces. Roll each piece into a rectangle about 5-x-7-inches (13-x-18 cm). Spoon about 3 Tbsp (45 mL) of the Menemen onto each portion and fold in half so that the short sides meet and press well to seal (you can rub a little water on the pastry to help it stick together). Place the pastries onto 2 parchment-lined baking trays
To bake the Menemen pastries, preheat the oven to 375°F (190°C). Brush the tops of the pastries with eggwash and sprinkle with nigella seeds. Bake for about 20 minutes until golden brown.
To fry the pastries, heat a large pot or tabletop fryer with vegetable oil, and fry the pastries in batches for 6 to 8 minutes, turning once while frying. Remove the cooked pastries to a rack resting over a paper towel to drain for a minute before serving.
Did You Make This Recipe?
---
Bon Appétit
Let us know what you think of today's Menemen tips, tricks, and hacks!