Today I am showing you how to make a surprise inside Tiger Cake. This animal print cake is perfect for a children's birthday party or for a jungle themed party! Inside black, orange and white will shock your guests, and you'll be pleasantly surprised at how easy everything is to do in this cake decorating tutorial.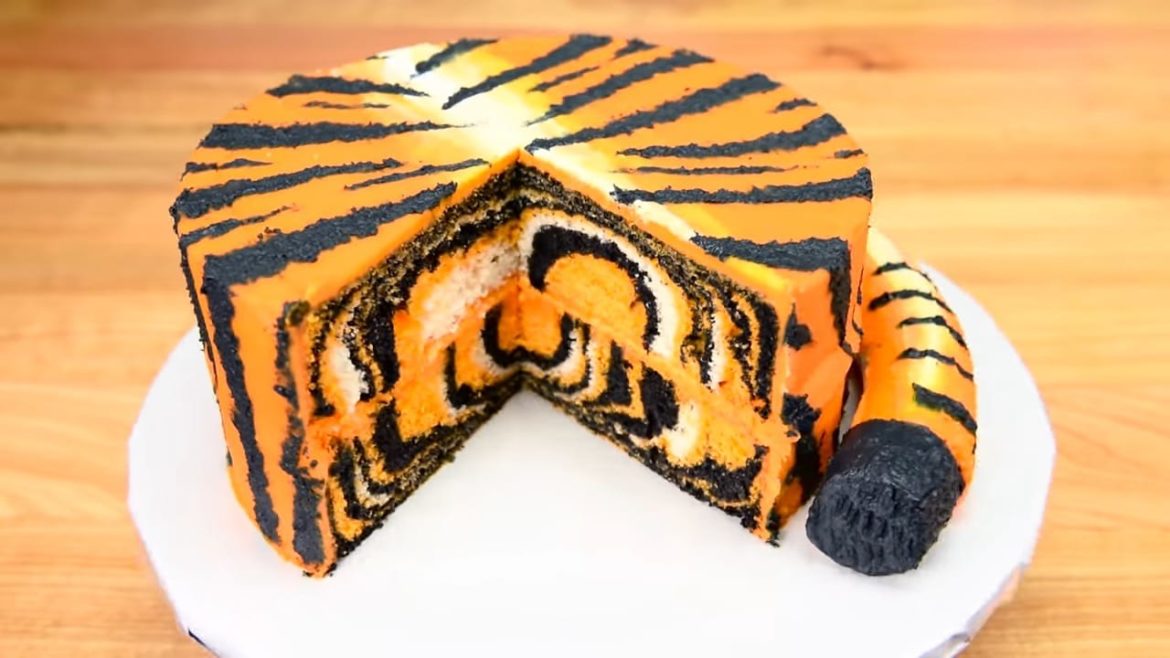 Instructions
Preheat oven to 350F. Spray two 8" round cake pans with non-stick spray.
In the center of each cake pan, place a 1/4 cup of black cake batter. Place 1/4 cup of orange batter directly on top of the black batter. Repeat with black, and then orange batter again.
Next, add 1/4 cup of plain batter and repeat with black and orange again. Add plain batter every third addition of orange and black.
Bake in preheated oven for 35-45 minutes, or until a toothpick inserted comes out clean. Allow cakes to cool for 10 minutes in the pans before removing and placing onto a cooling rack. Allow cooling completely before leveling.
Place one leveled cake layer slightly off-center on a cake board, secure with a swipe of buttercream and cover top with orange buttercream. Place the second layer on top of first, and cover the entire cake in orange buttercream.
Apply to stripes of yellow buttercream across the top of the cake and blend into the orange buttercream with an offset spatula.
Add a single line of white buttercream down the center of the yellow buttercream and blend in.
Apply thin lines of black buttercream from the white area outwards towards the edge of the cake. Use a dry paintbrush to spread the buttercream to give the effect of animal fur. Continue the black stripes down the sides of the cake. Keep the black lines thin near the white area, and wider the further it is from the white area.
To make the tail, line the marshmallows up from the front to the back of the cake and attach to the cake board with a swipe of buttercream on each. Cover all of them in orange buttercream. Apply a yellow and white stripe of buttercream down the top of the tail, and smooth out with an offset spatula.
Stripe the tail with a dry paintbrush as was done on the cake.
Serve cake when desired. The cake is best kept in a sealed container in the fridge and consumed within 2-3 days.
Did You Make This Recipe?
Recipe video
---
Enjoy