Date spice chocolate cake is on the menu in Book recipe, and we are going to teach you how to make this delicious recipe from scratch!
After a trip to Arizona, where I was invited to see how they grow and harvest Medjool dates, I was inspired to make a new recipe: Medjool date chocolate layer cake, with cream cheese filling!
This rich chocolate cake is moist and sweet thanks to the Medjool dates puréed into the batter. A little cinnamon and cayenne give a subtle spice flavor that plays wonderfully against the not-too-sweet cream cheese frosting. Say hello to your next favorite cake recipe!
Follow along with the ???? recipes below????????????????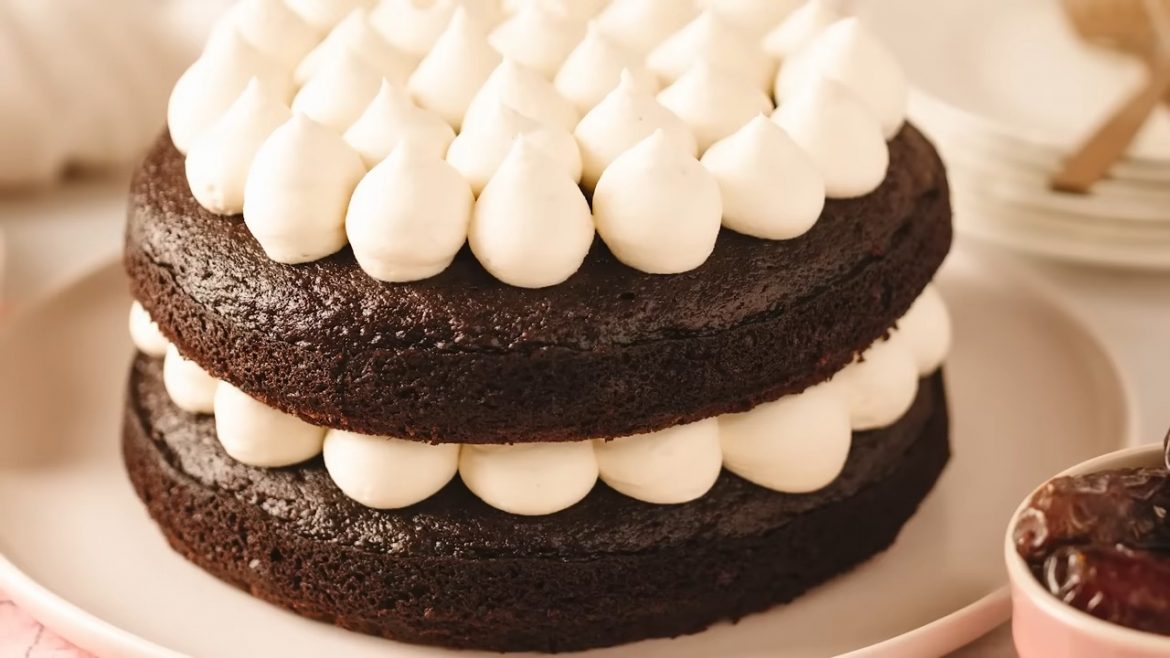 Ingredients
Cake:
1 ½ cups (220 g) Natural Delights Medjool dates, pitted
2 oz (60 g) dark baking chocolate, chopped
1 tsp baking soda
1 1/3 cups (330 mL) boiling water
¼ cup (60 g) unsalted butter at room temperature
1 cup (200 g) packed light brown sugar
2 large eggs
1 cup (150 g) all-purpose flour
½ cup (60 g) Dutch process cocoa powder
1 ½ tsp ground cinnamon
1 tsp baking powder
½ tsp fine salt
¼ tsp ground cayenne pepper
Frosting:
6 Tbsp (90 g) unsalted butter, at room temperature
1 cup (130 g) icing sugar
1 pkg (250 g) cream cheese, softened
2 tsp vanilla extract
Instructions
Preheat the oven to 350°F (180°C). Grease two 8-inch (20 cm) round cake pans and lines the bottoms with parchment paper.
Place the dates, chocolate, and baking soda in a heatproof bowl. Pour the boiling water over the dates and let sit for 10 to 15 minutes to soak. Pour everything, including the liquid, into a food processor (or use an immersion blender) and purée until smooth.
Cream the butter and brown sugar together by hand until well combined. Add the eggs one at a time mixing well after each addition (you may wish to switch to a whisk). Add the Medjool date mixture and whiskin.
Sift the flour, cocoa powder, cinnamon, baking powder, salt, and cayenne into the bowl and whisk until well combined. Divide the batter between the two pans and tap the pans. Bake for about 35 minutes until a tester inserted in the center of a cake comes out clean. Cool the cakes in their pans on a cooling rack for 15 minutes, then tip the cakes out of the pan to cool completely.
For the frosting beat the butter and icing sugar together using electric beaters or a stand mixer fitted with the paddle attachment until fluffy and smooth, about 3 minutes. Add the cream cheese and vanilla and beat on medium speed for another 3 minutes until fluffy and the frosting holds its shape well.
To assemble the cakes, place one cake layer onto a plate or platter and spread or pipe half of the frosting onto the top of the cake. place the second cake layer on top and repeat with the remaining frosting. Chill the cake uncovered until ready to serve.
Notes
The cake will keep, loosely wrapped and refrigerated for up to 3 days.

Did You Make This Recipe?
---
Bon Appétit
Let us know what you think of today's date spice chocolate cake tips, tricks, and hacks!