Middle Eastern Cake is on the menu in Book recipe, and we are going to teach you how to make this delicious recipe from scratch!
Thank you all for getting us to 100K subscribers. It really is one of the best things to ever happen to us, and we wanted to celebrate in style. So we made a two-tier cake with Middle Eastern-inspired flavors.
The first is a dark chocolate cake, with white chocolate and Tahina ganache. The second is a cardamom tea flavored cake, with a condensed milk frosting. It's coated with swiss meringue buttercream and decorated with edible chocolate balls, sprinkles and glitter.
Follow along with the ???? recipes below????????????????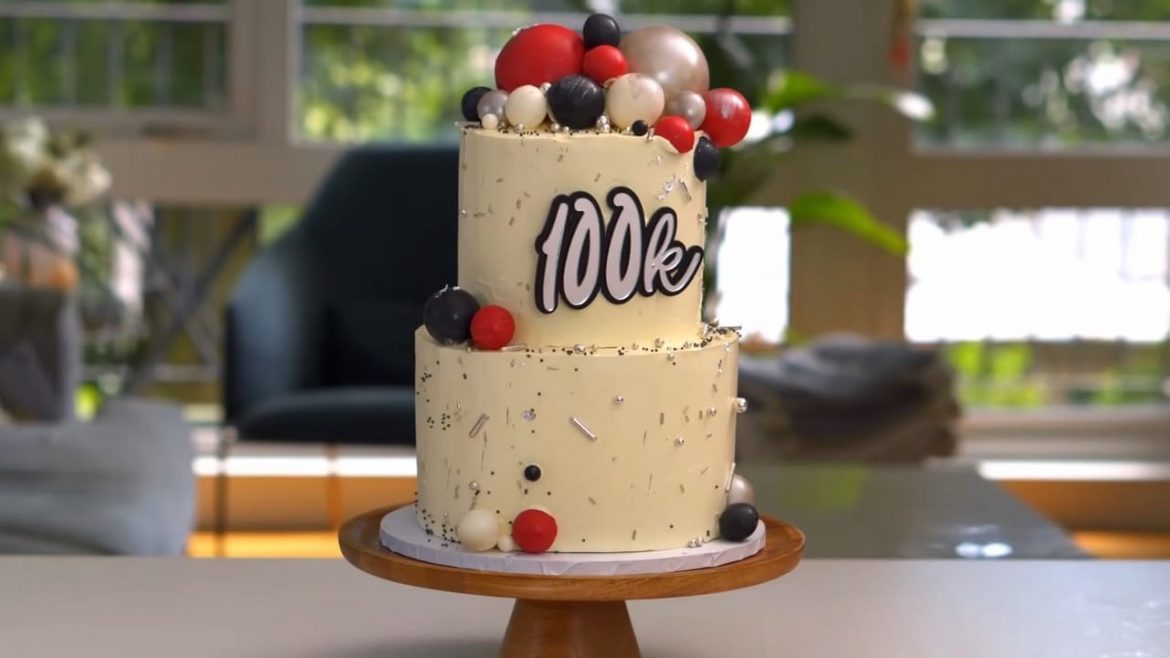 Ingredients
For the chocolate cake
(makes 4 8-inch round cakes. 1/2 the recipe for 6 inches)
Wet Ingredients:
340g Buttermilk
340g Oil
150g Egg (4 eggs)
25g Vanilla essence
Dry Ingredients:
400g Sugar
420g Flour
130g Cocoa Powder (unsweetened)
15g Salt
15g Baking Soda
15g Baking Powder
Sugar Syrup:
Additional ingredients:
For the Cardamom Tea Cake
(makes 4 6 inch cakes)
Dry Ingredients:
250g Cake Flour (or all-purpose)
40g Corn Starch
2 1/2 Tsp Baking Powder
1/2 Tsp Baking Soda
1/2 Tsp salt
Wet Ingredients:
180g Sour Cream
60g Milk
2 large eggs
1 Egg yolk from a large egg
1 Tbsp Vanilla
Additional ingredients:
280g Unsalted butter + 1 additional Tsp
200g Sugar
3.5 Tsp Loose-leaf Tea
1 Tsp Ground Cardamom
For the Condensed milk filling:
500g Heavy Cream
250g Mascarpone
175g Sweetened Condensed milk
Tahina white chocolate ganache:
200g White Chocolate, finely chopped
150ml Double (Heavy) Cream
60g Tahini
20g Unsalted Butter, softened
Pinch of Salt
Swiss Meringue Buttercream (we made 1.5 recipes):
6 ounces egg whites (2/3 cup; 170g), from 5 to 6 large eggs
11 ounces plain or lightly toasted sugar (about 1 2/3 cups; 310g) (see note)
3/4 teaspoon (3g) Diamond Crystal kosher salt; use half as much if iodized
1/4 teaspoon cream of tartar
Scraped seeds from 1 split vanilla bean (optional)
20 ounces unsalted butter (5 sticks; 565g), softened to about 65°F (18°C)
1 teaspoon (5ml) vanilla extract
1/4 teaspoon almond extract (optional)
Instructions
For the chocolate cake:
Sift together all the dry ingredients in a bowl
In the bowl of a stand mixer add all the wet ingredients and mix with the whisk attachment until thoroughly combined
Add the sifted dry ingredients to the mixer and combine with the wet ingredients
Pour in the boiling water and mix thoroughly until the cake mix looks like a soupy mixture
Prepare your cake pans with a nonstick spray, or use butter and cacao powder
Divide the mixture equally amongst the pans, then hit each filled pan against the counter to release air bubbles
Preheat your oven to 180c (fan) and bake the cakes for 20-25 minutes, until an inserted toothpick comes out clean (no liquid on it)
Allow cooling in the pan until cool enough to handle
For the Cardamom Tea Cake:
Place the butter in a small pot and melt over medium heat
When melted add the tea leafs on low heat, and allow to simmer for 10-15 minutes. Turn off the heat and allow to simmer for 10 minutes more
Strain the melted butter using a cheesecloth, then place this in the fridge to cool until solidified
Mix together the dry ingredients and set aside
Mix together the milk and sour cream and set aside
In the bowl of your mixer, add the tea-infused butter and beat on medium spean until light & fluffy for about 2-3 mins
Gradually add in the sugar and increase the speed
Mix until light and fluffy for 4-5 mins
Add the eggs+yolk, then add vanilla and mix for 1 min
Add 1/3rd of the flour mixture, and work into the butter, then add 1/3rd of the sourcream mixture
Repeat step 10 2 more times until all the flour and buttercream have been added
Once incorporated, immediately stop mixing
For the Condensed milk filling:
Place all ingredients in the bowl of a stand mixer
Mix on low speed for 1 minute, then medium for 2-3 minutes until whisked up and fluffy
Store in the refrigerator
Tahina white chocolate ganache

Did You Make This Recipe?
---
Enjoy
Let us know what you think of today's Middle Eastern INSPIRED Cake tips, tricks, and hacks!