Egyptian Breakfast Dishes are on the menu in Book recipe, and we are going to teach you how to make this delicious recipe from scratch!
We made a TRADITIONAL Egyptian Breakfast with over 7 different dishes, all of which you can eat in Cairo and Egypt. There are 3 VEGAN dishes and 2 different Egg Dishes, including one with Dried Beef.
Follow along with the ???? recipes below????????????????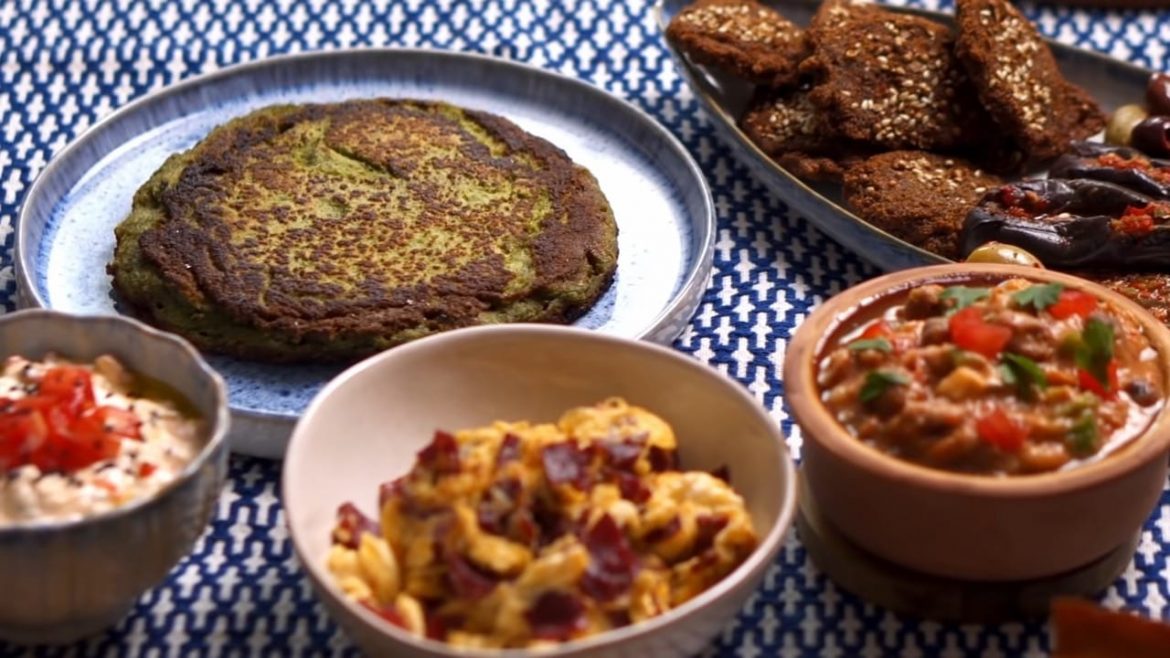 Ingredients
Pickled Aubergines: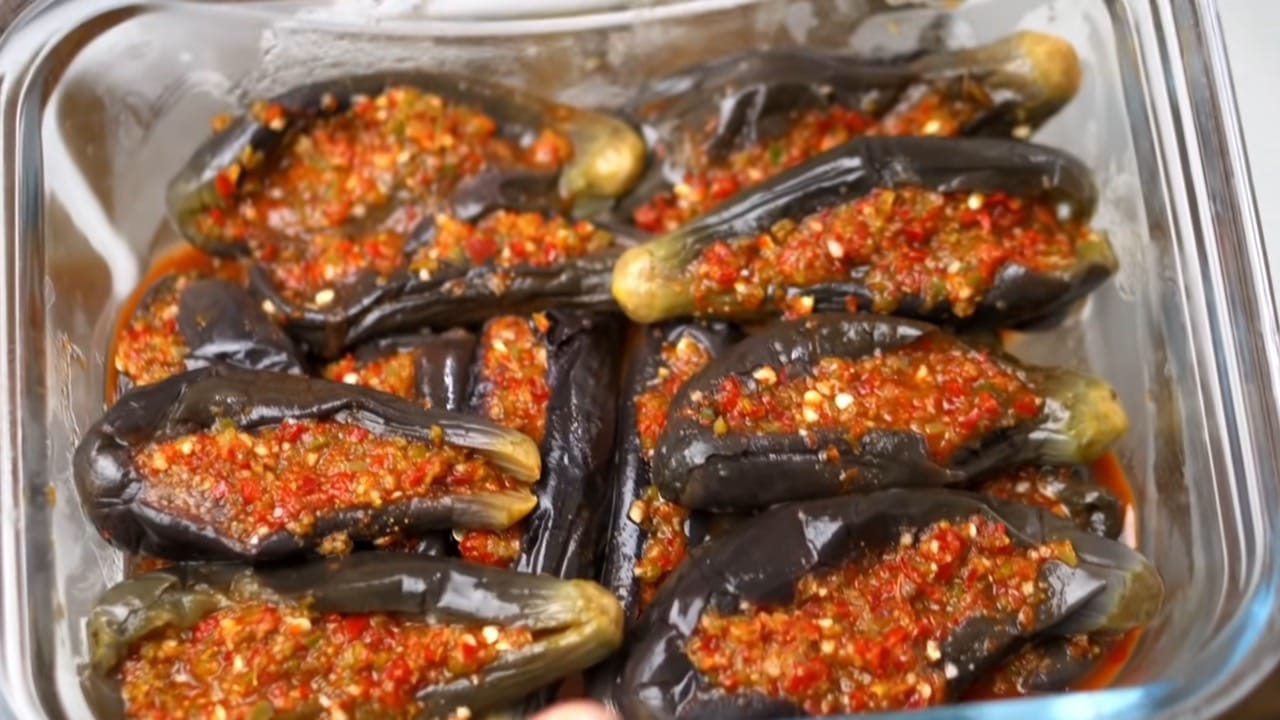 600g Baby Aubergines
8 Cloves Garlic
2 Spicy Red Chillies
2 Spicy Green Chillies
1 Sweet Red Pepper
1 Bitter Green Pepper
1 Beetroot
1/2 Cup White Vinegar
4 Tbsp Lemon Juice
2 Tsp Paprika
1 Tsp Salt
1/2 Tsp Black Pepper
1/2 Tsp Cumin
1/2 Tsp Coriander
Mixed Spicy Ful: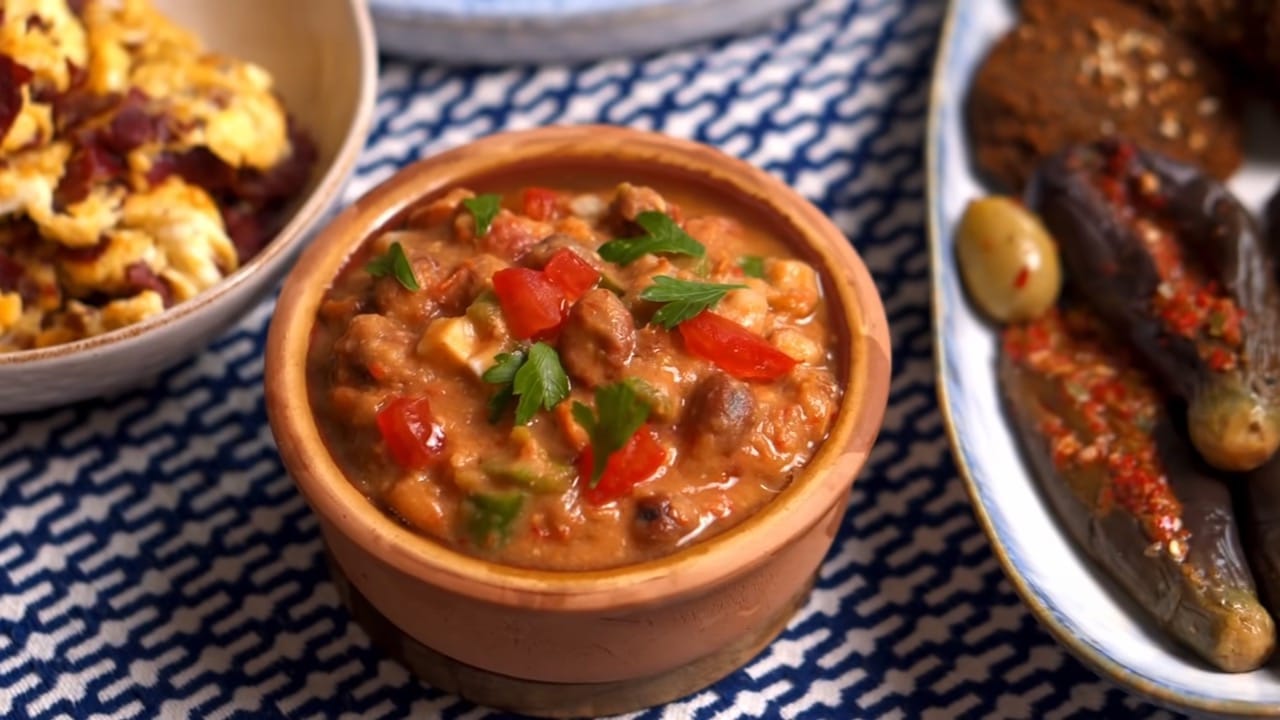 1 Can Cooked Fava Beans
1 Heaped Tbsp chilli mixture
1/2 Tomato
1/4 Onion
1/4 Green Pepper
Salt
Lemon Juice
Vinegar
Egga/Falafel Omelette: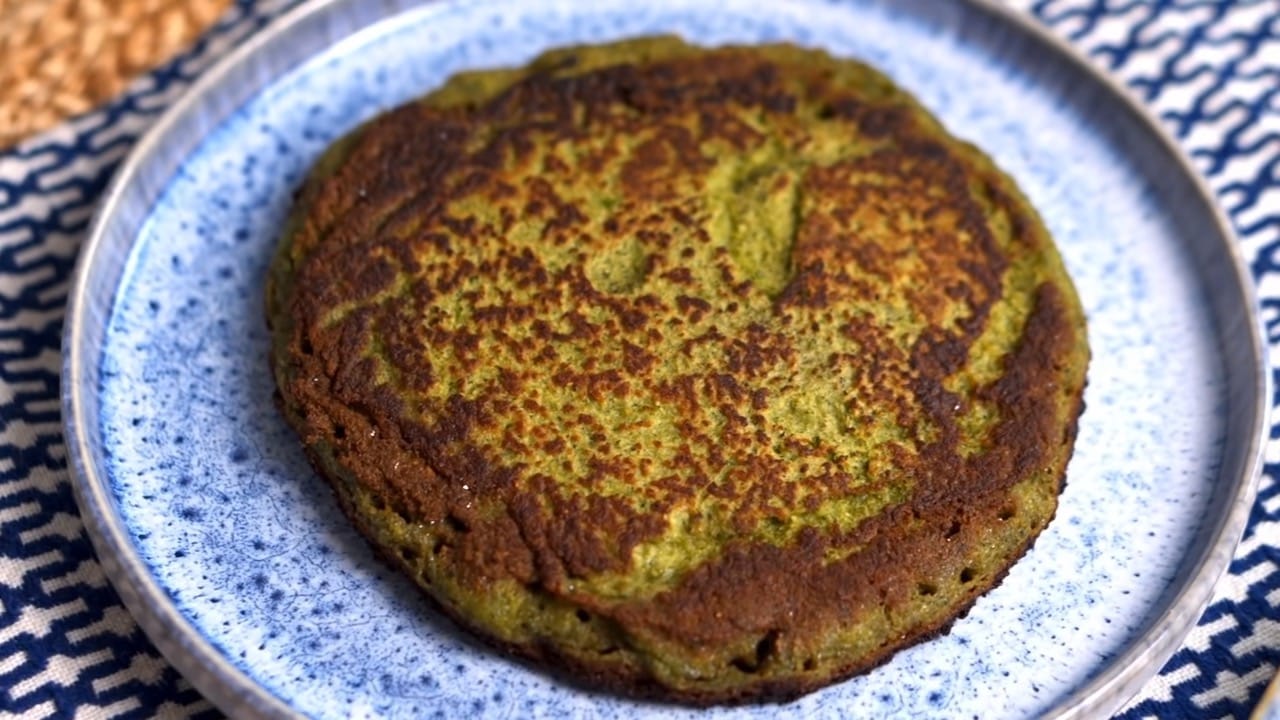 1 Cup Falafel Batter
1 Egg
1 Tbsp clarified Butter
Basterma Eggs: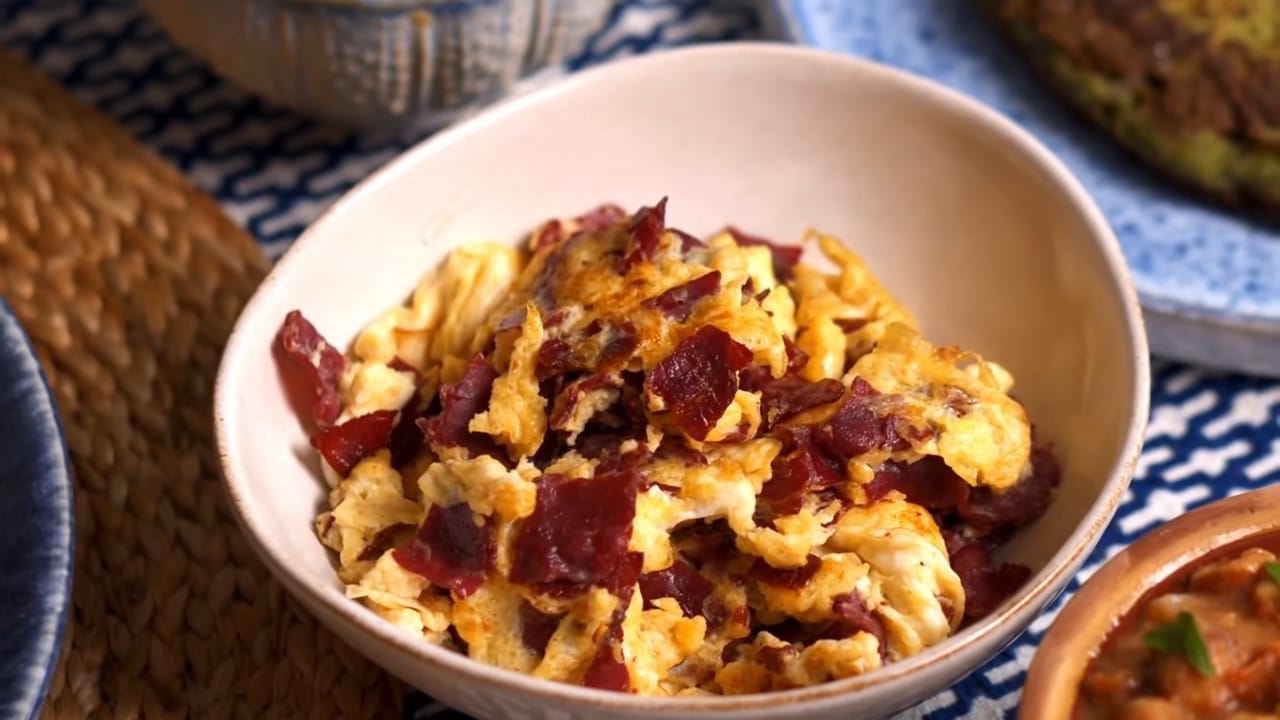 100g Basterma/pastirma
4 Eggs
Splash of milk
1 Tbsp Clarified Butter
Tomato Cheese: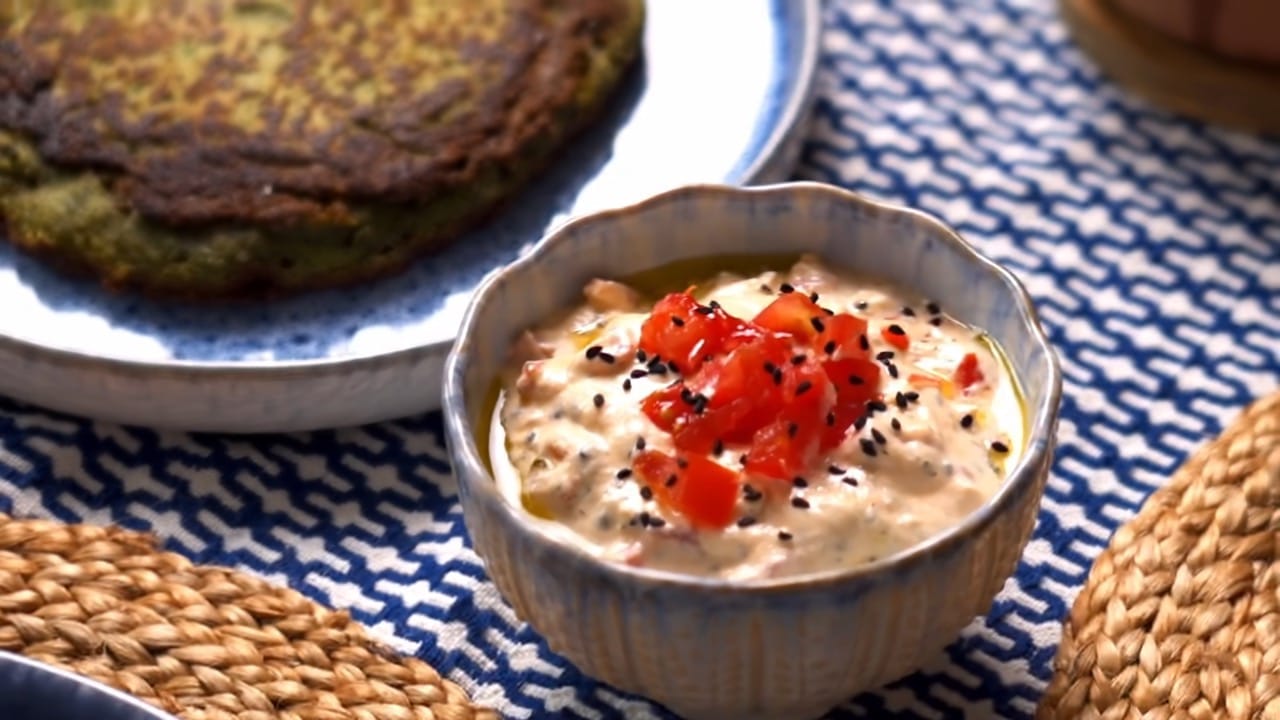 3/4 Chopped Tomato
100g Feta Cheese
30g Cream Cheese
25ml Olive Oil
1/2 Tsp Dried Mint
1/2 Tsp Nigella Seeds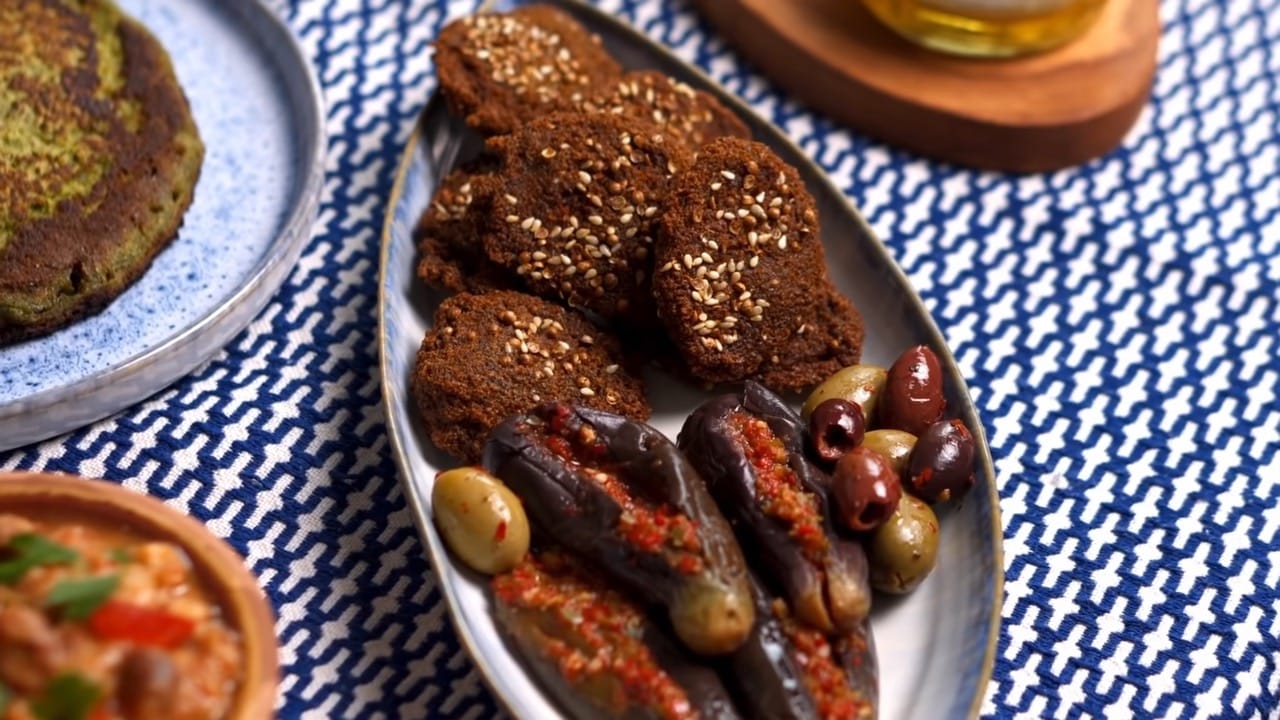 Instructions
Pickled Aubergines:
Remove the stems from the pickled aubergines, taking care not to tear the skin
Bring a pot of water to boil, and add some salt and the sliced beetroot
Once the liquid is dyed, add the aubergines, and keep submerged in a heatproof bowl
Cook for 15-20m until soft, then drain and set aside (keep some of the boiling liquid)
Blend the chilies, garlic, and spices together with half the vinegar and half the lemon juice
Slice a slit in each aubergine, and fill with the chili, place in a container
7Mix 1 cup of the liquid with the remaining vinegar and lemon, and a heaped tablespoon or two of the spice mixture
Pour over the aubergines until mostly submerged, then pour over some vegetable or olive oil
Basterma Eggs:
Slice your Basterma into large squares
Mix the eggs and milk
Melt clarified butter in a pan over medium heat, add the basterma and fry for 1 minute
When fragrant, pour in the eggs and scramble
Leave the curds large and serve hot
Tomato Cheese:
Break up the feta, then mix it with the cream cheese
Blend the two together until almost smooth
Add the tomatoes chopped to a small dice, with the mint and nigella seeds
Mix and serve
Did You Make This Recipe?
---
Enjoy
Let us know what you think of today's Egyptian Breakfast Dishes tips, tricks, and hacks!