UPSIDE DOWN Chicken & Rice is on the menu in Book recipe, and we are going to teach you how to make this delicious recipe from scratch!
Maklouba is a dish that is literally served UPSIDE DOWN. It's a wonderful meat and rice dish, which is cooked, then flipped, and served upside down.
Today we'll be making it with Chicken and Cauliflower, and I promise you this dish is one of the greatest you'll ever try
Follow along with the ???? recipes below????????????????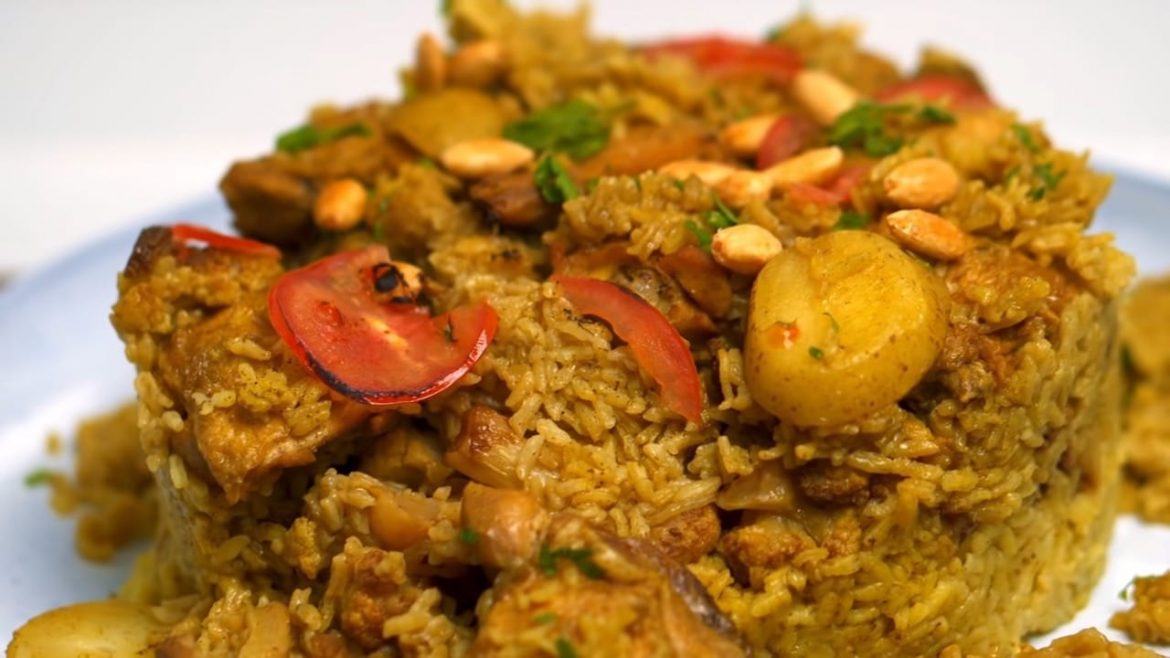 Ingredients
Stock:
2 Tbsp Oil
1 kg Chicken Pieces
4 Bay Leaves
15 Cardamom pods
2 Tsp black peppercorns
3 large onions
4 cloves garlic
4 Tsp salt
Vegetables:
1.5kg fresh cauliflower or 1 kg of trimmed florets (you can add more kinds of vegetables if you want)
4-8 cloves of garlic
Oil for frying
Rice:
3 cups of short-grain rice (I recommend mixing 2 1/2 cups of Egyptian or Japanese rice with 1/2 cup of basmati rice for structure)
3 Tsp salt
1 Tsp cardamom powder
1 Tsp Bharat or 7 Spice
3/4 Tsp black pepper
1/2 Tsp turmeric
1 Tbsp oil
To layer:
2-3 Tomatoes or Potatoes
2 Tbsp oil
Instructions
To make the stock:
Add the oil to the pot and heat on high heat
Add the chicken pieces in batches, and sear for 5-9 minutes on each side until golden all over
Add the spices, and toast for 2-3 minutes
Dice the onions and add to the pot, then saute until softened and the pot is deglazed
Add the garlic, and saute for another minute before adding the chicken again and the salt
Fill the pot with water to cover the chicken and bring to a light boil
Skim the surface from scum, and cover with the lid set ajar, temp to medium, and simmer for 40-50 minutes
When done, remove the chicken and sieve the stock to remove any onions and spices
To make the vegetables:
Chop your cauliflower into medium and large florets
Add oil to a pan on high heat, so it's about 1 cm deep
Add the cauliflower to the hot pan and fry on each side for about 5 minutes until browned all over
Remove and allow to drain on paper towels, salt immediately once removed from the oil
Don't forget to fry some garlic
To make the rice:
Thoroughly wash your rice then let it drain until most of the excess water has drained off
Add to a bowl with the spices and salt and gently mix to combine
Once evenly mixed, pour in the oil and mix once more until the rice is coated in oil
To assemble:
Scatter a few tbsp of rice in the bottom of your pot
Slice the tomatoes or potatoes into slices, then line the bottom with them
Add the cooked chicken, skin side down, until you have a single filled layer
Cover the chicken and fill any gaps with a thin layer of rice, then add a layer of cooked cauliflower
Finally, add the remaining rice on top and spread it into an even layer
To cook:
Pour the filtered stock into the pot, until it just reaches the level of the rice
Turn the heat to high and cover with a lid. Once it comes to a boil, set a timer for 5 minutes
Once the 5 minutes are up, turn the heat to low (2/10) and keep covered for 20 minutes
Pour 2 Tbsp oil around the edges of the pot, then place a paper towel on the top of the pot and place the lid on again
Let it steam for 10 minutes more on low. When done you can serve it immediately, or follow these instructions for a good flip
Let it rest for 15 minutes off the stove. Then place a plate on top, and flip the pot with the plate. Rest for 10-15 more minutes before revealing so the contents can settle
Serve with thick yogurt and enjoy
y and grilled
Serve and enjoy immediately
Did You Make This Recipe?
---
Enjoy
Let us know what you think of today's UPSIDE DOWN Chicken & Rice tips, tricks, and hacks!