ÇİĞ KÖFTE is on the menu in Book recipe, and we are going to teach you how to make this delicious recipe from scratch!
Çiğ Köfte is the bestselling street food and an integral part of our culinary culture. It can be made in two ways, with meat or without meat. In a classic way, you cook the meat by kneading with bulgur and spices using the power of the hand. However, today we are going to make it in a vegan way and instead of the meat, we'll be using the gorgeous taste and nutritional value of different kinds of nuts.
Follow along with the ???? recipes below????????????????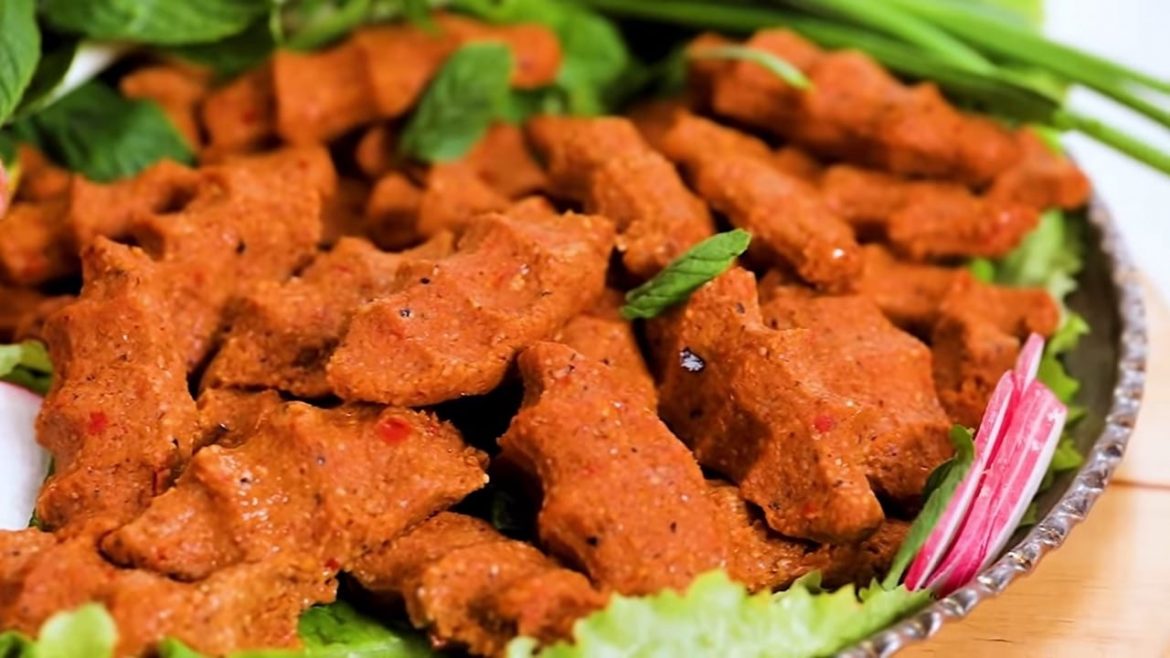 Ingredients
3,5 cups fine bulgur, 500 g, dark bulgur would do great as well
3,5 cups hot water, 875 ml
1 tablespoon tomato paste
1 tablespoon hot pepper paste
100 ml tomato puree
1/2 cup olive oil
1 teaspoon cumin
1 tablespoon isot pepper, isot aka Urfa Biber is a dried chili pepper cultivated in the Urfa region of Turkey. Often described as having a smoky taste.
1/2 teaspoon black pepper
1/2 teaspoon salt
180 g mixed nuts, almond, walnut, peanut, hazelnut would do great
1 large onion, pureed
1 clove of garlic, pureed
3 tablespoons soy sauce, optional
For serving,
Lettuce
Lemon, wedges
Radish, sliced
Sprig onion
Fresh mint
Parsley
Lavash
Instructions
In a large bowl, combine the bulgur and hot water. Cover with a plate and set aside about 10 minutes to let the bulgur soak in the water and cool down.
To make the delicious sauce, mix the tomato and hot pepper paste, tomato puree, olive oil, cumin, isot, black pepper, and salt in a bowl.
Pulse the nuts in a food processor until the mixture turns into flour.
Then take out the nuts from the processor and add the onion and garlic. Puree them and set them aside.
After the bulgur soaks in the water and cools down, transfer it into a çiğ köfte tray or an oven tray. Çiğ köfte tray is a special tray to make çiğ köfte which doesn't have a smooth bottom, so it has more surface area to make ease and fasten the kneading process.
Pour the tomato sauce on bulgur and start kneading.
Rub the mixture with the base of your palm and support the mixture with your other hand to put the pressure on the mixture. Knead for about 5 minutes.
Add the onion and garlic puree and keep kneading for another 15 minutes.
Then add the nuts into the mixture and keep kneading for another 10 minutes. Make sure that your çiğ köfte is not dry. If it is dry add some ice cubes and continue kneading.
Depending on your taste, you can add some soy sauce, but I need to tell you that is not something traditional in Turkey. It is a suggestion if you can't find good quality ingredients.
After kneading, grab walnut-size pieces, place them inside your palm and squeeze them gently to give them the çiğ köfte shape.
Serve with lemon wedges, lettuce, parsley, fresh mint, spring onion, radish, and lavash in a tray or make a wrap. It would be a great vegan treat for your parties!
Did You Make This Recipe?
---
Enjoy
Let us know what you think of today's ÇİĞ KÖFTE tips, tricks, and hacks!