Persian Rice is on the menu in Book recipe, and we are going to teach you how to make this delicious recipe from scratch!
We're making Barberry Saffron Rice ( Zereshk Polo ba morgh زرشک پلو با مرغ ) today which we're serving alongside some delicious Saffron Chicken (Khoresh-e Morgh مرغ مجلسی). I'm a HUGE fan of Persian food and this Persian Rice is one of the best rice recipes I've tried! The Barberry rice gives you a little hint of sourness that works perfect with the Persian Chicken.
Follow along with the ???? recipes below????????????????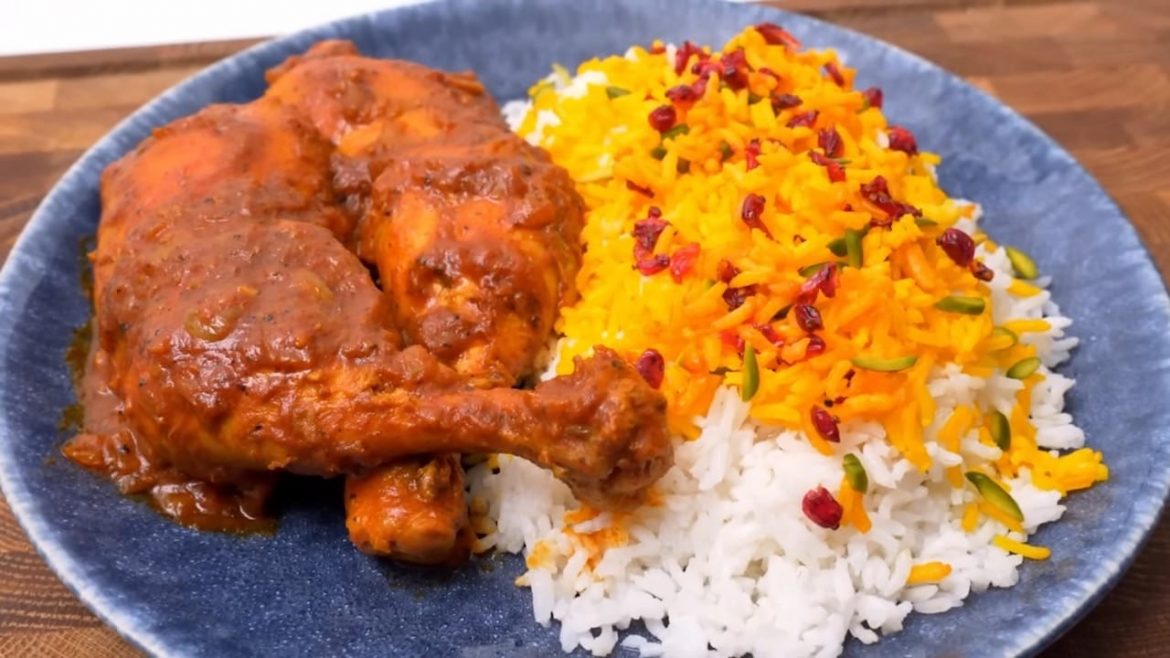 Ingredients
Steamed Rice:
2 Cups (400g) Persian Rice (Hashemi, Sella, Domsiah) or Long Grain Basmati rice
2 Tbsp Vegetable Oil
2 Tsp Salt
Saffron Rice:
1-2 Cup Steamed rice
20 Threads of Saffron (0.2g)
Barberry Rice:
1 Cup Saffron Rice
1/2 Cup Dried Barberries
2 Tbsp Water or Saffron Water
1 Tbsp Butter
1 Tbsp Sugar
Sliced pistachio for garnish
Persian Chicken - Khoresh Morgh:
1 Medium Onion
1 clove garlic (optional, very few recipes use it but it rounds the sauce)
30-40 Threads of Saffron (0.3g)
1Kg Chicken Legs
50g (4 Tbsp) Tomato Paste
3 Tbsp Vegetable Oil
1 1/2 - 2 Tsp Salt
1 Tsp Black Pepper
1 Tsp Turmeric
Instructions
Steamed Persian Rice:
Wash your rice thoroughly with room temp water, draining and replacing the rice until the water runs clear, this takes about 3 washes
Soak the rice for about 10 minutes in clean room temp water
Meanwhile, fill a large pot with loads of water (2-3L) and bring to a boil. Add 2 Tsp of salt when boiling
Drain the soaked rice and add it to the pot. Allow boiling for about 4-6 minutes
Check the rice every minute, when it is 70% of the way cooked, with a little crunchy core but soft outsides it is ready
Remove the rice, and run it under cold water to completely cool it down
Place the oil inside your pot and place your now cooled rice on top
Turn the heat up to medium, and cover the pot with a lid
Once it heats up and builds steam, turn the heat to low. Wrap the lid in a clean kitchen towel and place it on the pot
Steam for 15-40 minutes until the rice is perfectly fluffy
Saffron Rice:
Place the saffron in a mortar and crush it with a little salt until it forms a powder
Pour over hot water and dissolve the saffron
Place the steamed rice in a bowl, and pour over enough saffron to achieve your desired color
Mix well
Barberry Rice:
Thoroughly wash your barberries, then soak in clean water for 10 minutes
Melt butter in a pan over medium heat, drain, and add the barberries
Add the sugar and water, then heat until the water evaporates and the barberries are plump
Mix part of the barberries with part of the saffron rice
How to make Zereshk polo:
Layer the white steamed rice on a plate
Fork over some saffron rice
Place barberry rice on top
Garnish with sliced pistachio
How to make Persian Chicken:
Remove the skin from the chicken legs, and make saffron extract
(optional) Blanch the chicken in boiling water for 5-10 minutes
Heat oil in a pan and place the chicken in. Sear for 3-5 minutes per side until golden
Remove the chicken and add the onion diced to a medium dice. Saute for 5 minutes until softened
Add the garlic and cook for 1 minute, then add tomato, salt, pepper, turmeric
Cook off the spices for a minute then add 1/2 cup of water
Make saffron extract, then place the chicken back in the pan, and add water until most of the way up the chicken
Simmer over medium-low heat for 30-40 minutes flipping halfway through
During the last 10 minutes, baste the chicken with the sauce regularly. If the sauce is too watery, remove the chicken and reduce it
Did You Make This Recipe?
---
Enjoy
Let us know what you think of today's Persian Rice tips, tricks, and hacks!