Forget everything you know about pie crust and make way for these fresh new takes using the classic pastry dough. Plus, these recipes start with Pillsbury™ refrigerated pie crust, so there's no need to dig out your rolling pin. Win!
Follow along with the ???? recipes below????????????????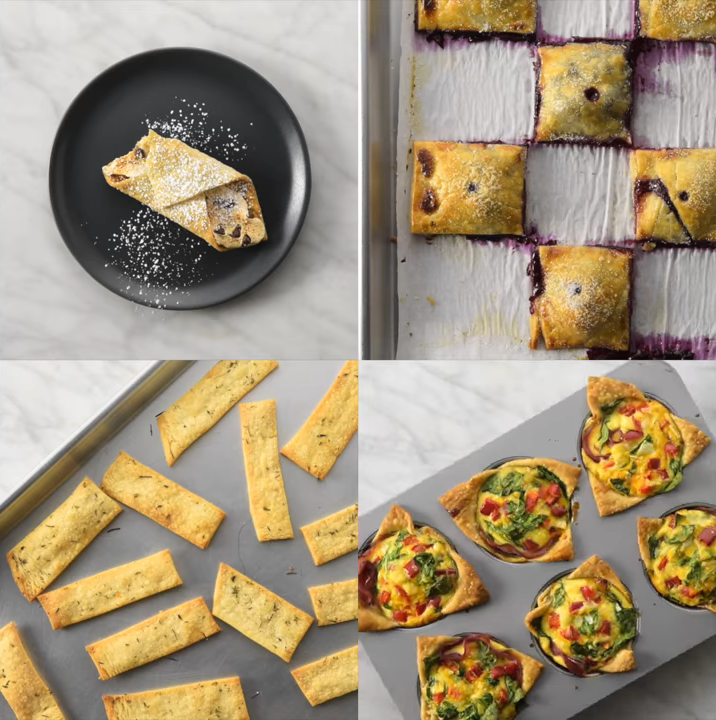 Ingredients
Mixed Berry Pie Bites

Like little pieces of pie ravioli, our two-bite pie bites are about to become your next favorite dessert ever.
2 boxes (14.1 oz) refrigerated Pillsbury™ Pie Crusts (2 Count)
1 jar blackberry jam
1 packet (12 oz) mixed frozen berries
2/3 cup sugar
2 tablespoon cornstarch
1 egg, well beaten
Cheesy Bacon Muffin Tin Quiches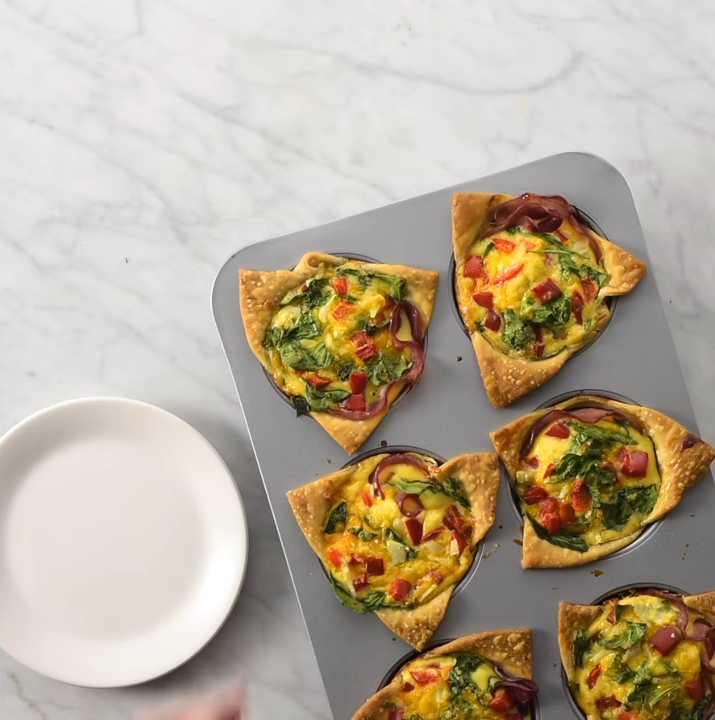 These jumbo-sized mini quiches (not an oxymoron!), lined with Canadian bacon, make a stunning side dish or main for breakfast or brunch. Feel free to swap your favorite veggies or cheeses into this recipe. It's an easy one to riff on!
1 box (14.1 oz) refrigerated Pillsbury™ Pie Crusts (2 Count)
8-16 slices Canadian Bacon, Bacon or Black Forest Ham
12 eggs
1 cup heavy cream
1 cup shredded sharp cheddar
1 red pepper, diced
1 cup baby spinach
1/4 sweet onion, finely diced
1 clove garlic, chopped
S'mores Mini Wraps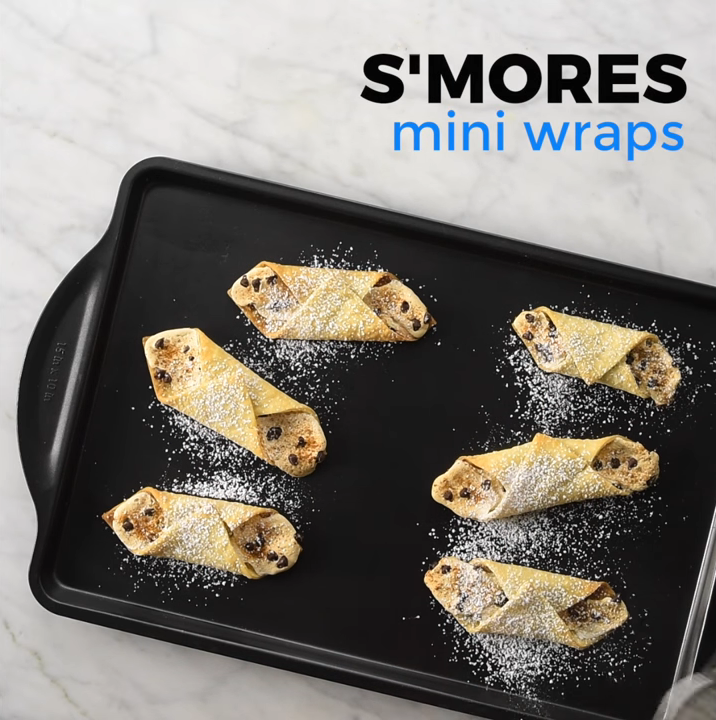 For a fun twist on s'mores, try these mini s'more wraps!
1 box (14.1 oz) refrigerated Pillsbury™ Pie Crusts (2 Count)
1 container (7 oz) marshmallow creme
1 cup mini chocolate chips
1/2 cup graham cracker crumbs
Cinnamon sugar or powdered sugar, for dusting (optional)
Slow-Cooker Chicken Pot Pie with Pie Crust Crackers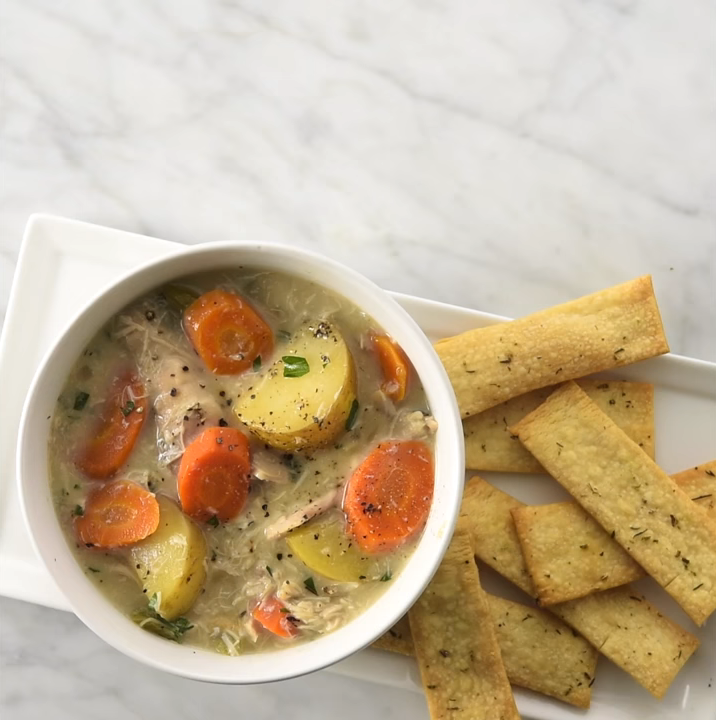 Thanks to your slow cooker and pie crust crackers (hello, genius idea!), chicken pot pie will never be the same.
Stew
8 boneless skinless chicken thighs (about 2 lb)
3 cups Progresso™ chicken broth (from 32-oz carton)
4 medium carrots, peeled and cut diagonally into 1/4-inch slices
3 medium Yukon gold potatoes, cut into 1-inch cubes
3 stalks celery, cut diagonally into 1/4-inch slices
1 medium onion, diced
1 teaspoon dried thyme leaves
1 1/4 teaspoons salt
1/2 teaspoon freshly ground black pepper
1/4 cup cornstarch
1/4 cup water
1/2 cup heavy whipping cream
2 tablespoons finely chopped Italian (flat-leaf) parsley
Pie Crust Crackers
2 tablespoons butter, melted
1/2 teaspoon dried thyme leaves
1/4 teaspoon salt
1 box (14.1 oz) refrigerated Pillsbury™ Pie Crusts (2 Count), softened as directed on box
Instructions
Slow-Cooker Chicken Pot Pie with Pie Crust Crackers
Spray 5-quart slow cooker with cooking spray. In slow cooker, mix chicken, broth, carrots, potatoes, celery, onion, thyme, 1 1/4 teaspoons salt and the pepper. Cover; cook on High heat setting 3 to 3 1/2 hours or until juice of chicken is clear when thickest part is cut (at least 165°F) and potatoes and carrots are tender.
Uncover; using 2 forks, shred chicken into large chunks. In small bowl, beat cornstarch and water with whisk until smooth. Add cornstarch mixture and whipping cream to slow cooker; stir to combine. Cover; cook about 20 minutes or until slightly thickened. Stir in parsley.
Meanwhile, heat oven to 450°F. In small bowl, mix melted butter, thyme and 1/4 teaspoon salt until well blended. Unroll pie crusts on 2 large ungreased cookie sheets; brush with seasoned butter. With pizza cutter or knife, cut pie crust into 4x1-inch strips. Bake 8 to 10 minutes or until golden brown. Serve with pot pie.
Tips:
If you like your pie crust crackers cheesy, sprinkle 2 tablespoons Parmesan cheese on top of each crust after you brush with butter, before cutting them into strips.
If you like peas in your pot pie, you can add 1/2 cup frozen sweet peas (thawed) 10 minutes before you stir in the cornstarch mixture.
Cheesy Bacon Muffin Tin Breakfast Quiches
Heat oven to 350°F. Spray insides of Texas (jumbo) muffin cups with non-stick cooking spray. Unroll both pie crusts and slice each into quarters so that you have 8 pieces of dough. Press each piece into one muffin cup. (Note: This recipe yields 8 quiches. Use an 8-cup pan if you have it, or divide the batch between two 6-cup jumbo muffin pans, like we did.)
Place a slice or two of Canadian bacon or ham in the center of each crust. In a large bowl, whisk together eggs and cream until well combined. Stir in cheddar, red pepper, spinach, onion and garlic.
Spoon mixture into muffin cups. Bake for 35-45 minutes, or until the centers are set. Serve warm or at room temperature.
Tips:
Don't have a Texas Muffin Tin? 4" ramekins also work!
Do you ever wanna host a Sunday Brunch? One of those idyllic ones, with all the girlfriends gathered round. Little vats of orangey mimosas. Lots of pretty eats peppered upon the kitchen island. And then, you realize the mere thought of cooking gourmet specialities for y… More +
Mixed Berry Pie Bites
Preheat oven to 400°F. Unroll two Pillsbury™ pie crusts. Slice rounds in half, then turn the curved edges facing each other, layer two vertically and two horizontally on a parchment-lined baking sheet to form a rectangle. Roll with a rolling pin until layers have mashed together.
Repeat with second box of pie dough rounds, placing on a large piece of parchment paper. Set aside.
In a large microwave-safe bowl, microwave jam until softened, about 30-45 seconds on high. Stir in frozen berries, 1/2 cup sugar and cornstarch.
Score the rectangle of pie crust on the baking sheet into 2" x 2" squares. Spoon berry mixture into the center of each square. Brush a small amount of egg on the scored lined of each square, and around the edges of the pie crust.
Gently place second pie rectangle on top of the berry mixture. With your fingers, firmly press down between the seams of each square, pressing the top and bottom layers of pie dough together. Cut between each square with a pastry cutter or sharp knife.
Cut a small "X" in the top of each pie square or use the tip of a small metal icing tip to create a star-shaped cut-out.
Brush the tops of each square with egg, sprinkle with sugar. Bake for 25-30 minutes, or until pie squares are golden brown.
Cool completely before serving. To serve, use a knife to cut through the lines, separating each square.
S'mores Mini Wraps
Preheat oven to 375°F. Roll out each piecrust and trim the edges to form a large square. Cut into 6 equal squares.
Turn the square of dough so it's shaped like a diamond, with one tip at the top and one at the bottom. Spread 1 tablespoon of the marshmallow fluff in each square, forming a thick line from the top corner of the square to the bottom. Sprinkle with mini chocolate chips and graham cracker crumbs. Fold the side corners in and over. Place on a baking sheet. Repeat with remaining dough.
Bake for 15 minutes or until the crust is lightly browned. If desired, dust with cinnamon sugar or powdered sugar.
Tips:
Add favorite ingredients like peanut butter and chocolate-hazelnut spread to customize the flavors!
Did You Make This Recipe?
---
Enjoy
Nutrition Information:
S'mores Mini Wraps
280 Calories
13g Total Fat
1g Protein
41g Total Carbohydrate
17g Sugars
Mixed Berry Pie Bites:
800 Calories
33g Total Fat
4g Protein
121g Total Carbohydrate
50g Sugars
Cheesy Bacon Muffin Tin Breakfast Quiches
530 Calories
38g Total Fat
20g Protein
28g Total Carbohydrate
3g Sugars
Slow-Cooker Chicken Pot Pie with Pie Crust Crackers
690 Calories
33g Total Fat
36g Protein
62g Total Carbohydrate
5g Sugars