So many treats, so little time. Here are four recipes that use Betty Crocker cake mix in deliciously unexpected ways, forever changing the way you look at those boxes with the signature red spoon.
Follow along with the ???? recipes below????????????????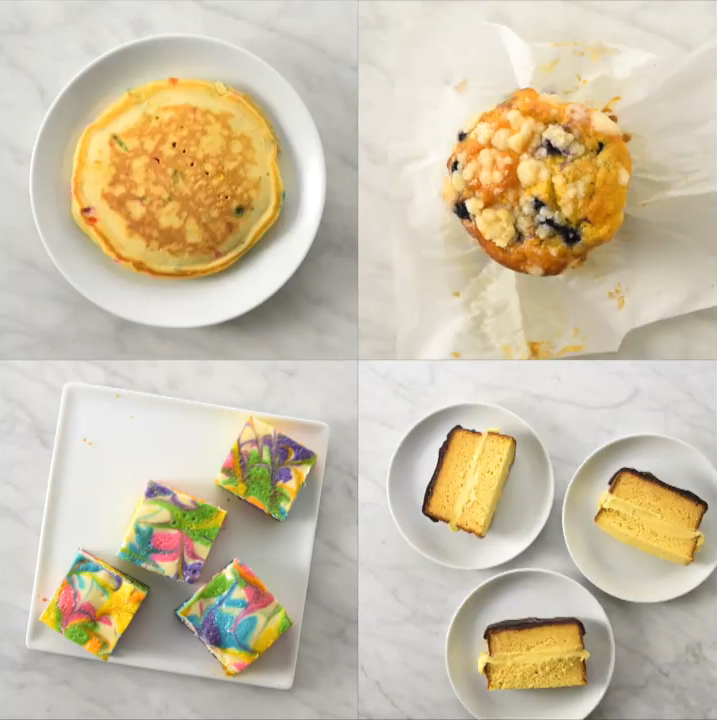 Ingredients
Copycat Costco™ Blueberry Muffins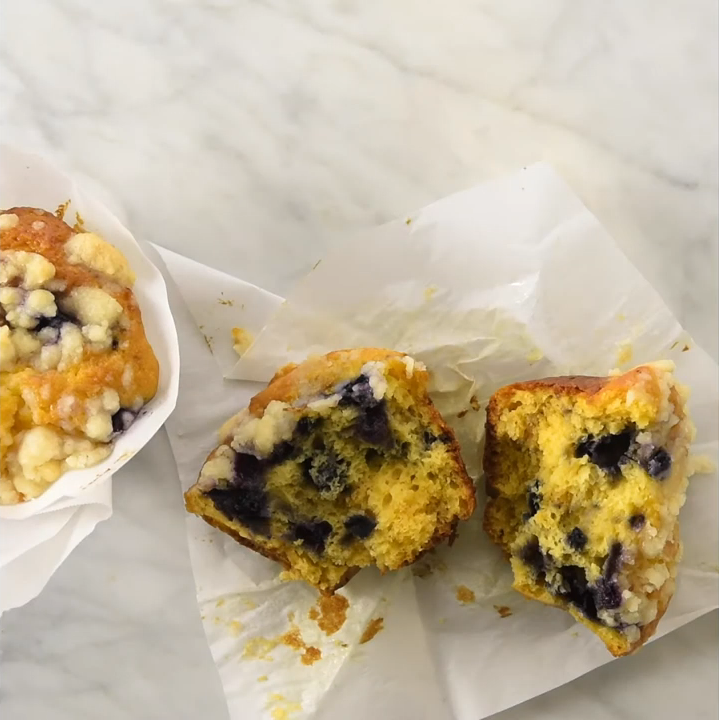 Blueberry muffins as big as your head! Bake up a batch of six gigantic muffins with a jumbo-size Texas muffin tin and this works-every-time recipe.
Muffins
3 eggs
3/4 cup milk
1/2 cup butter, melted
1 box (15.25 oz) Betty Crocker™ Super Moist™ cake mix (yellow or white)
1 packet (3.9 oz) vanilla pudding mix
3/4 cup sour cream
1 cup frozen wild blueberries or chocolate chips
Streusel Topping (optional)
2 tablespoons butter
1/4 cup sugar
1/4 cup flour
Cake Batter Pancakes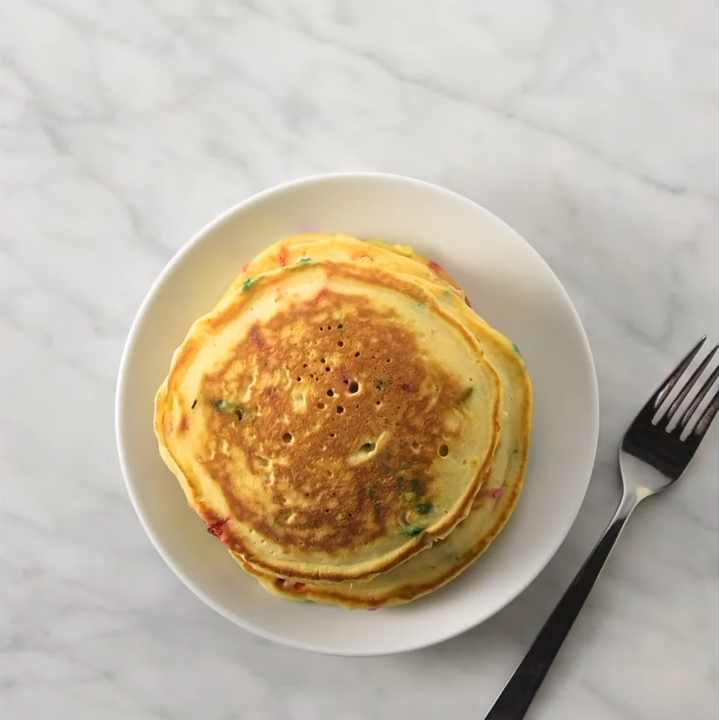 Cake batter-flavored pancakes that are a sweet treat for a special occasion or everyday. Now you can have cake for breakfast!
1 1/4 cups all-purpose flour
1 box (15.25 oz) Betty Crocker™ Super Moist™ yellow cake mix
1 tablespoon sugar
3/4 teaspoon baking powder
Pinch of salt
2 large eggs
1 teaspoon vanilla extract
1-2 cups milk
Assorted sprinkles
For the glaze:
1 cup powdered sugar
1 tablespoon milk
1/2 teaspoon vanilla
Assorted sprinkles
2 tablespoons butter, softened
Chocolate Eclair Cake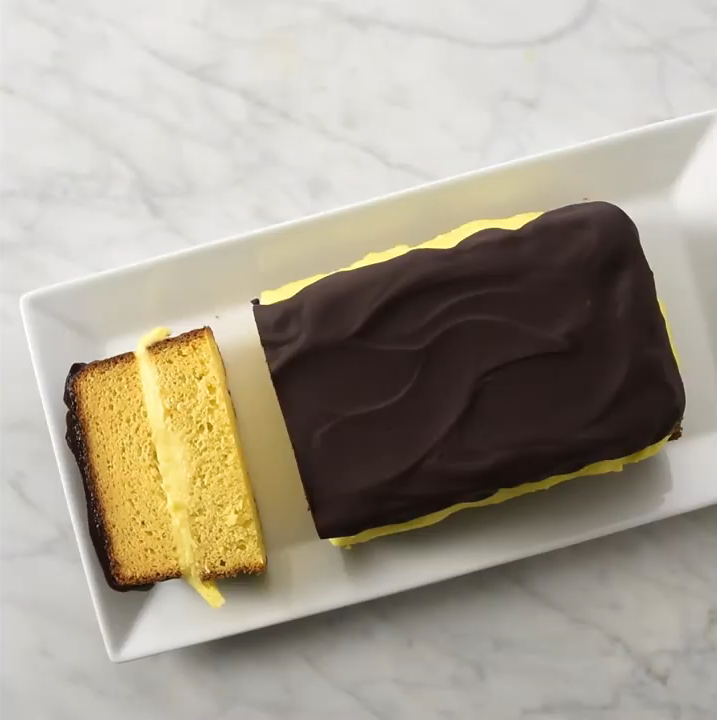 Decadent pastry cream layered between moist yellow cake and topped with chocolate glaze shaped to look like a giant eclair!
Cake
1 box (15.25 oz) Betty Crocker™ Super Moist™ Cake Mix Butter Recipe Yellow
1 small box (3.4 oz) vanilla pudding mix
1/3 cup butter, softened and cut into small pieces
1/2 cup sour cream
3/4 cup milk
3 large eggs
Pastry Cream
1 1/4 cup heavy whipping cream
1/3 cup sugar
3 tablespoons flour
1/8 teaspoon salt
3 egg yolks
3/4 teaspoon vanilla paste or pure vanilla extract
Chocolate Glaze
1/4 cup heavy whipping cream
1 tablespoon corn syrup
4 ounces semi-sweet chocolate, finely chopped
Rainbow Cheesecake Swirl Bars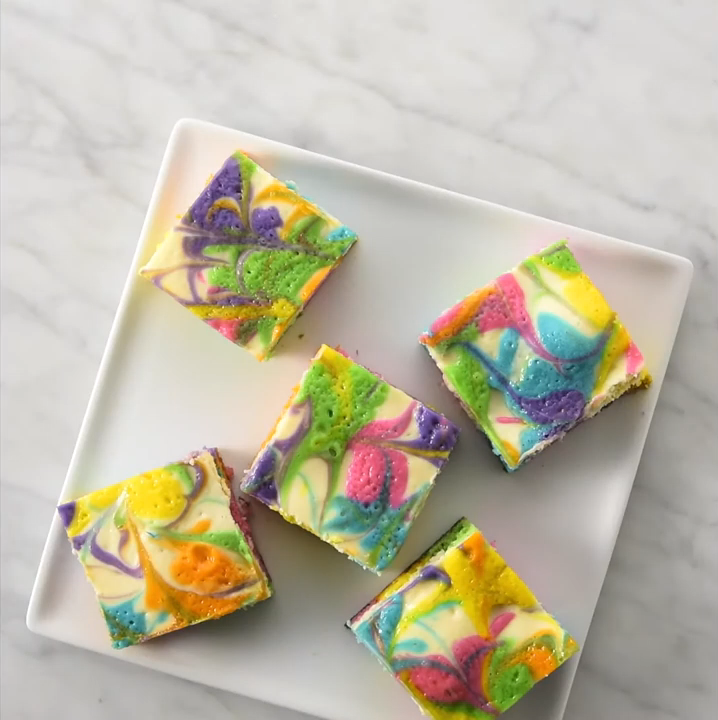 Brightly colored cake is swirled with a layer of cheesecake.
1 Betty Crocker™ Super Moist White Cake Mix
1/2 cup butter, melted
1 egg
2/3 cup milk, plus 9 extra teaspoons
Betty Crocker™ gel food colors Neon Pink, Orange and Purple
Betty Crocker™ gel food colors Yellow, Green, and Blue
1-1/2 blocks (12 oz.) cream cheese, softened
1/3 cup sugar
1 egg
1 teaspoon vanilla extract
Instructions
Copycat Costco™ Blueberry Muffins
In a large bowl or stand mixer, beat together eggs, milk, butter, cake mix, pudding mix and sour cream. Fold in blueberries.
Spoon into a Texas (jumbo) muffin tin, lined with large parchment lotus cups. For best results, fill each cup nearly to the top. To add the optional streusel topping, combine butter, sugar and flour with a fork and sprinkle evenly on top of muffin batter before baking.
Bake at 350°F for 45-50 minutes. Allow to cool slightly, if desired.
Cake Batter Pancakes
Combine flour, cake mix, baking powder, sugar and salt in a bowl and mix.
Add 1 cup of milk, eggs, and vanilla extract. Stir until smooth. Add additional milk until batter has the consistency of pancake batter. You can also add more cake mix if you want your pancakes to have a stronger cake batter flavor.
Preheat a skillet to low to medium heat. Fold desired amount of sprinkles into batter. Pour batter in 1/4 cup measurements onto skillet and let cook until bubbles form on top, about 2-3 minutes. Flip and cook for 1 minute more. Serve with vanilla glaze (recipe follows).
For vanilla glaze: mix powdered sugar, butter, and vanilla and milk until glaze forms. You may need to add a little more milk to reach desired consistency so that it can be drizzled. Mix into glaze and drizzle on pancakes.
Adapted from How Sweet It Is (Cake Batter Pancakes
Chocolate Eclair Cake
CAKE: Line a long loaf pan (13 x 5 x 3-inch) with tin foil. Spray any uncovered area with non-stick spray. Preheat oven to 350° F.
Combine cake mix, pudding mix, butter, sour cream, milk and eggs. Beat on low speed using an electric mixer for 30 seconds. Increase mixer speed to medium and beat for 2 minutes.
Pour batter into loaf pan. Bake for 48-52 minutes until a toothpick inserted in the center comes out clean. Cool cake in pan for 10 minutes, then remove and set on cooling rack to cool completely.
PASTRY CREAM: While cake is baking, make the pastry cream. Heat heavy whipping cream in a saucepan set over medium heat just until steam rises from the pan. Remove from heat.
Whisk together the flour, sugar, salt and egg yolks. Continue to whisk as you slowly drizzle the hot cream into the mixture.
Return mixture to the saucepan, set over medium low heat and whisk constantly until thickened for 2-4 minutes.
Pour through a fine mesh strainer set over a bowl.
Press a piece of plastic wrap directly on top of the pastry cream and refrigerate until well chilled.
CHOCOLATE GLAZE: Pour heavy whipping cream, corn syrup and chocolate into a microwave safe bowl. Heat in microwave on high for 30 seconds. Let sit in microwave for 3 minutes.
Remove and stir until smooth. If not all melted, heat for 10 second increments, stirring after each until melted. Allow to cool and thicken slightly.
ASSEMBLE CAKE: Cut a 1-inch slice horizontally from the cake to make the top and bottom more closely resemble the two pieces of an éclair. Save the slice for another use.
Spread pastry cream between the two cake layers. Pour chocolate glaze over top of the cake.
Note:
This cake is best served the same day it's assembled.
Rainbow Cheesecake Swirl Bars
Preheat oven to 325°F. Line a 9x13-inch pan with non-stick foil or line with parchment paper and spray with baking spray.
RAINBOW CAKE BATTERS: Combine cake mix, melted butter, egg and 2/3 cup milk in a mixing bowl. Stir until combined. The batter will be thick like a brownie mix. Equally divide batter into 6 bowls. Color one bowl purple, another blue, green, yellow, orange, and pink. Reserve 1 tablespoon of each colored batter for the top of bars.
Spoon teaspoonfuls of colored batter into bottom of pan, alternating colors as you go. Wet your hands slightly and press on the batter, flattening it where needed. Add 1 1/2 teaspoons milk to each of the remaining tablespoons of colored batter to thin them out.
CHEESECAKE LAYER: Stir together cream cheese and sugar (or pulse in a food processor). Add egg and vanilla extract and stir until smooth. Pour cheesecake filling over layer of cake batter. Drizzle the thinned out colored batter over cheesecake filling, then swirl using a fork or knife. Bake uncovered for 20 minutes. Cover pan with foil for remaining baking time to keep the colored swirls from browning. Return to oven for 14-20 minutes.
Cool at room temperature for about an hour, then refrigerate for at least 2 hours. The center will still jiggle slightly and will firm up as it cools. When ready to serve, cut into 24 squares. Store in the refrigerator.
Did You Make This Recipe?
---
Enjoy
Nutrition Information:
Copycat Costco™ Blueberry Muffins
600 Calories
27g Total Fat
6g Protein
83g Total Carbohydrate
52g Sugars
Cake Batter Pancakes
280 Calories
6g Total Fat
4g Protein
54g Total Carbohydrate
30g Sugars
Chocolate Eclair Cake
460 Calories
25g Total Fat
6g Protein
53g Total Carbohydrate
34g Sugars
Rainbow Cheesecake Swirl Bars
180 Calories
10g Total Fat
2g Protein
19g Total Carbohydrate
12g Sugars