Fried rice with minced meat is on the menu in Book recipe, and we are going to teach you how to make this delicious recipe from scratch!
Follow along with the ???? recipes below????????????????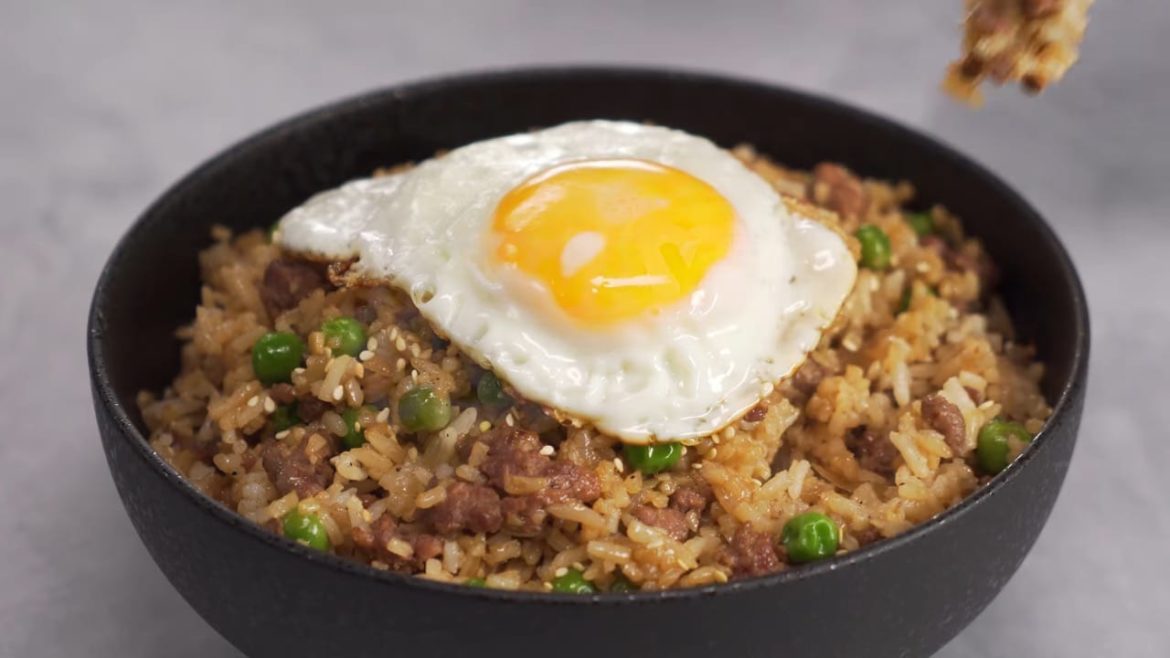 Ingredients
ground beef – 14 oz /400 g
rice – 14 oz /400 g
bulb onion – 5 oz /150 g
fresh frozen green peas – 4 oz /120 g
water – 28 fl oz /800 ml
soy sauce – 5 tbsp
oyster sauce – 2 tbsp
sesame oil – 1 tsp
sesame seeds – 1 tbsp
ground black pepper – ¼ tsp
vegetable oil – 5 tbsp
garlic – 5 cloves
4 eggs
sugar – 1 tsp
You will need:
stockpot
pan
carving board
bowl
Instructions
Heat a pan with 2 tbsp of vegetable oil and add the pre-washed rice.
Fry over high heat for 2-3 minutes stirring constantly, then add 28 fl oz /800 ml of boiling water, stir, reduce the heat to low, cover with a lid and cook for 17 minutes until readiness of the rice.
Heat the pan with 2 tbsp of vegetable oil and fry stirring the chopped up bulb onion and minced garlic for 3 minutes.
Add the beef mince into the pan and fry stirring for 5 minutes over medium heat.
Add 4 tbsp of soy sauce, the green peas, ground black pepper, oyster sauce and sesame oil and fry stirring for a minute over medium heat.
Add the prepared rice and stir well, switch the heat off, cover with the lid and leave for 5 minutes.
Heat a pan with 1 tbsp of vegetable oil and fry the eggs for 3 minutes leaving the yolks runny.
In a bowl combine 1 tbsp of soy sauce, 1 tbsp of sugar and 3 tbsp of water.
Lay out the rice into a serving bowl, sprinkle with sesame seeds, drizzle with the prepared sauce and add a fried egg atop.
Serve your Chinese-style ground beef fried rice hot.
Did You Make This Recipe?
Fried rice with ground beef is one of the most popular dishes in Chinese restaurants around the world. In combination with fresh ground beef and spices there comes out a dainty and mouth-watering dish you will need no more than half an hour to cook.
---
Bon Appétit