homemade beef shawarma is on the menu in Book recipe, and we are going to teach you how to make this delicious recipe from scratch!
We're making the PERFECT homemade beef shawarma today using a delicious Egyptian recipe. It's zesty, savory, and flavourful, and I can't think of anything better you should cook this weekend. It goes perfectly in soft buns and best of all it cooks in one pot.
Follow along with the ???? recipes below????????????????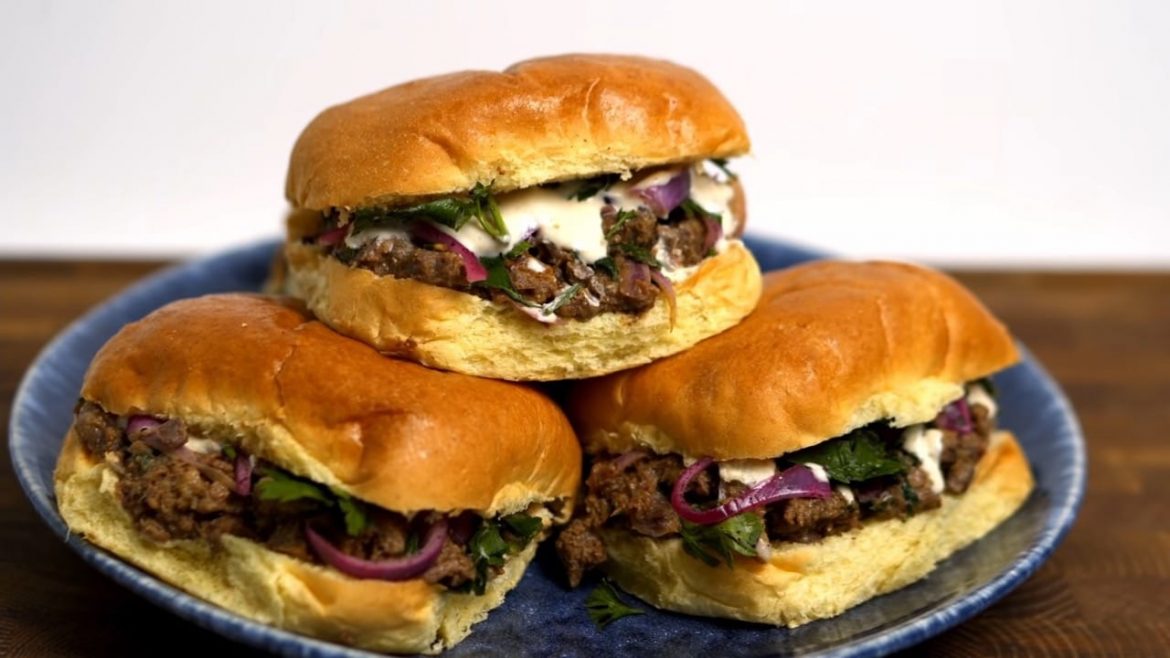 Ingredients
1kg of Beef. I used topside, but this recipe will be 10 times better with something that has intra-muscular fat like ribeye, sirloin or even beef ribs
50-100g Solid Beef or lamb fat (optional, but highly recommended)
Replace the above with 3 Tbsp of Beef drippings or butter
1 Tomato
1 Green Chilli
6 Soft flour buns
Marinade:
2 Medium Onions
Zest of 1 Lemon
Zest of 1 Orange
5 Tbsp White Vinegar
2 Tsp Salt
1 Tsp Pepper
1/2 Tsp Sumac
1/2 Tsp Baharat (leave it out if you don't have it)
Tahini sauce:
75g (2.6 oz) Yoghurt
50g (1.8 oz) Tahina
50g (1.8 oz) Water
20g (1 Tbsp) Lemon Juice
1/4 Tsp Salt
1/4 Tsp White Pepper
1/4 Tsp Cumin
1/4 Tsp Chilli Powder (Optional)
Onion and Parsley salad:
1 Red Onion
25g or a small bunch of parsley
1/2 Tsp Salt
1 Tsp Sumac
1 Tbsp Lemon Juice
Instructions
To prepare the beef:
Slice your beef into strips, about 5-7mm wide and thick, and 3-6 cm long. Make sure you are slicing against the grain at all times (see link in references), to ensure the beef is tender
Add the marinade ingredients into a blender, and blend on high until it forms a thick liquid
Place the sliced meat in the pot you'll be cooking in, and pour on the marinade. Massage it into the meat until well coated
Wash and add the Tomato and Green chili, then let this marinade for 2-3 hours
To cook the beef:
Place your pot on the stove over high heat, and bring this to a boil
Once boiling, add in your solid animal fat and turn the heat to medium-low. Cover with a lid and cook until tender. The topside will take about 1.5-2 hours, anything softer will cook quicker
When the desired tenderness is achieved, mash the tomato and chili, and if using beef dripping or butter add it now
Cook with the lid off for about 15 minutes until the meat is nicely browned and fatty
To make the salads:
I recommend making extra parsley and onion for topping
Slice your onion into thin strips, then mix it with the salt, and sumac. Massage them in then let this sit for 10-15 minutes
Roughly chop the parsley into small pieces
Mix the lemon juice with the onion and set aside
To make the tahini, combine all the ingredients together in a bowl or blender and mix until smooth
To serve the shawarma:
Add the onions and parsley to the shawarma, as well as 2 Tbsp of the tahini sauce
Mix thoroughly until well combined
Toast your buns (or don't) then add tahini sauce and a few spoons of the shawarma
Serve and enjoy
Did You Make This Recipe?
---
Enjoy
Let us know what you think of today's homemade beef shawarma tips, tricks, and hacks!