FRUIT FILLED BAKLAVA is on the menu in Book recipe, and we are going to teach you how to make this delicious recipe from scratch!
I bet you didn't know you could make Baklava with fresh fruit! In this video, I'll show you my recipe for making an amazing Fruit filled Baklava. We'll be filling it with sweet mango and freshly whipped cream for an ultra-decadent treat.
Follow along with the ???? recipes below????????????????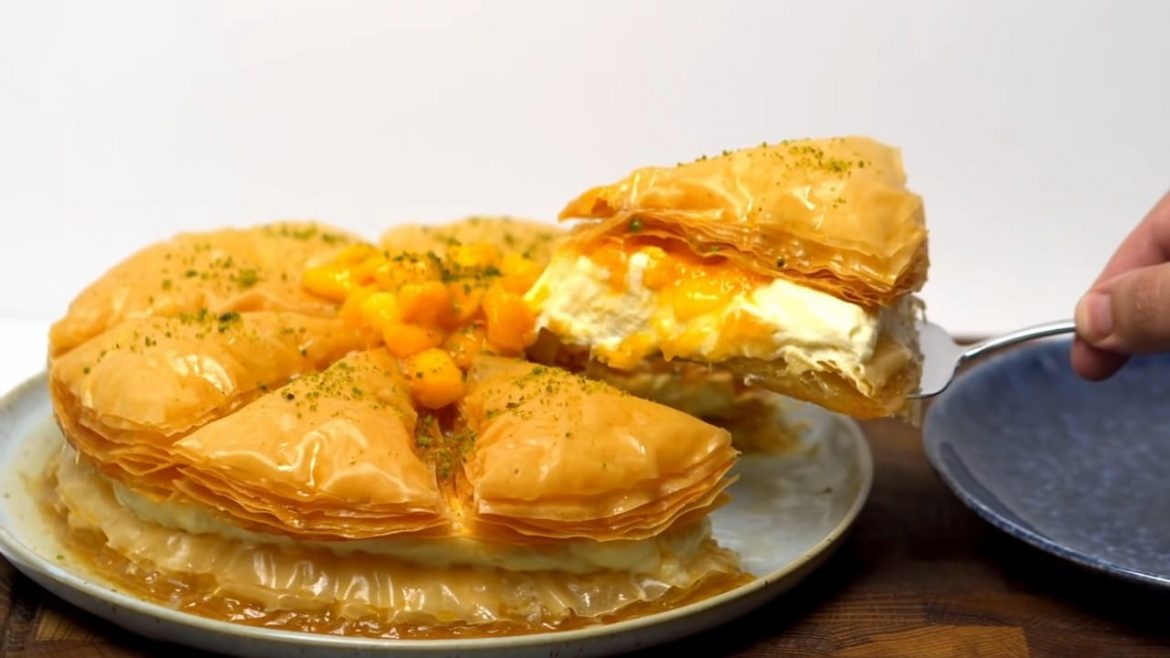 Ingredients
6 (1.25kg) Fresh sweet mangoes (I recommend Egyptian, Indian and Pakistani mangoes for flavor)*
* Can be replaced with other fruits too
For the Syrup:
375g (13 oz) Sugar
225ml (5.1 fl oz) Water
3/4 Tbsp Lemon Juice
1.5 Tsp Vanilla Essence
75 - 100g (2.6 - 3.5 oz) of mango offcuts
For the Baklava (enough for 2 X 10 inch (25cm) layers Top & Bottom*)
400g (14 oz) Fresh Phyllo or Yufka pastry
250g (8 oz) Butter
* For 7 inches, halve these ingredients, and for only a single layer of pastry halve it as well
For the Cream filling:
250 - 300g (8 - 10.5oz) Heavy Cream
125g Mascarpone/Clotted Cream/Eshta
Instructions
To make the Syrup:
Place your sugar, lemon, and water in a pot over high heat and bring to a boil
Let it boil until all the sugar granules have dissolved
Add in 75 - 100g (2.6 - 3.5 oz) of mango off cuts to the pot and turn the heat to low
Allow this to simmer for 15 minutes
When the time is up, add the vanilla and simmer for one minute further
Remove from the heat and pour through a strainer to remove any lumps of mango
Allow cooling completely before use
To clarify the butter:
Place the stick of butter in a pot over high heat and melt completely
Once melted, turn the heat to medium-low and let this simmer till the fat and milk solids separate
When you can see two distinct liquids in the pot pour just the fat out into a bowl or jug
To make the Baklava layers:
Place the pastry on your cutting board, and put your baking dish on top of it
Use a sharp knife to cut the pastry sheets into the correct size for the baking dish by tracing around it
Cut two strips of parchment paper and lay them across your baking dish like a cross, they should run over the sides of your dish
Using the clarified butter, coat the entire baking dish in a thin and even layer of fat
Place your first sheet of pastry in the dish, and center it properly
Coat that sheet in an even layer of clarified butter, making sure to properly coat the edges and center of the sheet
Place another sheet on top of the previous one
Repeat steps 6-7 a minimum of 8 times, but I'd recommend at least 10 layers
Coat the final layer in butter on top for better browning
You need to repeat this process (steps 4-9) again so you have a top and bottom layer of baklava. For the top one using a knife to cut the prepared tray into 8 even pieces
Preheat your oven to 160c or 320f with the fan on, place your tray in there to bake for 25-30 minutes
Remove when golden brown and immediately pour over 75ml of the prepared syrup (Has to be done when hot)
To make the cream:
Place the ingredients in a bowl or mixer as well as 3 Tbsp of the fruit syrup
Whisk until combined into a thick but fluffy cream mixture
To assemble the dish:
Coat your fruit in the remaining syrup, and allow it to drain for at least 10 minutes
Place the bottom layer of your baked pastry on a plate
Add the cream in an even layer on top of the baklava, spreading it towards the edges but leaving a gap of 1 inch
Place the fruit on top of the cream in an even layer
Add the top layer (if using) then decorate with more mango and some pistachio dust
Serve and enjoy
Notes
Wash, then peel and chop your mangoes into small cubes, and scrape off any leftover mango from the skin

It will last about 3 days in the fridge

Did You Make This Recipe?
---
Enjoy
Let us know what you think of today's FRUIT FILLED BAKLAVA tips, tricks, and hacks!