pickled Eggplants are on the menu in Book recipe, and we are going to teach you how to make this delicious recipe from scratch!
These Pickled Aubergines/Eggplants are the perfect condiment to eat with anything. They have a garlicky vinegar flavor, that can brighten and flavor even the most boring dishes. I love them in all sorts of sandwiches, especially with some falafel.
Follow along with the ???? recipes below????????????????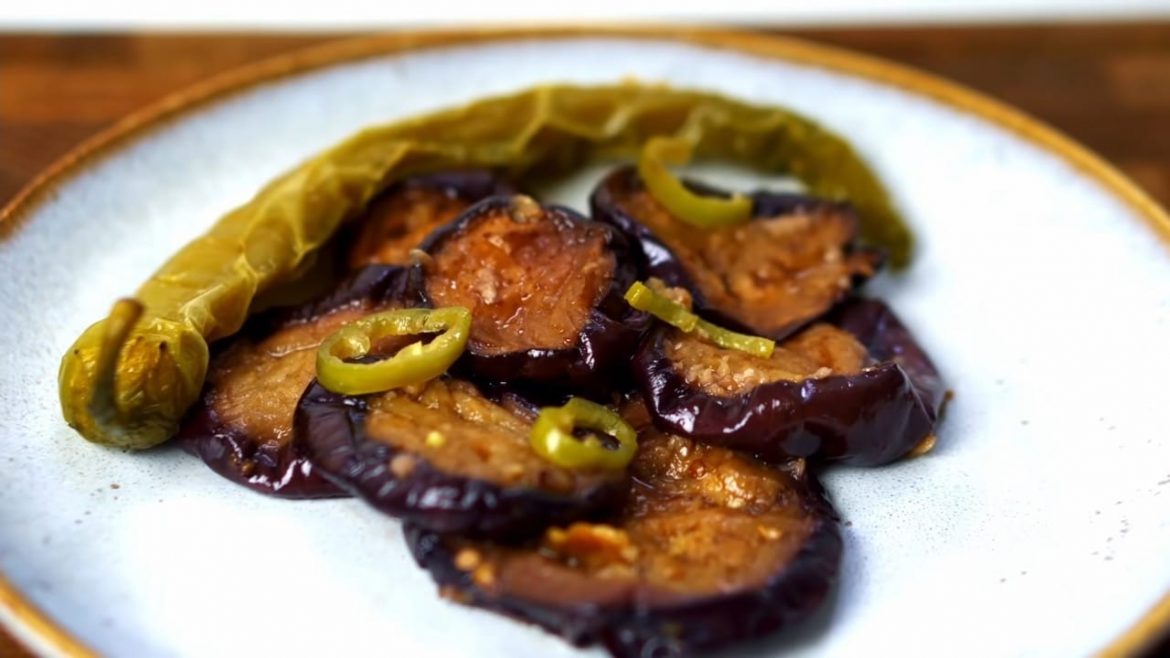 Ingredients
1.5 Kg (4 large) Aubergines/Eggplants
100g (2-3) Green Chillies
120ml (1/2 cup) White vinegar (can use malt or another vinegar instead)
2-3 Tbsp Salt
1/4 Tsp Ground Cumin
8 cloves of Garlic
1/2-1 litre of Oil for Frying
Instructions
Wash and dry, or peel your aubergines, then slice them into slices about 1.5cm (5/8") thick
Place the aubergine slices in a bowl and salt heavily. Mix thoroughly to combine
Let this sit for 40-60 minutes, then wash the salt off of each slice of aubergine individually
Place the aubergine in a colander, and then stack and squeeze the pieces of aubergine to drain them from excess water (do not squeeze excessively until they turn paper-thin, you only want to squeeze water out until they feel dry on the surface)
Mince the garlic, and combine with the vinegar and cumin in a heatproof container/bowl
Heat enough oil to deep fry the aubergines in a pan, and allow to heat up until a drop of water bubbles and evaporates
Fill the pan with aubergine slices, but do not overfill and don't allow them to overlap. Fry on high heat for 4-5 minutes until golden on the underside. Don't forget to also fry a chilli
Flip your aubergines over when gold, and cook for 3-4 mins more (timings may vary, trust your gut with this)
Once golden on both sides, remove from the oil and allow to drain for a few seconds before mixing with the pickling liquid.
Repeat steps 7-9 until you have fried all the aubergine and at least one chilli
Slice a raw green chilli into thin strips, then mix it with the aubergines and let the aubergines pickle. Seal with a lid and store in the fridge
Notes
This needs AT LEAST 6 hours for the flavours to develop, but 24 hours is when they will taste their best. Eat within a few days if in a container, and within a couple of weeks if jarred

Did You Make This Recipe?
---
Enjoy
Let us know what you think of today's pickled Eggplant tips, tricks, and hacks!