Jordan's national dish is on the menu in Book recipe, and we are going to teach you how to make this delicious recipe from scratch!
I'm going to teach you about Jameed, Jordan's secret ingredient that is packed full of MSG, then we'll use it to make some Mansaf. It's a lamb and rice dish, cooked in a Jameed sauce which is really flavourful.
Follow along with the ???? recipes below????????????????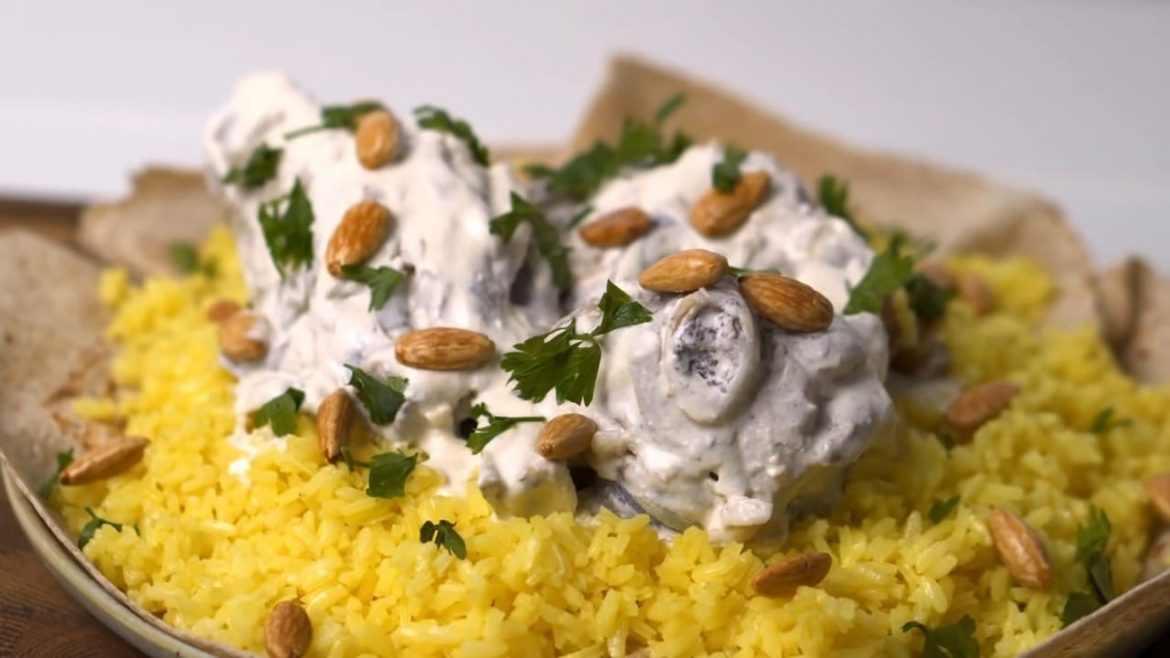 Ingredients
200g (7oz) Solid Jameed or 1 500g box of liquid Jameed (Check Amazon, eBay, or your local middle eastern store)
1 - 1.5kg (2-3lbs) of Lamb cubes. I recommend shoulder cut into large pieces
6 Bay Leaves
10 Cardamom Pods
2 Onions
Rice
2.5 Cups Medium Grain rice
1/4 Tsp Turmeric
3/4Tsp Salt
1 Tbsp Butter/Clarified Butter
70g Blanched almonds
1 Tbsp Butter/Clarified Butter
2-3 pieces of Saj, Markook, or Lavash Bread
Instructions
To cook the lamb:
Place your lamb cubes in a large pot and completely cover with water
Turn the heat up to high and cover with a lid. Bring to a boil and let the boiling continue for 10 minutes
Open the pot and skim off any scum that has floated to the top
Turn the heat down to medium, and allow this to simmer for 1-2 hours
Remove from the heat once the fork-tender
Strain the stock and set it aside
To Prepare the Jameed:
Place your solid Jameed in a large bowl and completely cover with water
Allow this to soak for 2 hours, changing the water every 30 minutes
When the time is up, cut into small pieces and place them in your blender
Add 300ml of water and blend into a smooth liquid
If it's thick add more liquid until you reach a creamy texture
To make the rice:
Wash the rice thoroughly until the water runs clear, then drain for 15 minutes
Melt the butter in the pot over high heat, and add the turmeric and salt
Add the rice, and fry in the butter for 2-3 minutes
Pour in enough strained lamb stock to cover the rice by 1 inch or 2.5 cm
Boil this on high heat (lid off) until the water line drops below the top of the rice
When the water has receded, cover the pot with a tight lid and turn the heat down to low
Allow to steam for 20 minutes
To cook the Jameed:
Pour the Jameed liquid into a pot, then add stock until you get to a soupy consistency
Turn the heat up to medium, and bring this to a simmer. Mix this occasionally to prevent the jameed from settling
Once simmering, add your cooked lamb to the pot and cook for 10 minutes further. You may need to thin this out with more water if it thickens a lot while cooking
To Assemble:
Place your bread on a serving platter
Spread on a small amount of the jameed sauce
Add the rice to the bread
Lay the meat pieces onto the rice
Toast your almonds in the butter then add to the meat
Garnish with parsley and cover the platter with an additional piece of bread before serving
Did You Make This Recipe?
---
Enjoy
Let us know what you think of today's Jordan national dish tips, tricks, and hacks!