Balanced MEALS is on the menu in Book recipe, and we are going to teach you how to make this delicious recipe from scratch!
Today I want to share with you 5 meal preparations that I do almost every week that makes my lunch and dinner preparation much easier and quicker! With this technique, it only takes 10 minutes to create 2-course dishes that are incredibly healthy and delicious.
With an hour of prep every week, you will have fresh salads, vegetables, meat, rice, köfte, stir-fries, pot meals, and many more for the whole week!
Follow along with the ???? recipes below????????????????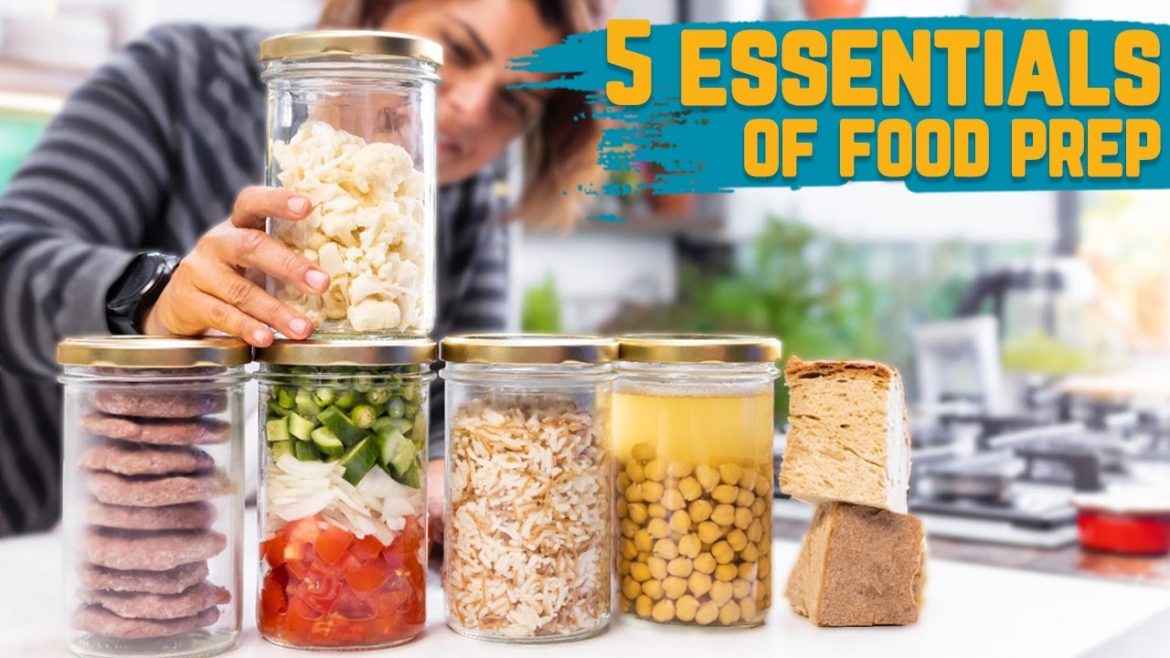 Ingredients
1-Vegetable prep
For herbs:
Wash all herbs like parsley, rockets, lettuce, etc. under running water and let them sit in some water with vinegar to get rid of the pesticides.
Then dry them very well and chop if you like. Place them into clean jars without any space. This way they will stay fresh at least for a week.
For the salads:
You can layer all vegetables into the jar for salad and keep it for more than a week. The basic and essential rule is to ensure that you place the juiciest ingredient like tomato bottom the driest to the top like cucumber.
Broccoli Soup
1 bunch of broccoli florets
1 onion, cut into wedges
3 cloves of garlic
1 tablespoon butter
1 tablespoon flour
100ml cream
1 teaspoon salt
1 teaspoon of black pepper
Coriander
2-Legumes prep
Canned Chickpea
1 kg chickpea
2 teaspoons of salt
Humus recipes:
3- Meat Prep
Frozen Sauteed Chicken
1 kg of chicken thighs and breast, boneless and skinless, cut into 2 cm (1 in) cubes
1 large onion, pureed
2 tablespoons yogurt, kefir works great as well
1 tablespoon salt
1 tablespoon black pepper
2 tablespoons ground cumin
1 tablespoon hot cayenne pepper
1 tablespoon sweet cayenne pepper (you can use 1 tablespoon pepper paste and 1 tablespoon tomato paste instead of both sweet and hot cayenne pepper)
8 tablespoons olive oil
4 large cloves of garlic, pureed
Minced braising sees itself as doner kebap
500 gr minced meat
1 kg onions, diced
1 teaspoon black pepper
½ of a nutmeg, freshly ground
Salt, to taste
You can prepare the recipe with 1 kg minced meat and place the meatballs on a tray.
Freeze overnight and transfer into plastic bags. You can store them for up to 6 months.
4- Stale Bread
Stale bread pizza
6 eggs
1 tomato, grated
1 green pepper, chopped
1 tablespoon of tomato paste
6 black olives, pitted
1 stale bread (around 200 g)
1.5 tablespoons of yogurt
4 tablespoons of olive oil
4 handfuls of grated cheddar (200gr)
1 teaspoon garlic powder
1 teaspoon powdered fenugreek
5- Rice Prep
You can jar the rice after it cools down and store it in the refrigerator for up to a week. Use them for burritos, bowls, salads, stir fry, or with pot dishes, köfte, döner.
Orzo Pilaf
1 tablespoon of butter
1 cup orzo
2 cups of boiling water
1 teaspoon salt
Instructions
1-Vegetable prep
For herbs:
Put the ingredients in the jar in cooking order. The one that cooks easiest goes at the bottom and the one that cooks slowest goes at the top.
All the vegetables must be dry. This is essential to be able to store them for a longer time.
Don't put any juicy ingredients in the middle of the jar, (like tomato) they might rotten the other vegetables much quicker.
Don't put any ingredients that are already going bad. This will shorten the storing time as well.
Try to put the rainbow in your jars! Eating the rainbow is good for your health.
Chop the ingredients in different shapes. Chunk, dice, chop, wedge, julienne… Different cuts will add an extra dimension to your dish!
Use seasonal ingredients. This rule is not only for this technique but also a rule for great cooking!
For onion and garlic,
Dice onions and slice garlic thinly, jar them without any space.
You can sauté onions with some olive oil and store them like that to save more time.
Broccoli Soup
In a large pot, add the onion, broccoli, and garlic.
Finely chop the stem part of the broccoli and add it to the pot.
Add water until it covers the top of the vegetables and closes the lid. Boil until the vegetables are soft.
For the roux of the soup, add 1 tablespoon of butter to a pan and melt it. Add 1 tablespoon of flour and fry until brown.
Blend the softened vegetables with an immersion blender and puree them.
Add the roasted roux into the pot and mix.
Add the cream, salt, and pepper to enhance its flavor and your soup is ready. Finally, you can add fresh coriander leaves and serve.
2-Legumes prep
Canned Chickpea
Soak the chickpeas with 1 teaspoon salt the night before and drain the next day.
Add the drained chickpeas to preferably a pressure cooker, and add water up to 2 cm higher than the level of the chickpeas.
Add 1 teaspoon salt and boil for about 11 minutes after the pressure cooker's lid is locked.
In the meantime, sterilize the jars and their lids with boiling water.
Open the lid of the pressure cooker and divide them into jars.
Fill the chickpeas up to 2/3 of the jar and do not forget to add plenty of boiling water(aquafaba).
You can store them in a dark and cool place for up to six months. Refrigerate after opening the jars.
3- Meat Prep
Frozen Sauteed Chicken
Mix all the ingredients other than the onion in a large bowl.
Put the onion puree in a strainer and sieve its juice into the mixture. Onion juice will help to tenderize the chicken and enhance the flavor.
Heat a large pan and add some olive oil.
Add the chicken to the pan in batches and seal without losing its juice on high heat.
Sautee for 5-6 minutes until the chicken is cooked. Add hot water until covering the chicken.
Turn the heat off and divide the mixture into muffin molds with its juice.
Let it sit to cool down and freeze it.
Transfer them into a plastic bag and use them one by one for each meal like wraps, salads, burritos, and pot dishes.
Minced braising sees itself as doner kebap
Braising minced meat well enough is a skill like speaking a widely-spoken language. It provides one with many possibilities to cook very delicious meals. I always have my minced meat out of low-fat veal. But if you prefer, you can use 50% lamb – 50% veal, too. The important thing is that you should always be by the pot, waiting and braising it thoroughly.
Start braising the minced meat with a middle-high heat in its own fat; when it is being cooked, it will release its water. When it starts to soak its water, add the onion.
When the onions start to turn pink and the meat small turns into that of a kebap – meaning, in 30-35 minutes – it means that your minced meat is now braised. Now, you can add black pepper, nutmeg, and salt.
This is a long process compared to other cooking times you will see here. Therefore, I braise a lot of minced meat and (without adding parsley), put them into small fridge bags and then into the deep freeze. They will act as lifesavers for a lot of recipes, or you can jar them and refrigerate them, and use them for up to a week.
4- Stale Bread
Stale bread pizza
Mix the egg, yogurt, salt, black pepper, and garlic powder in a large bowl.
Cut the stale bread in half, then in half on the sides.
For the delicious sauce, heat the olive oil and add tomato paste, and fenugreek then sauté it.
Add grated tomato and season with salt and pepper to your taste.
Add the olive oil to a large pan (which you can put in the oven) and heat it.
Dip the sliced bread in the egg mixture by scratching them.
Then place the bread in the pan with the insides facing up. If the egg mixture is left in the bowl, pour it into the pan.
When one side of the bread is cooked, turn it to the other side and cook for another 1-2 minutes.
After 2 minutes, add tomato sauce to the bread.
Add the grated cheese, green pepper, and black olives to it.
Place the pan into the oven at 200 C (392 F) on grill mode. Arrange the rack to the second shelf from the top.
Bake for about 2 minutes and it is ready to eat. Bon a petit!
5- Rice Prep
Orzo Pilaf
Melt the butter in a pan. When the butter starts to melt, add the orzo into the pan and stir-fry it until it browns.
When the colors of the orzo start to change, add salt.
Pour the water and cover the pan and cook on low heat for 8 minutes or cook according to the cooking time on the package. Turn off the heat and cover it with a clean kitchen cloth to rest.
After 5 minutes it is ready to eat and serve. Afiyet olsun!
Did You Make This Recipe?
---
Enjoy
Let us know what you think of today's Balanced MEALS tips, tricks, and hacks!