Iskender Kebab is on the menu in Book recipe, and we are going to teach you how to make this delicious recipe from scratch!
I have a magical recipe, and it is also one of my favorites ???? It is a cauliflower dish, but the taste will take you to heaven. I am here to teach you the technique to make cauliflower dishes with the taste of Iskender Kebab. You only need 10 minutes to cook and the good news is that it also has a vegetarian version ???? Enjoy the video!
Follow along with the ???? recipes below????????????????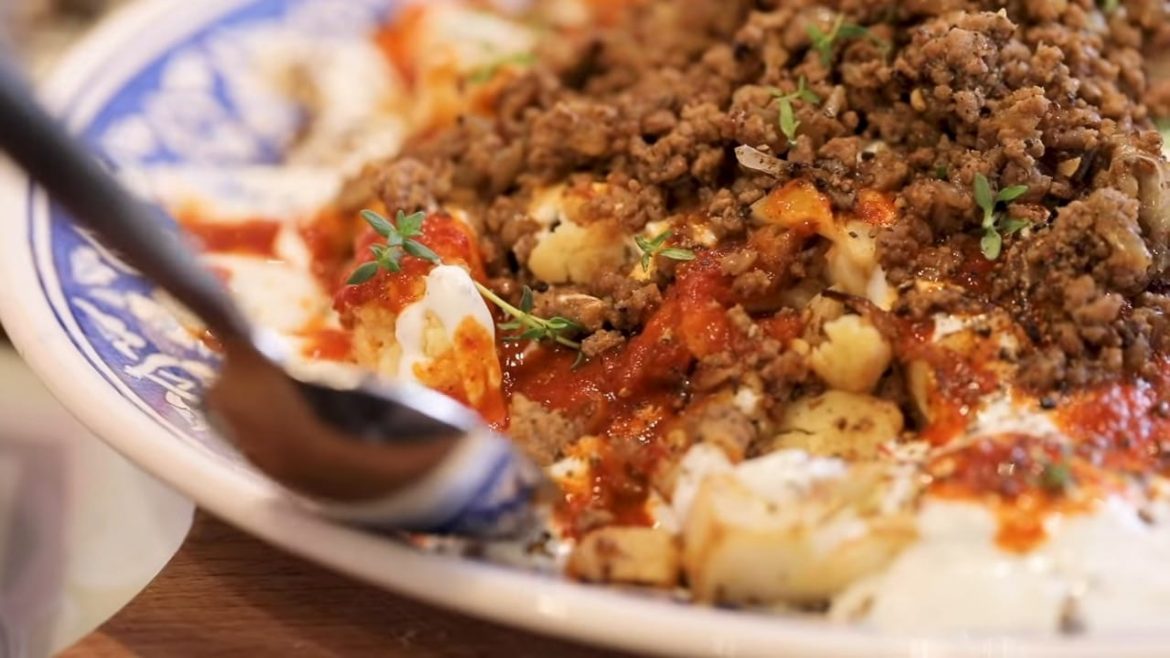 Ingredients
For the minced meat:
180 gr minced meat (~0,4 lb.) ( brisket, plate, or ribs)
1 onion
1 tablespoon olive oil
half teaspoon salt
a pinch of black pepper
1/3 of nutmeg
For the cauliflower:
half cauliflower
2 tablespoons olive oil
6 cloves of garlic
Half teaspoon salt
For the tomato sauce:
1 tablespoon butter
1 tablespoon pepper paste
6-7 tablespoons of water
a pinch of Black pepper
a pinch of oregano
For the yogurt sauce:
3 cloves of garlic (which cooked with cauliflower)
4 tablespoons yogurt
a pinch of black pepper
a pinch of salt
For garnish:
Fresh oregano
A pinch of black pepper
Instructions
If you want to cook the vegetarian version, you can skip the first three steps.
First, we are going to start with the perfectly cooked minced meat. Heat the steel pan very well. Put 1 tablespoon of oil in the pan just to cover the bottom. Put 180 gr of minced meat into the pan and spread with the wooden spoon until they get brown. But do not stir all the time. Let one side brown then stir again. You can also use pork, veal, or lamb.
Add one chopped onion, around 200 gr. Turn the heat to the lowest and continue to cook. Stir from time to time for about 8-10 minutes. Minced meat will get perfectly brown and onions will almost disappear in the pan.
While cooking, add half of a teaspoon of salt. If minced meat sticks to the pan, add a couple of tablespoons of hot water and scrub the bottom with a spatula so you won't waste that amazing flavor. At the end of the cooking add a pinch of black pepper and grate 1/3 of a nutmeg.
Cut half of the cauliflower into chunks. Heat a wok pan and add 2 tablespoons of olive oil. Add the cauliflower and to increase the taste add 6 cloves of garlic. Mash 2 of them before adding. Cook around 5 minutes on high heat until they get a brown crisp.
For the tomato sauce add 1 tablespoon of butter for two people in a saucepan. When the butter melts and gets brown it has really great taste. Add 1 tablespoon of pepper paste and stir very well. Add 5-6 tablespoons of water to make it like sauce. Add a pinch of black pepper and a pinch of dried oregano. Simmer for a couple of minutes. You can use tomato paste, puree, or juice. If you have the juice you need to reduce it by cooking a little longer.
For the yogurt sauce take the 3 sautéed garlic from the cauliflower pan. Mash them with the side of your knife and add them to a bowl. In the same bowl add 4 tablespoons of yogurt, a pinch of salt, and a pinch of black pepper, and mix them well. You can add the 'kaymak' to your yogurt also which is the top fatty part of yogurt.
Time for serving, get a big plate, and put the cauliflower. Spread the yogurt sauce and please dirt the plate as well with yogurt. Add tomato sauce in the same way. Add some fresh oregano so you have the vegetarian version.
For the meat version, put the cooked minced meat on top. Sprinkle a pinch of black pepper and fresh oregano. All done and ready, cauliflower made to take you to heaven, enjoy at home, stay safe!
Did You Make This Recipe?
---
Enjoy
Let us know what you think of today's Iskender Kebab tips, tricks, and hacks!