Roasted meat cakes & potatoes are on the menu in Book recipe, and we are going to teach you how to make this delicious recipe from scratch!
That's quite easy to cook meat cakes with vegetables in oven. A dish comes out mouth-watering, aromatic and festive.
Follow along with the ???? recipes below????????????????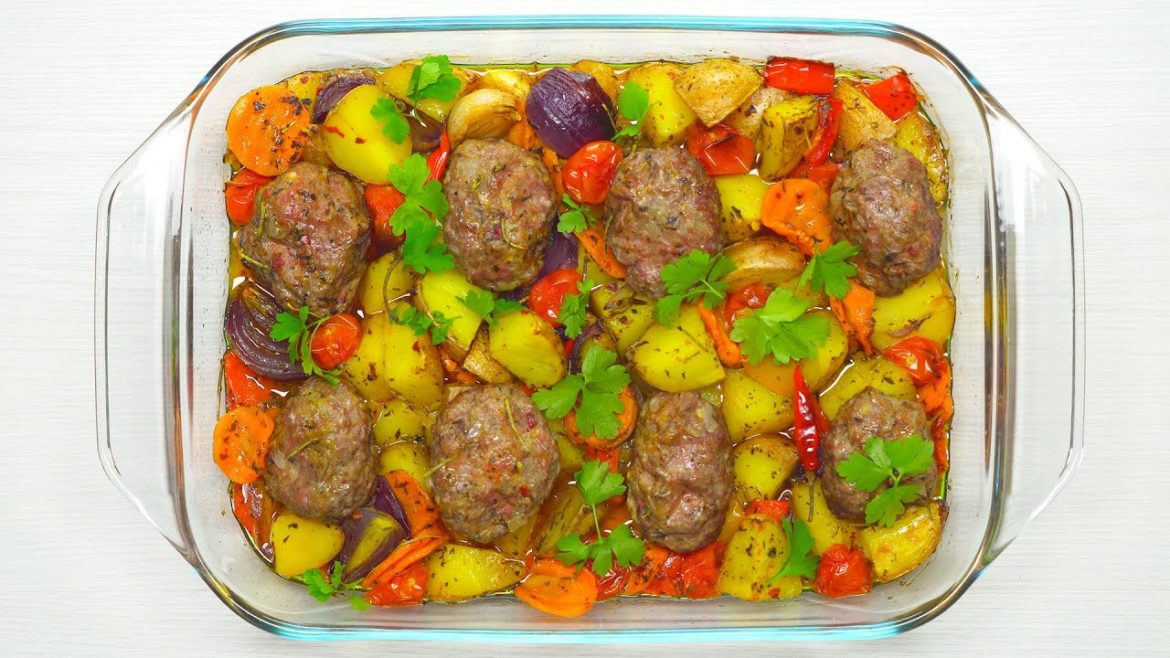 Ingredients
ground meat – 23 oz /650 g
potato – 25 oz /700 g
red onion – 5 oz /150 g
½ red bell pepper
½ orange bell pepper
1 carrot
3 chili peppers
ulb onion – 5 oz /160 g
vegetable oil – 3 tbsp
cherry tomatoes – 3 oz /100 g
salt – 3 tsp
ground black pepper – ½ tsp
chili flakes – 1 tsp
turmeric – ½ tsp
thyme – 1 tsp
rosemary – 1 tsp
dried basil – 1 tsp
water – 3 fl oz /100 ml
garlic – 1 oz /30 g
You will need:
baking tray
oven
carving board
bowl
Instructions
Add the chopped up bulb onion, ground black pepper, 1½ tsp of salt and 3 fl oz /100 ml of water into the ground meat and combine well. Put into a refrigerator for 30 minutes.
Cut the potato, bell peppers, carrot and red onion into wedges, crush the garlic with a knife. Cut the potato not too large.
Lay the veggies into a bowl and add the turmeric, thyme, rosemary, 1½ tsp of salt, basil, chili flakes and vegetable oil and combine well.
Lay out the veggies onto a baking tray.
Make meat cakes out of the prepared ground meat.
Lay the meat cakes onto the veggies, add the chili peppers and cherry tomatoes.
Cover the baking tray with a foil sheet.
Preheat oven to 350°F /180°C and bake for 30 minutes.
Take off the foil and bake the meat cakes and veggies for another 20 minutes until readiness.
Did You Make This Recipe?
---
Enjoy