Chicken manchurian is on the menu in Book recipe, and we are going to teach you how to make this delicious recipe from scratch!
Manchurian-style chicken is not originally a Chinese dish. It is based on Indian cooking techniques and through Chinese spices, the dish gained new tastes, a new «Manchurian chicken» name, and wide popularity. Battered chicken pieces, after not difficult cooking, come out as the tastiest meal nobody can pass up. So when you want to impress your people with a delicious treat and your culinary skills, cook this amazing dish.
Follow along with the ???? recipes below????????????????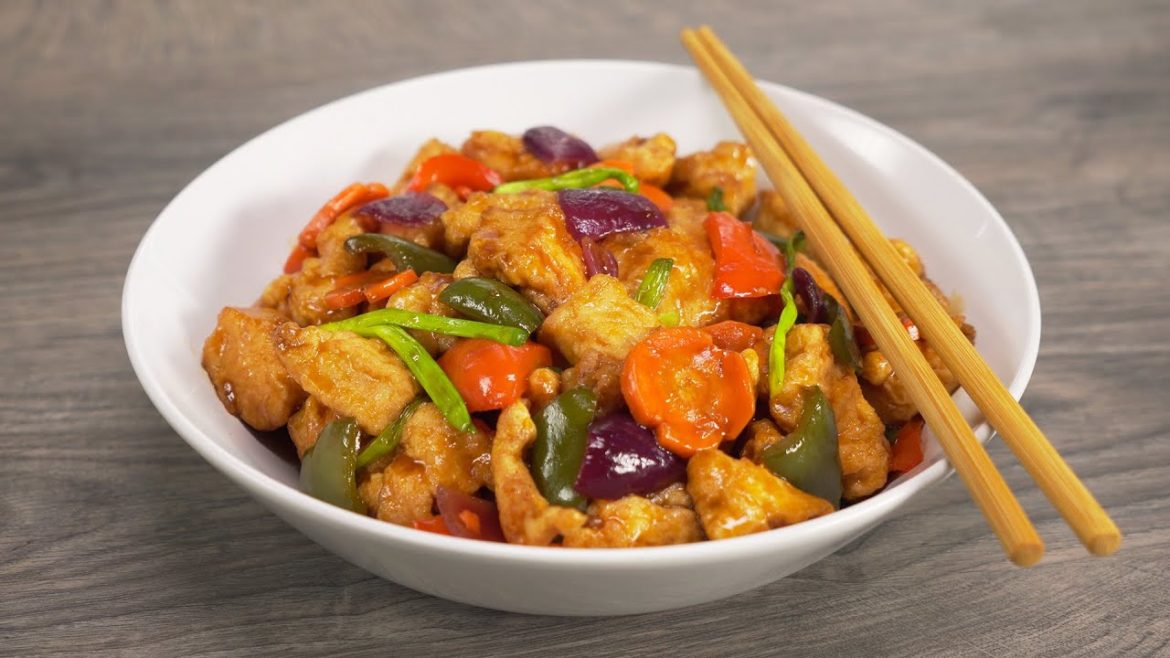 Ingredients
chicken breast – 2 lb /900 g
1 green bell pepper
1 red bell pepper
red onion – 3 oz /100 g
carrot – 7 oz /200 g
garlic – 3 cloves
4 egg whites
corn starch – 4½ tbsp
water – 14 fl oz /400 ml
soy sauce – ¼ cup /50 ml
rice vinegar – 2 tbsp
brown sugar – 2 tbsp
salt – to taste
oyster sauce – 2 tbsp
scallion – 4 stalks
chili pepper – ½ tsp
vegetable oil for frying – 2 cup /500 ml
You will need:
pan or wok
bowl
whisk
carving board
Instructions
Cut the chicken into small pieces.
Add the egg whites and ½ tsp of salt into a bowl and whisk or beat with a fork, add the chicken pieces and combine, add 4 tbsp of corn starch and combine well.
In a pan, wok preferable, heat the vegetable oil to 320°F /160-170°C, fry the chicken by small parts for 2-2,5 minutes over high heat, stirring, until golden. Pieces must not stick to each other.
Pour off the used vegetable oil, add the large-cut red onion, finely sliced garlic and 1 tbsp of vegetable oil into the wok and fry over high heat for a minute stirring constantly.
Add the coarsely cut bell pepper, finely sliced carrot, oyster sauce, soy sauce, rice vinegar, brown sugar, 7 fl oz /200 ml of water and cook for 3-4 minutes over high heat stirring constantly.
Combine 1 tsp of corn starch and 2 fl oz /50 ml of water and add into the wok.
Add 5 fl oz /150 ml of water and cook over high heat stirring constantly until the sauce thickens.
Add the fried chicken and stir well until each piece is coated with the sauce.
When serving sprinkle the manchurian-style chicken with the large cut scallion and stir.
Did You Make This Recipe?
---
Enjoy