Chicken Dürüm is on the menu in Book recipe, and we are going to teach you how to make this delicious recipe from scratch!
That time I am so excited to share one of the best chicken wrap recipes that you have ever tasted ???? The way we cook it, the vegetables we use, and also the spices we add make this dish just amazing. This recipe is inspired by 'tantuni' which is one of the most special dishes of Turkish cuisine and this makes the recipe even more amazing. In the video, a surprise bonus 'ayran' recipe is waiting for you as well.
Follow along with the ???? recipes below????????????????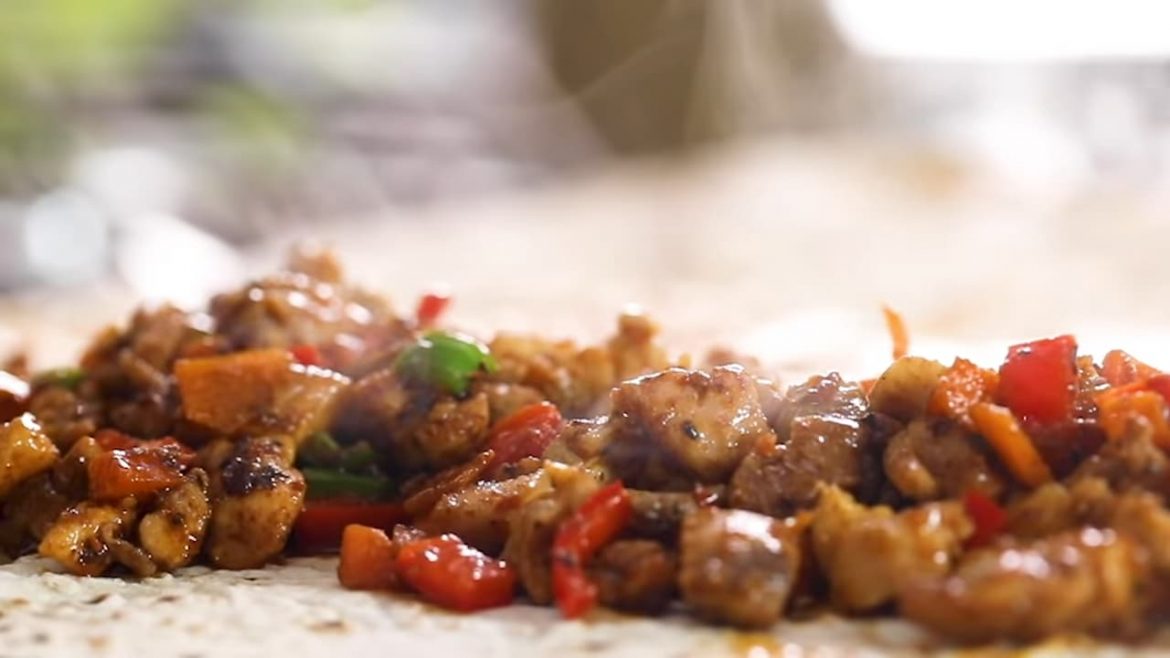 Ingredients
6 pieces of boneless chicken thigh (~500 gr /1.10 lb)
3 cloves of garlic
1 hot green pepper
1 red pepper
1 carrot
5 cloves
1 tablespoon isot
1 tablespoon red pepper flakes
1/3 cup water (to mix the spices)
1 teaspoon salt
1 teaspoon black pepper
2 tablespoons olive oil
2 tablespoons hazelnut oil
1 teaspoon red cayenne pepper
1 teaspoon cumin
1/4 cups water
1/2 bunch parsley
1 Lemon
2 lavash bread
Ayran
5 tablespoons yogurt
500 ml cold water (2 cups)
Salt Some ice
Fresh mint leaves
Instructions
Take out all peppers' seeds and dice them.
Peel 1 carrot with a knife, this way you are not going to waste the carrot. Small dice carrot but with the woody part at the center. This part is less sweet
Crush 3 cloves of garlic and dice them as well.
Dice 6 pieces of boneless chicken thighs around 1 cm cubes. You can use chicken breast if you don't have thighs. But please add 1 tablespoon of butter to make it tastier while cooking.
Then crush 5 cloves in a mortar.
In a small bowl mix 1 tablespoon of it and red pepper flakes. İsot is a kind of red pepper that originated in Urfa, Turkey. The feature of it is, after harvesting they slice, take the seeds out and sundry the pepper, and this way it has its special dark color and taste.
Add 1/3 cup hot water to peppers, mix and set aside. The reason to add hot water is for waking up flavors. Also, use this water to wipe ingredients that stick to the bottom of the pan.
Add ½ teaspoon of salt and black pepper and 2 tablespoons of olive oil to pass all flavors to each other and mix it.
For one wrap, in a large pan, preferably copper, add 2 tablespoons of hazelnut oil and heat it. If you do not have a copper pan you can use an aluminum or enamel pan instead of copper. The reason I am using a copper pan is, that it can heat and cool faster compare to other pans.
After the oil gets hot, add half of the chicken to the pan. If you add all chicken from the very beginning to the pan, the heat might not be enough to cook the chicken thus, it might lose its delicious juice and start to boil rather than sear.
Ensure all chicken pieces are seared and colored.
After all, the chicken changed color, stir and add half of the carrots because it will take more time to cook, than the peppers.
Add half of the crushed cloves, half a teaspoon of cayenne pepper, and cumin. Keep stirring to the pan and add half of the diced garlic.
When the chicken is almost cooked, add half of the spicy water to wipe out all the flavors that are stuck on the bottom.
After this add half of diced peppers and a pinch of salt.
Keep stirring until peppers are cooked. Add a little water and turn off the heat. Clean the pan with your spoon or spatula.
Then transfer all chicken to another pan and cook the second batch as the same. Before that press, your lavash bread into the pan to soak up all the flavor.
After the second batch is cooked, combine all chicken in a big pan and add 1/4 cup of water. Turn the heat on high.
Put a lavash (or tortilla bread) on the pan and press to heat and soak the flavor from the sauce.
Set the lavash on a cutting board and place chicken on the lavash and add ¼ bunch of parsley. You can use rockets or coriander as well.
Squeeze half lemon and wrap it.
Do the same for the second lavash and enjoy your chicken wrap.
Ayran
Add 5 tablespoons of yogurt to a jug and whisk it until getting creamy.
Add2 cups of cold water and salt to taste.
Mix again
Put some ice in a glass and pour ayran.
Garnish with fresh mint leaves or dried mint.
Notes
As a substitute for isot, you can use smoked red pepper or red pepper flakes. If you don't have any of them, you can also use bbq sauce :)

Did You Make This Recipe?
---
Enjoy
Let us know what you think of today's Chicken Dürüm tips, tricks, and hacks!