Shawarma is on the menu in Book recipe, and we are going to teach you how to make this delicious recipe from scratch!
Hey there everyone! Today is the day of the recipe that you all have been asking for and it's the kind of `bereketli` recipe that comes in plenty when it does
I hope you all watched the last video for that bereket reference hah! ???? It's of course, the legendary, the one and only chicken döner also known as shawarma, gyro, or doner kebab, and I gotta tell you, it turned out PERFECT! And of course, we had to come back to the studio for this one because I know Yağız and Burak would particularly not wanna miss out on it ????
Join us in today's episode where we made the classic wrap style chicken döner, along with a delicious rice bowl with chickpeas which is something us Turks consider to be a classic to eat döner alongside with, and don't forget to let us know how your recipes turned out in the comment section below! ????
Follow along with the ???? recipes below????????????????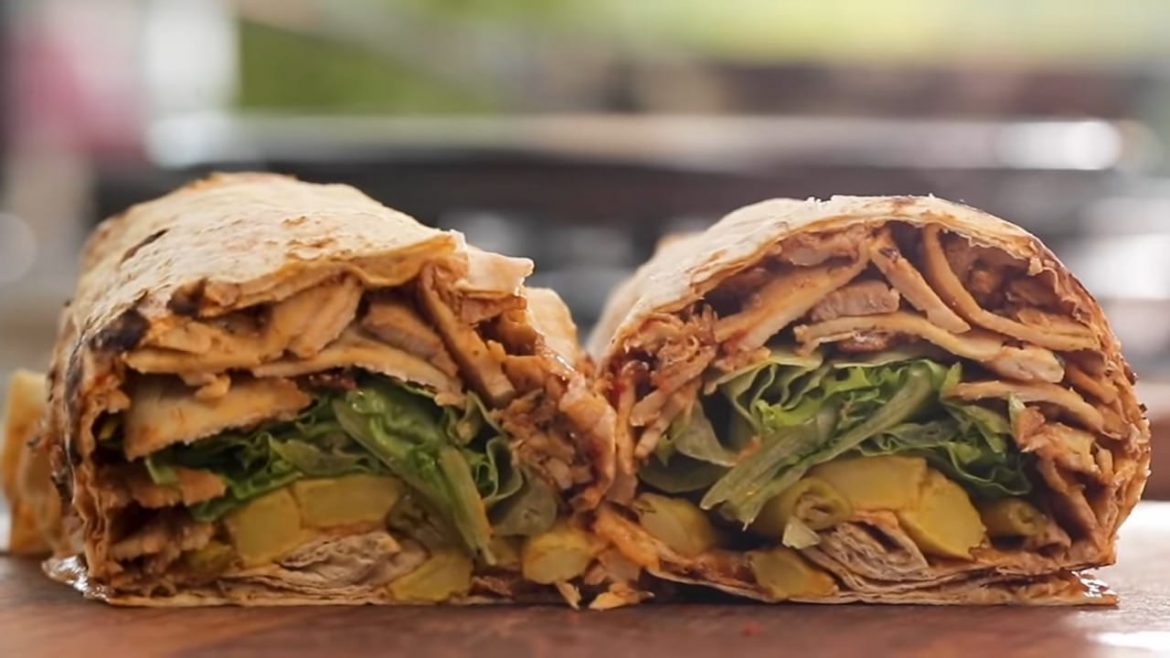 Ingredients
Chicken döner
2 boneless chicken breasts, sliced horizontally (preferably skin on)
3 boneless chicken thighs, (preferably skin on)
1 onion
7 tablespoons tomato purée (you can use a teaspoon tomato paste and a teaspoon pepper paste)
2 tablespoons yogurt (alternatively, milk or kefir)
1 heaped tablespoon butter (if you are using skinless chicken)
2 tablespoons oregano
1 teaspoon cumin
1 teaspoon black pepper
1 teaspoon salt
Döner wrap (makes 2 wraps)
1 tablespoon pepper paste
1/2 teaspoon butter
4 lavash bread
4 handfuls of lettuce
4-5 pickled peppers
1 potato, fried (optional)
For the pilav (Rice)
2 cups rice
3 cups hot water
2 tablespoons butter
2 tablespoons olive oil
1 teaspoon salt
200 gr tin of chickpeas
Instructions
For the döner marinade, add the onion to a food processor and pulse until it becomes a puree.
Sieve the onion juice in a large bowl.
Add the yogurt, tomato puree, butter, cumin, oregano, black pepper, and salt and mix well.
Add in the chicken and give it a last mix.
If you have time sit the mixture in the refrigerator for about 2-3 hours.
Unroll a big piece of baking paper on the counter and lay over the chicken on it. Place the first layer vertical and the second one lateral.
Wrap the chicken tightly and twist both ends in opposite directions and freeze it overnight.
To cook the döner, take it out from the freezer and slice it thinly and carefully. As you move to the center of it, it gets harder to slice. At this stage, you can rotate the döner and slice the other sides.
Heat a wide pan and cover the bottom with butter. Place the döner slices in it and cook each side for two minutes.
For the döner wrap, when the cooking is done, add some hot water, tomato paste, and butter to the pan. While mixing, scrape the bottom of the pan as well to have all the flavor and goodness. Layover two lavash bread on sauce one by one. Place the one bread on the other and spread more sauce if you like. Put the döner, lettuce, pepper pickles, and fried potatoes on the bread. Wrap and your chicken döner are ready!
To make the pilav, rinse the rice in a sieve under warm water and drain it well.
Heat the butter and olive oil in a shallow pot.
Add the rice and salt. Sauté for 3 minutes until all rice pieces become transparent.
Pour the hot water into the pot and put the lid on. Bring it to boil. Then simmer for 12 minutes. Don't stir while it is cooking.
Add the chickpeas in the last 3 minutes of cooking.
To be sure if it is cooked, make a hole in the center of it. If you don't see any excess water and rice doesn't fall back, it is time to turn off the heat.
Cover with a kitchen cloth and let it rest for another 10-15 minutes.
For the döner with pilav, place the pilav on a big dish and pour some pickle juice to your taste. Top with the döner and sprinkle some fresh parsley.
Either with pilav or as a wrap enjoy your döner with your loved ones!
Did You Make This Recipe?
---
Enjoy
Let us know what you think of today's Shawarma tips, tricks, and hacks!