Roast pork with vegetables are on the menu in Book recipe, and we are going to teach you how to make this delicious recipe from scratch!
If you plan to surprise your guests and family with something especially delicious, this recipe is for you. Unusual pork roast with potato and veggies cooked in an apple sauce will make your dinner a real culinary rejoicing.
Follow along with the ???? recipes below????????????????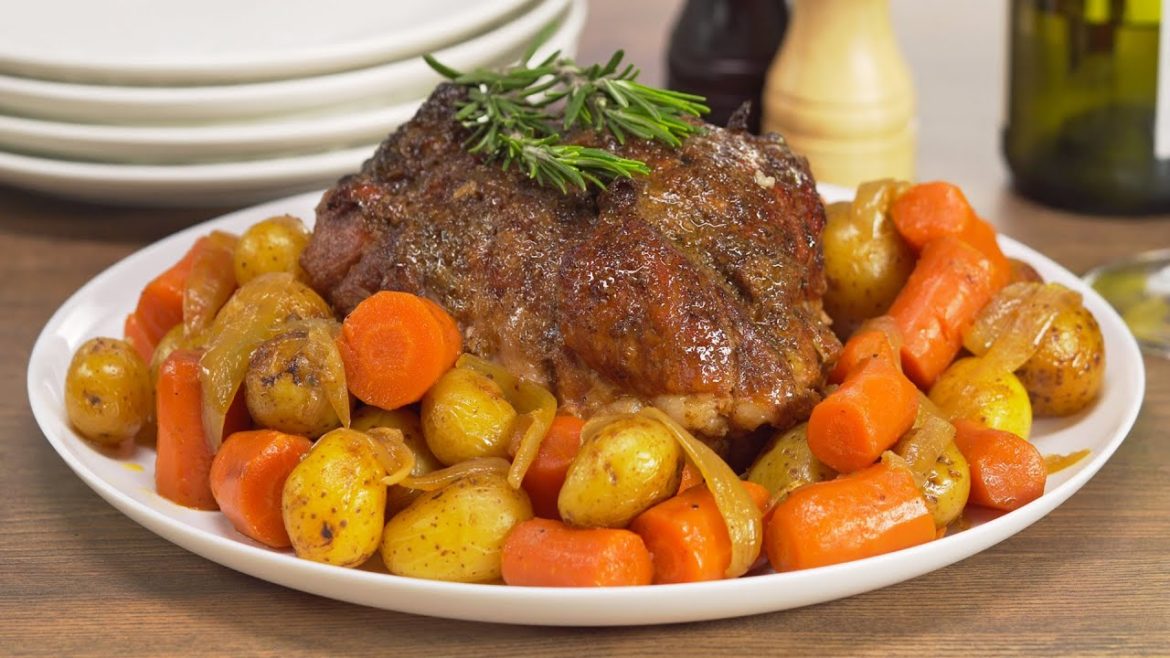 Ingredients
pork shoulder – 2½ lb /1500 g
bulb onion – 9 oz /250 g
carrot – 17 oz /500 g
small potato – 21 oz /600 g
apple juice – 2 cup /500 ml
rosemary – 2 sprigs
vegetable oil – 2 tbsp
salt – 2 tsp
ground black pepper – 2 tsp
garlic powder – 1 tsp
onion powder – 1 tsp
sweet paprika – 1 tsp
You will need:
cauldron or heavy stockpot with a lid
oven
carving board
cooking twine
bowl
Instructions
In a small bowl combine the salt, ground black pepper, garlic and onion powders and sweet paprika.
Bind together the meat with a culinary twine, brush with the vegetable oil, rub with the spice mixture on all sides and place into a cauldron or heavy stockpot.
Roast the pork with no lid in the preheated oven at 350°F /180°C for 30 minutes.
Take the stockpot out of the oven, lay out evenly the large-cut bulb onion, carrot and potato around the meat, sprinkle with salt and pepper to taste, add the rosemary sprigs, pour with the apple juice, cover with the lid and roast in the oven at 320°F /160°C for 1 h 30 min.
Remove the lid and keep roasting for 30 minutes more until golden crust.
Serve your pork roast with vegetables hot right out of the oven.
Did You Make This Recipe?
---
Enjoy