Creamy fish pie are on the menu in Book recipe, and we are going to teach you how to make this delicious recipe from scratch!
Here is the most tasty potato casserole with fish recipe. Fish fillet cooked in a milk sauce with spices and baked with potato comes out exceptionally tender and juicy.
Follow along with the ???? recipes below????????????????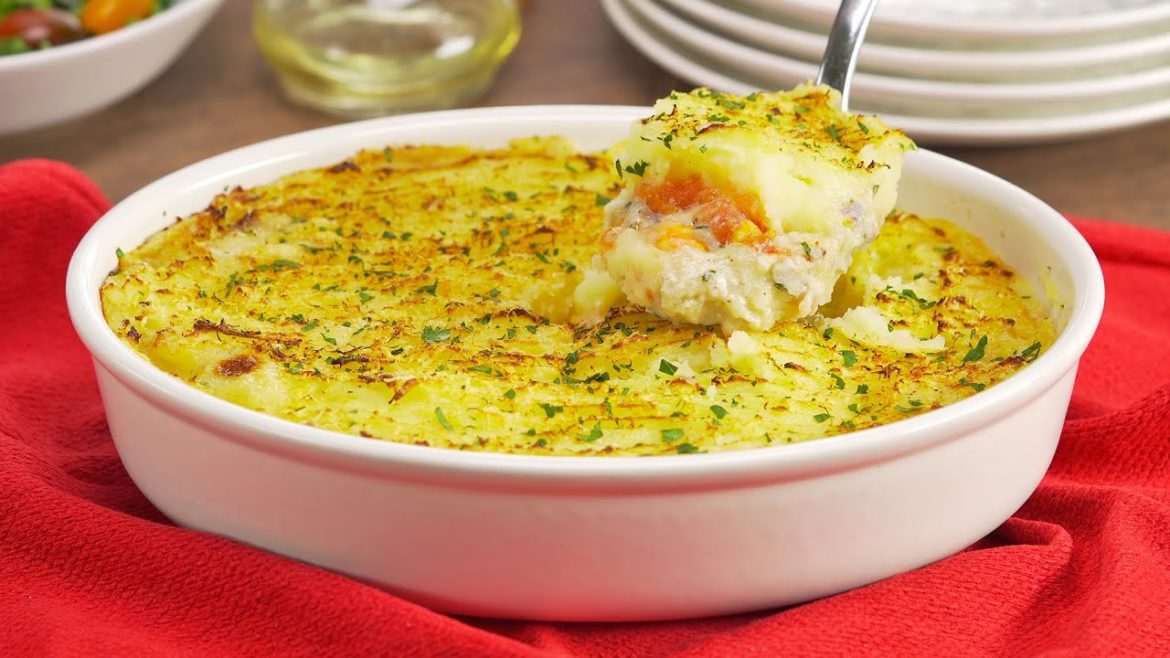 Ingredients
white fish fillet – 25 oz /700 g
potato – 42 oz /1200 g
hard cheese – 1 oz /25 g
milk – 1 pt /600 ml
½ bulb onion
1 bay leaf
butter – 3 oz /80 g
wheat flour – 1½ tbsp
peeled tomatoes – 12 oz /350 g
parsley leaves – 2 tbsp
lemon juice – 2 tbsp
salt – 3 tsp
ground black pepper – 1 tsp
6 peppercorns
You will need:
baking dish 31*24 cm
oven
stockpot
pan
carving board
bowl
potato masher
Instructions
Lay the peeled potato and 2 tsp of salt into a stockpot, pour in cold water, bring to a boil and cook until readiness.
Pour 1 pt /550 ml of the milk into a pan, add ½ of bulb onion, a bay leaf and peppercorns, bring to a boil and lay out the fish fillet, cook for 4 minutes over low heat.
Take the fish out of the pan, peel and debone, cut into small pieces.
Strain the broth.
Melt 2 oz /50 g of butter in the pan and add the wheat flour, stir until smooth and fry for 2 minutes over low heat. Stirring constantly add the broth gradually and simmer for 2-3 minutes over low heat.
Add the fish, 1 tsp of salt and black pepper into the pan and bring over low heat to light thickness.
Add the chopped up parsley leaves and lemon juice, stir.
Drain the potato, add 1 oz /30 g of butter and 2 fl oz /50 ml of milk, make a mashed potato.
Lay out the fish in the sauce evenly into a baking dish and follow with a layer of the peeled tomatoes. Lay out the mashed potato onto the tomatoes, make even with a fork and sprinkle with the grated cheese atop.
Preheat oven to 390°F /200°C and bake for 20 minutes until golden crust.
Sprinkle the potato and fish casserole with the chopped up parsley and serve to the table.
Did You Make This Recipe?
---
Bon Appétit