Tart Shell is on the menu in Book recipe, and we are going to teach you how to make this delicious recipe from scratch!
Making a good tart crust is key to making a good tart. If you don't have a good basket, then whatever you put inside would just fall out! If you are having trouble with tart getting stuck in the perforated ring, then read till the end.
BTW, I will upload how to make a "PIE CRUST" in another video!
Follow along with the ???? recipes below????????????????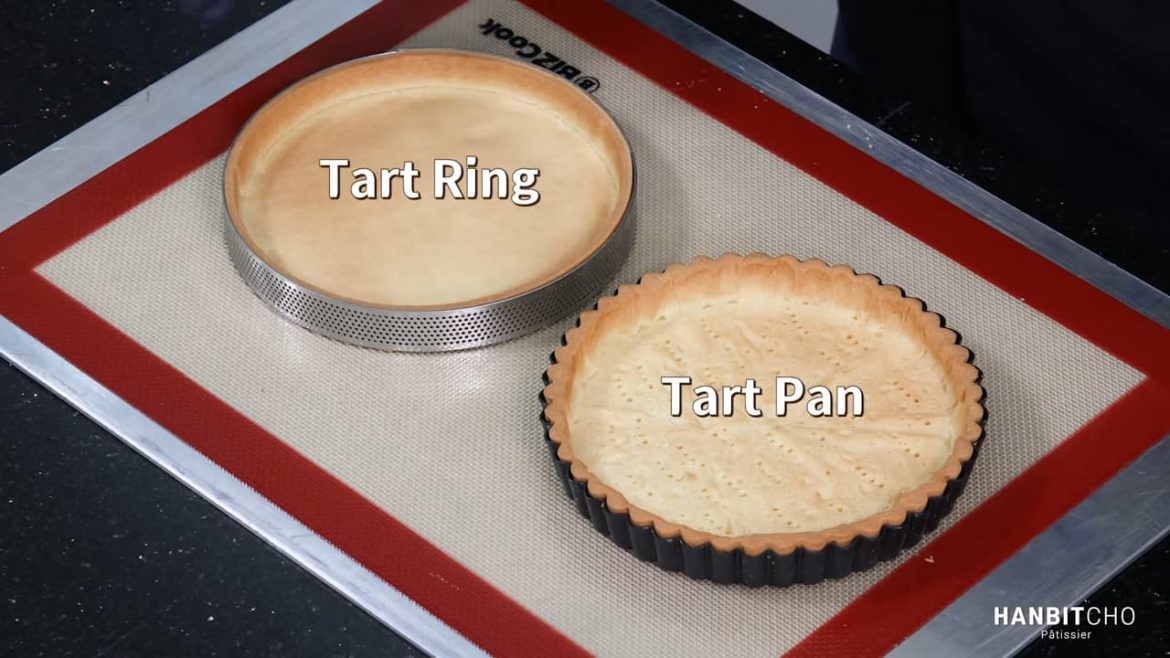 Ingredients
Tart Crust:
Yield: 1 tart crust of 16cm diameter (2cm height) To be honest, if you scrape the leftovers and roll them out, you can get more than 1 tart shell.
Unsalted Butter (room temp) 100g
Salt a pinch
Powdered Sugar 72g
Almond Powder 20g
Corn Starch 30g
Eggs (room temp)36g
Cake Flour 170g
Instructions
Tart Crust:
Beat the room temp. butter lightly (add in salt).
Sift in powdered sugar, almond powder and corn starch. Beat lightly.
Add the room temp. eggs gradually and mix.
Finally, add in the cake flour and mix well.
Roll it out to 2mm/3mm thickness between parchment papers. (2mm thickness for 6~8cm diameter, 3mm thickness for 14~18cm thickness. Any other sizes, you decide)
Rest in the fridge for 1~2hrs.
For regular tart pan: Cut it out into one big disc
For perforated tart ring: Cut it out into strips/discs
For regular tart pan: Line the tart pan. Prick the bottom. Place a sheet of parchment paper and then pie weights. For perforated tart ring: Line the ring. Place it on a perforated mat.
For regular tart pan: Bake at 170℃ for 10mins, take the pie weights out, then bake for another 5 mins. (160℃ for 2mm). For perforated tart ring: Bake at 170℃ for 15mins. (160℃ for 2mm)
Egg wash:
Mix heavy cream and egg yolk at a ratio of 1:4.
Mix them well and strain it before use. Once the tart shell has cooled down completely, then brush them evenly.
Bake it at 160℃ for 10mins. If you are baking almond cream for the tart, then brush the egg wash followed by filling it in with the almond cream – essentially you are baking the egg wash and almond cream at the same time. In this case, just bake the almond cream at whichever setting you decided.
Notes
How to store:
I usually store the tart crust in the strip/disc format in the freezer up to a month and bake just before use. Alternatively, you can bake the tart shells, cool them, then store them in this baked state in the freezer up to a month – but I usually don't do this because it takes up too much space!
Tart shell getting stuck in the perforated rings:
I had this issue when I started out baking and got so so frustrated. In the end, I finally found out the solution(s). The tart shell is meant to shrink slightly so that it can come off the ring. There are several tips, and you need to follow all of them.
Do not beat the dough and incorporate a lot of air – I mentioned in the video that you shouldn't incorporate much air. The tart shell will expand and get stuck.
Rest the dough in the fridge for 1~2hrs.
Work fast so that the strip/disc dough doesn't get stuck inside the holes. The holes are meant to help you, but in this case it's making things worse.
Use my recipe – I have cornstarch in the recipe and it's meant to help.
If the above doesn't help then bake it for 2~3mins longer than usual – there is a turning point during the baking process where the tart shell starts to shrink and if you bake it too short, it will not go past the turning point.
If all the above doesn't help, then just give it a break and stay away from perforated rings until your overall baking skills improve.
Did You Make This Recipe?
---