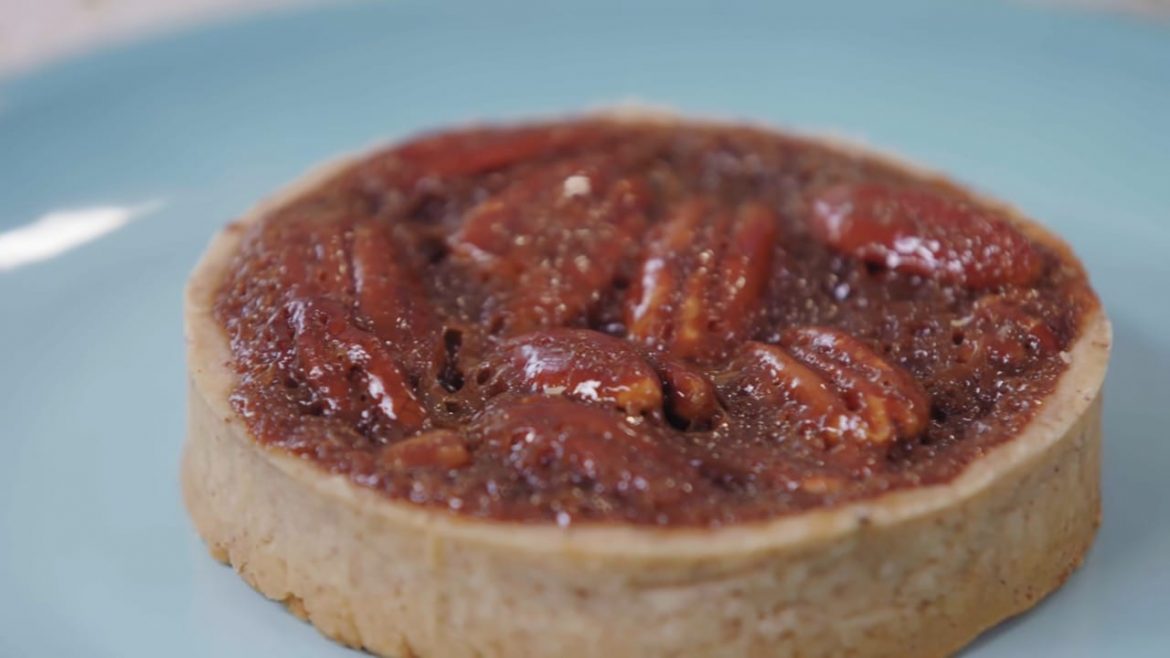 Ingredients
Pecan Pastry
1/3 cup (35 g) coarsely chopped pecans
¾ cup + 2 Tbsp all-purpose flour
1 Tbsp sugar
¼ tsp salt
6 tbsp cold unsalted butter, cut into pieces
1 Tbsp cold water
Pecan Filling
6 Tbsp unsalted butter
6 Tbsp packed light brown sugar
¼ cup golden corn syrup
2 Tbsp whipping cream
½ tsp salt
1 tsp vanilla extract
1 oz bittersweet chocolate, chopped
1 ½ cups pecan halves
1 egg
Instructions
For the pecan pastry, pulse the nuts and 2 Tbsp of flour until the nuts are finely ground in a food processor.


Add the remaining ¾ cup of flour, sugar, and salt and pulse to blend. Add the butter and pulse the mixture until it becomes a sandy texture. 


Add the cold water and then pulse until the dough comes together in a ball.

Shape the dough into a log shape, wrap it and then chill the dough until firm, at least an hour. Alternatively, the dough can be prepared and then frozen, thawing it in the fridge before rolling.


Preheat the oven to 350°F (180°Χ). Place four individual, removable-bottom tart shells or baking rings on a baking tray lined with parchment paper.
On a lightly floured surface, cut the chilled dough into 4 pieces, and knead them to soften slightly (this will make it easier to roll the dough without it cracking).


Roll out each piece of dough until it is just under a ¼-inch thick and carefully lift it to line the tart shells or rings. Press the crust into the corners and trim away any excess dough. Chill the dough for 10 minutes.

Pierce the bottom of the pastry with a fork and bake it for 12-15 minutes, until the crust is golden brown around the edges and the pastry is dry in the center. Let the tart shell cool before filling.


For the filling, melt the butter in a medium saucepan over medium heat, and then stir in the brown sugar and corn syrup. Bring this to a full simmer while stirring, and then continue to simmer for 1 minute.


Stir in the cream and simmer for 1 minute more. Remove the pan from the heat and stir in the salt, vanilla, and chocolate, stirring until the chocolate has melted. 

Add the pecans and stir to coat.

Beat the egg in a little dish, and then add them to the pecan mixture, stirring until incorporated.

Scrape the filling into the cooled pie crusts. Still in a 350°F (180°Χ) oven, bake tarts for 12-15 minutes, until the filling is set.




Notes
Serve the tarts, warm, at room temperature, or chilled.

Did You Make This Recipe?
---
Enjoy
Let us know what you think of today's Chocolate Pecan Caramel Tarts tips, tricks, and hacks!