Saneyat Batates is on the menu in Book recipe, and we are going to teach you how to make this delicious recipe from scratch!
Today we're making Saneyat Batates, An Egyptian casserole that contains Chicken and Potatoes. This is a simple and delicious weeknight meal, and goes perfectly with rice and salad.
Follow along with the ???? recipes below????????????????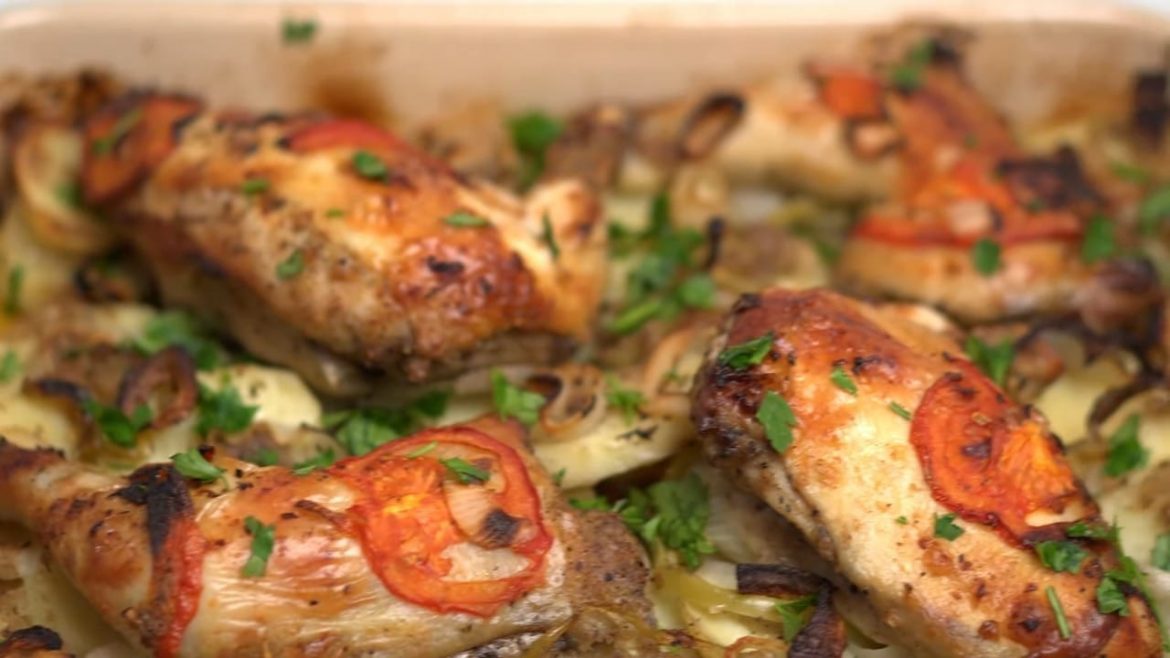 Ingredients
1 Chicken 1300g or 3lbs
300g Onion 3 Medium
3 cloves garlic
1 Tbsp Salt
1.5 Teaspoon Pepper
1/2 Tsp cardamom
Vegetables:
1 Kg (2 lbs) of Potatoes (Roasting variety)
1 Firm Tomato
1 Green Pepper
2 Onions
1 Spicy Green Chili (optional)
1/4 Tsp Salt
1/8 Tsp Pepper
Potato Mixture:
1 Onion
1 Garlic Clove
1 Tsp Salt
1/2 Tsp Pepper
Tomato sauce:
400g crushed tomatoes
2 cloves of garlic
1/2 Tsp Salt
1/4 Tsp Pepper
(blend and pour over the entire tray)
Instructions
Cut your chicken into 4 pieces, 2 legs, and 2 breasts
Combine the chicken marinade ingredients in a blender or food processer and blend into a smooth paste
Coat the chicken pieces in the marinade, then refrigerate overnight or for 4 hours minimum to marinate the chicken
Slice your vegetables as follows:
a. Tomatoes and green peppers 3mm or under a 1/8th of an inch thick
b. Onions and Potatoes 7mm or 1/4 inch thick
Separate the onion rings and add 1/4 Tsp Salt and 1/8 Tsp Pepper to them, mix well
In a blender or food processor combine the ingredients for the potato mixture and blend into a smooth paste
Mix the paste with the potatoes before layering the dish
Add a layer of onions to the base of a baking dish then add the following in order on top of the onions. Peppers, potatoes, Onions, green pepper
Remove the chicken from the marinade, scraping off any excess then place it in the dish
Top the chicken pieces with slices of tomato and the remaining onions or peppers
Add any leftover onion from the potato mixture to the tray and rub olive oil onto the chicken pieces
Cover with foil and bake in a 200c or 390f oven for 1 hour. After 50 minutes check the potatoes for doneness and then remove the foil when they are cooked and allow the dish to brown. If your potatoes aren't cooked, add 10 more minutes
Garnish with parsley or coriander and serve with rice
Did You Make This Recipe?
---
Enjoy
Let us know what you think of today's Saneyat Batates tips, tricks, and hacks!