Pasta is on the menu in Book recipe, and we are going to teach you how to make this delicious recipe from scratch!
Love is in the air because it's about to be Valentine's Day! If you are looking for a great dinner idea for the 14th, this week we are preparing a gorgeous tomato pasta under pressure with super delicious fillet steak and a Turkish Chocolate Fondue! I promise there is no one you can't impress with these great recipes!
Follow along with the ???? recipes below????????????????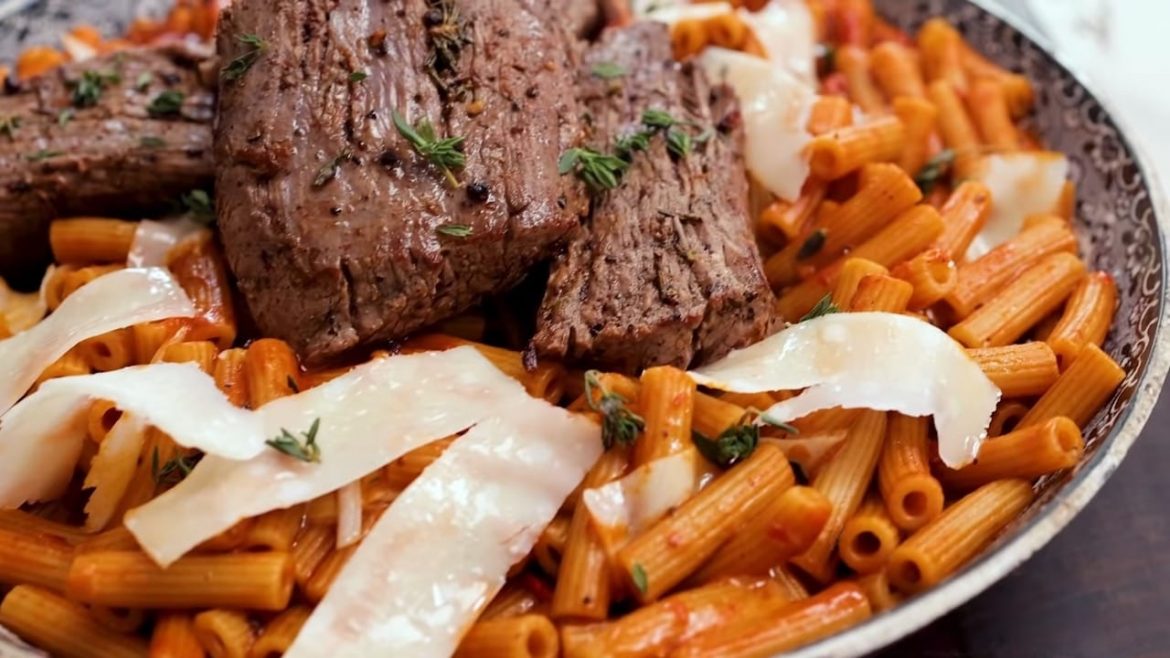 Ingredients
Chocolate Fondue Turkish way
100 g bitter chocolate, roughly chopped
100 g cream, 35% fat
2-3 balls floss Halva/ Pişmaniye
1 banana, sliced
1 tangerine, segmented
3 tablespoons bitter orange marmalade
2 tablespoons frozen blackberries
10 pieces of Turkish delights
2 tablespoons ground pistachio
Fillet Steak & Under Pressure Pasta
500 g fillet steak, cut into four stripes
2 sprigs rosemary, leaves picked
1 teaspoon salt & black pepper
3 tablespoon olive oil
1 tablespoon butter
200 ml tomato puree
2 cloves of garlic, chunked
1 tablespoon pepper paste, optional
1 cup tomato juice, or use 200 ml tomato puree instead of juice
1 cup brown stock
1 teaspoon sugar
1/2 teaspoon salt
1/2 L water, 2 cups
250 g dry pasta, any small cut would do good
For serving:
Parmesan or Bergama Tulum
Fresh thyme
Instructions
Chocolate Fondue Turkish way
Melt the chocolate on bain-marie.
Meanwhile place the banana, Turkish delight, tangerine, floss halva, bitter orange marmalade, and ground pistachio on a serving tray.
After the chocolate is melted add the cream and stir well.
Place the fondue pot in the middle of the tray.
Pour the pot with chocolate ganache and serve with toothpicks or serving sticks.
Dip the banana into chocolate sauce and coat with pistachio. Enjoy with loved ones.
Fillet Steak & Under Pressure Pasta
Take the rosemary leaves out from the stem and mix with salt and pepper.
Drizzle a tablespoon of olive oil and rub the fillet steaks with the mixture.
Heat a stovetop pressure cooker and add 2 tablespoons olive oil.
Place the fillet steaks and sear all sides for about 2-3 minutes.
At the end of the searing, add the butter. Take out the steak and set it aside to rest.
Pour the tomato puree into the pan and scrape the bottom of the pot with a wooden spoon.
Add the garlic, red pepper paste, tomato juice, and brown stock to the sauce.
Season with sugar and salt.
Pour the water and add the pasta.
Close the lid and put it under high pressure. When the lid is tight and the pressure is enough to cook, place the pressure cooker on a smaller stove on low heat and cook for five minutes. If you don't have a pressure cooker, you can use a regular pot to make the pasta, but it will take longer to cook. Believe me, pressure makes pasta soak the sauce easier and faster. The result becomes more and more delicious.
Release the pressure by putting the pan under running cold water.
Grate some parmesan cheese or Bergama Tulum. Transfer the pasta to the serving plate.
Place the fillet steaks on pasta and shave some more parmesan.
Sprinkle some fresh thyme, it's ready to enjoy!
Did You Make This Recipe?
---
Enjoy
Let us know what you think of today's Pasta tips, tricks, and hacks!