Mushroom Risotto with Couscous is on the menu in Book recipe, and we are going to teach you how to make this delicious recipe from scratch!
Today I'm going to be cooking one of my favorite inventions, I guess I could call it a Turkish-Italian mash-ups — the one and only couscous risotto.
Couscous is a small beanlike pasta that we traditionally often cook as a standalone dish, but today I will be treating it as risotto rice, throwing in mushrooms, cheese, heavy cream, and some crispy pastırma with a touch of angelic truffle oil to make it into something that'll take you on a delicious journey!
Enjoy today's episode and don't forget to let us know how your recipe turned out! ????
Follow along with the ???? recipes below????????????????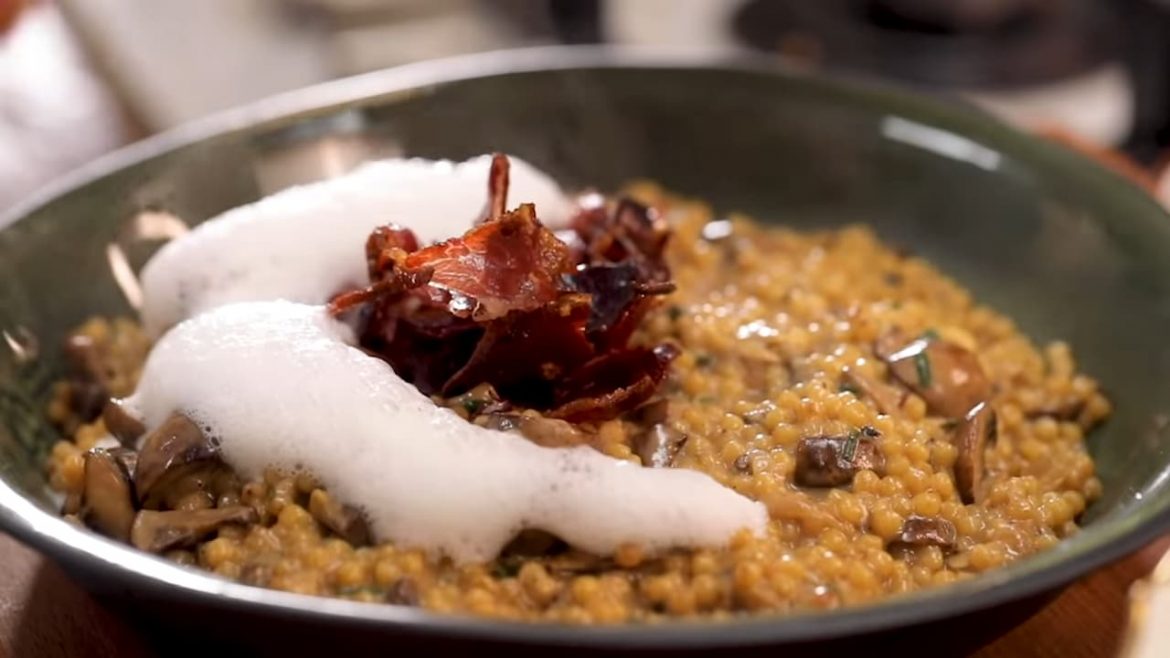 Ingredients
250 gr couscous (1 cup+ 2 tablespoons, you can use any sized couscous, smaller ones cook quicker)
400 gr chestnut mushrooms, diced
1 onion, halved and sliced
4 cloves of garlic, sliced
80 gr İzmir Tulum Cheese, grated (60 gr parmesan or pecorino do great as well)
100 ml heavy cream (10 tablespoons)
5 tablespoons olive oil
1 tablespoon butter
2 tablespoons truffle oil
650 ml brown beef stock, hot (plus 300 ml or more hot water if needed)
1 small bunch of chives, finely chopped
4 sprigs of thyme, leaves picked
1/2 freshly grated nutmeg
1 teaspoon salt
1 teaspoon freshly ground black pepper
Milk foam (optional)
Crispy Pastırma
6 slices of pastırma (or any cured meat)
1 teaspoon butter
Instructions
In a large pan, heat the olive oil and butter. Then add the onion. Slowly fry for two minutes until the onions are slightly browned
Turn the heat up, add the mushrooms in two batches and give it a stir. Adding all the mushrooms at once may cause them to boil instead of fry.
After the mushrooms are browned and onions are caramelized-around one and half minutes- add the couscous, garlic, salt, and freshly ground black pepper and brown the couscous as well.
Add the first ladle of hot stock. Turn the heat down and keep stirring. After the stock is absorbed by couscous, add another ladle into the pan.
Continue adding stock until couscous is soft. You can carry on with boiling water after you used up all of the stock.
Meanwhile, heat the butter in a cast-iron pan and crisp the pastırma slices. Flip them occasionally.
Stir the heavy cream and cheese into the risotto.
Add the chives, thyme, and grate half nutmeg. Finally, - and heavenly! – remove from heat and add the truffle oil.
Give it a last stir and your couscous risotto is ready! Top with crispy pastırma and a sprinkle of chives. Serve or dig in immediately! If you want to make your risotto even posher, spoon some milk foam on top.
Did You Make This Recipe?
---
Enjoy
Let us know what you think of today's Mushroom Risotto with Couscou tips, tricks, and hacks!