STRAWBERRY LEMON TART is on the menu in Book recipe, and we are going to teach you how to make this delicious recipe from scratch!
Join me in baking this light, lemony twist on a classic dessert! The filling for this tart is similar to a creamy tiramisu filling but is made using fresh lemon juice, keeping it light, tart, and spring or summer-like.
Topping this tart with the season's finest strawberries makes it beautiful to present and a winning combination.
Follow along with the 📝 recipes below👇🏾👇🏾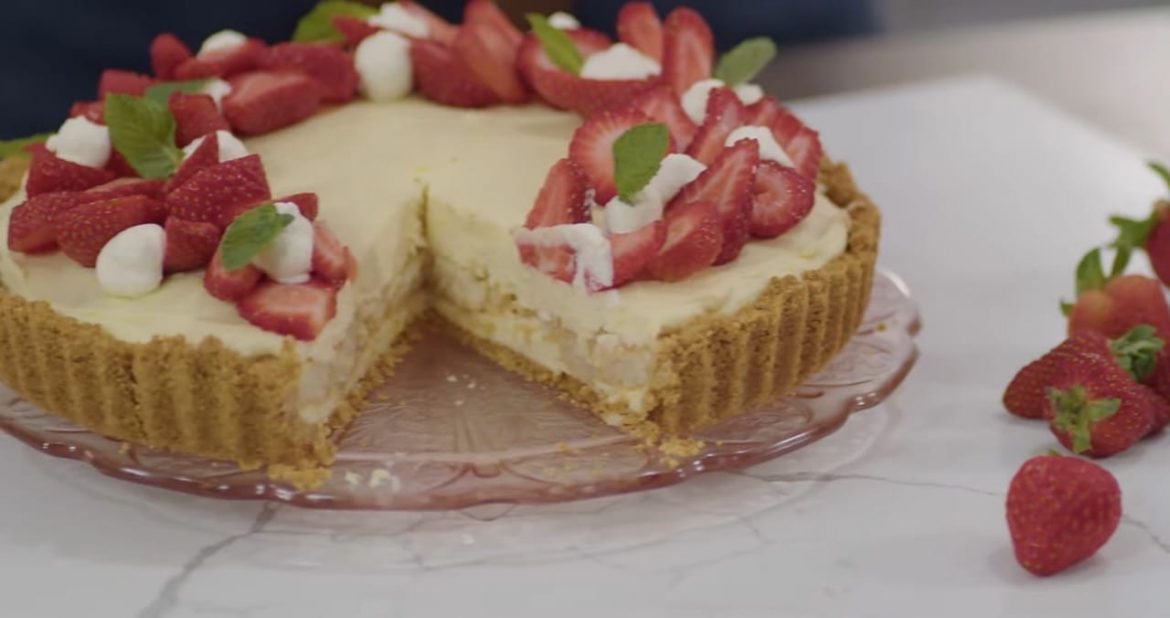 Ingredients
Crust:
1½ cups (375 mL) graham cracker crumbs
¼ cup (60 g) unsalted butter, melted
Mascarpone Cream:
5 large egg yolks
½ cup (100 g) granulated sugar
Finely grated zest of 1 lemon
6 Tbsp (90 mL) fresh lemon juice
1 tsp vanilla extract
1 (17 oz/475 g) tub mascarpone cheese
Syrup:
½ cup (125 mL) water
¼ cup (50 g) granulated sugar
Peel from 1 lemon
3 Tbsp (45 mL fresh lemon juice
Topping and Assembly:
½ cup (125 mL) whipping cream
1 Tbsp (8 g) icing sugar
½ tsp vanilla extract
12 ladyfinger biscuits
2 cups (340 g) fresh strawberries
Fresh mint leaves
Instructions
For the crust, preheat the oven to 350°F (180°C).

Lightly grease a 9-inch (23 cm) pie plate or round tart pan with a removable bottom.

Stir the graham crumbs and melted butter together until evenly combined, then press into the pie plate or pan.

Bake for 10 minutes and cool completely on a rack before filling.
For the mascarpone cream, whisk the egg yolks, sugar, lemon zest and juice, and vanilla in a metal bowl placed over a pot of gently simmering water until the mixture doubles in volume and holds a ribbon when the beaters are lifted for about 4 minutes.

Remove from the heat. Whisk in the mascarpone cheese by hand until smooth. Chill the cream until ready to assemble the tart.
For the syrup, heat the water, lemon peel and juice, and sugar and stir just until the sugar has dissolved. Remove from the heat.
For the topping, whip the cream to a soft peak using electric beaters or a stand mixer fitted with the whip attachment, then whip in the icing sugar and vanilla. Chill until ready to use.
To assemble, spread an even layer of half of the mascarpone cream over the bottom of the pie or tart crust, about ¼ inch (6 mm) thick.

Dip the ladyfingers one at a time into the syrup and arrange them as closely as possible in the pan. Spread the remaining mascarpone filling over the top, covering the ladyfingers completely.

Hull and slice the strawberries and arrange them on top of the tart. Pipe or dollop the whipped cream onto the tart and chill until ready to serve.

Notes
The tart will keep after slicing, loosely wrapped, in the fridge for up to 2 days.

Did You Make This Recipe?
---
Bon Appétit
Let us know what you think of today's strawberry lemon tart tips,