Classic lasagna is on the menu in Book recipe, and we are going to teach you how to make this delicious recipe from scratch!
Hard to imagine Italian cuisine without lasagna – exceptionally tasty and hearty, with a ground meat ragout, filled with herbs' aroma, combined with a famous white sauce and cheese that add a unique creamy taste to this culinary masterpiece.
Follow along with the ???? recipes below????????????????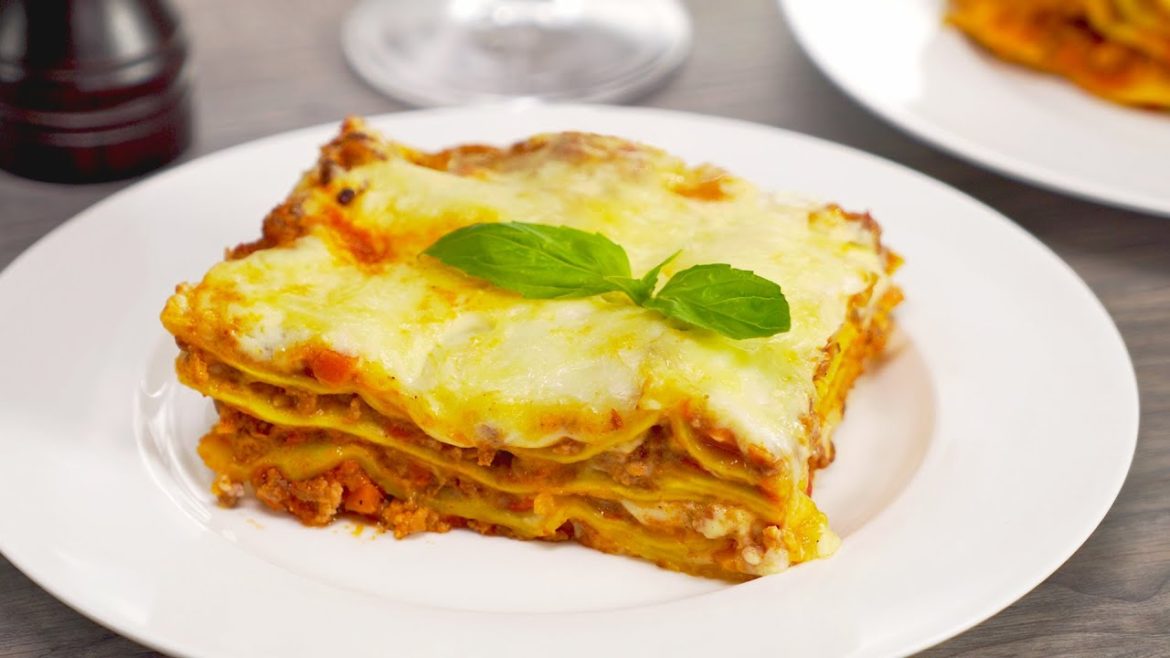 Ingredients
ground beef – 14 oz /400 g
ground pork – 10 oz /300 g
chopped tomatoes – 14 oz /400 g
beef broth – 7 fl oz /200 ml
red dry wine – 7 fl oz /200 ml
worcestershire sauce – 1 tbsp
lasagna sheets – 10 oz /300 g
parmesan – 3 oz /100 g
mozzarella – 9 oz /250 g
garlic – 2 cloves
celery – 1 stalk
carrot – 4 oz /120 g
bulb onion – 4 oz /120 g
tomato paste – 2 tbsp
olive oil – 1 tbsp
salt – 2 ½ tsp
ground black pepper – ½ tsp
dried oregano – 1 tsp
wheat flour – 2 oz /70 g
butter – 3 oz /100 g
milk 3-6% - 27 fl oz /800 ml
nutmeg – ⅓ tsp
You will need:
oven
baking dish
2 pans
carving board
food foil
bowl
Instructions
Heat the olive oil in a pan, add the chopped bulb onion and fry for 3 minutes over medium heat.
Add then the finely cut carrot, celery and minced garlic, stir and fry for 3 minutes over medium heat.
Add the ground meat and fry, stirring, for 4-5 minutes over medium heat.
Add the red dry wine into the pan and, stirring, keep frying for another 3 minutes to have alcohol evaporated.
Add the chopped tomatoes, meat broth, Worcestershire sauce, ground black pepper, dried oregano and tomato paste, stir, bring to a boil and simmer with the lid covered for 30 minutes over low heat.
Meanwhile prepare a white sauce: melt the butter in a pan over low heat and add the wheat flour, stir well and add the milk gradually, stir constantly until smooth, add the ground nutmeg, salt and simmer the sauce over low heat, stirring constantly, until as thick as a thin sour cream.
Lay the ragout with ground meat into a baking dish, cover with lasagna sheets, then pour with the prepared white sauce, follow with a layer of the meat ragout and sprinkle with parmesan or any hard cheese. In this order make layers twice more and add the mozzarella as the last cheese layer and pour with the white sauce. Cover the baking dish with a food foil.
Preheat oven to 350°F /180°C and bake for 40 minutes, then remove the foil sheet and bake the lasagna for another 10 minutes.
Decorate your lasagna with green basil leaves and serve to the table.
Did You Make This Recipe?
---
Enjoy