Zucchini & bell pepper ragout with sausage are on the menu in Book recipe, and we are going to teach you how to make this delicious recipe from scratch!
Bell pepper and squash ragout with sausage is quick and simple to cook, just 20 minutes and pan, carving board and minimum efforts. Mouth-watering ragout always comes out a tasty and hearty. You can serve it for lunch or dinner.
Follow along with the 📝 recipes below👇🏾👇🏾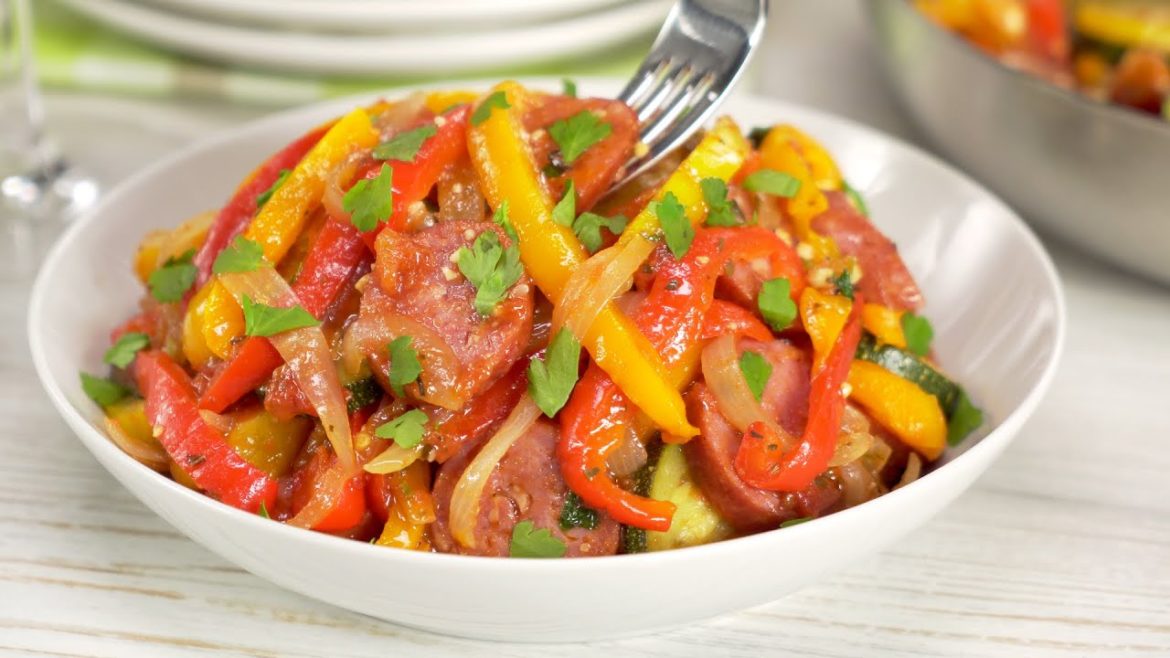 Ingredients
bulb onion – 5 oz /160 g
3 bell peppers of different colors
zucchini – 14 oz /400 g
cooked-smoked sausage – 10 oz /300 g
olive oil – 2 tbsp
crushed tomatoes – 1 cup /250 g
dried oregano – 1 tsp
salt – 1 tsp
red chilli pepper – 1 tsp
dried garlic – 1 tsp
parsley greens – 2 tbsp /5 g
You will need:
Instructions
Cut the squash into thin slices, bell pepper and bulb onion into strips.
Heat a pan with the olive oil and fry the bulb onion, squash and bell pepper with the lid covered for 6 minutes over low heat stirring occasionally.
Add the tomatoes, salt, pepper, garlic and oregano and simmer for another couple of minutes over low heat.
Move the vegetables aside onto the half of the pan and lay out the thinly sliced sausage on another. Fry the sausage with vegetables for 2 minutes over medium heat stirring occasionally each part.
Combine the vegetables and sausage, switch off the heat and sprinkle your bell pepper, squash and sausage ragout with parsley leaves.
Did You Make This Recipe?
Recipe video
---
Bon Appétit