Borscht is on the menu in Book recipe, and we are going to teach you how to make this delicious recipe from scratch!
There had been constant debates about the origin of borscht right from its appearance. One of the versions says it originates in Kiev Rus and the first reference dates to the XIV century. Another says that borscht came out from Poland or Lithuania territory. Anyway, Borscht remains the most favorite and popular soup of Slavic cuisine all over the world. There is plenty of borscht recipes but the main ingredient for all of them remains beet. Cook Ukrainian borscht out of beef with pickled lard and vegetables – it will be a real pleasure.
Follow along with the ???? recipes below????????????????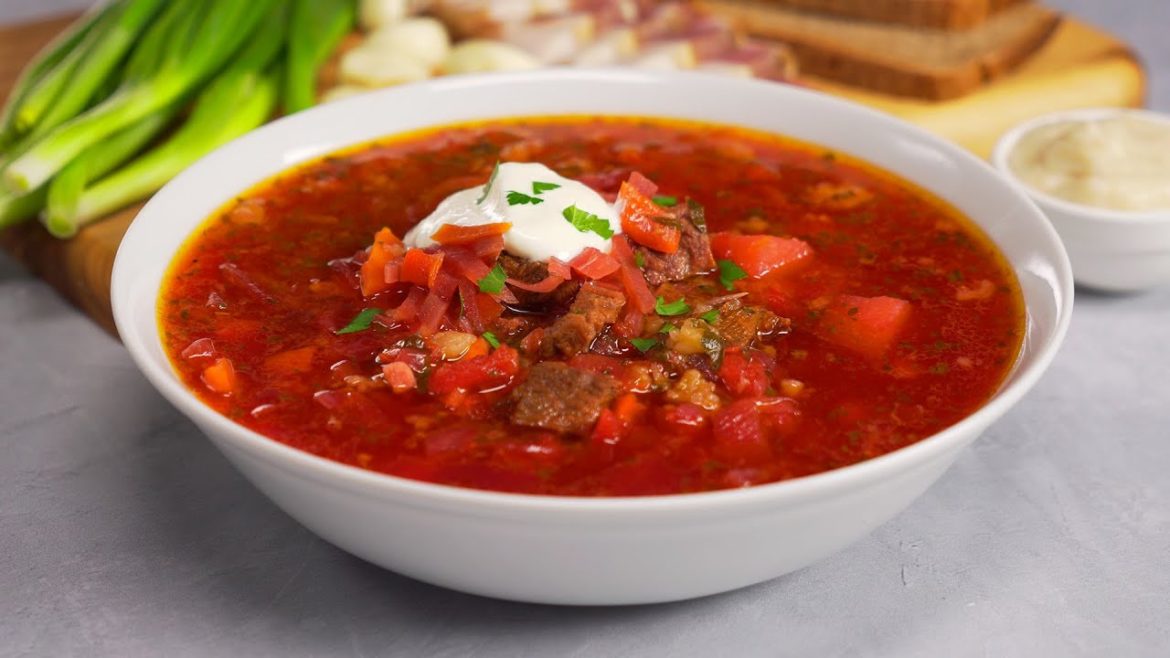 Ingredients
bone-in beef – 24 oz /700 g
beet – 1 lb /450 g
bulb onion – 10 oz /300 g
carrot – 10 oz /300 g
tomatoes – 12 oz /350 g
potato – 14 oz /400 g
white cabbage – 10 oz /300 g
bell pepper – 4½ oz /130 g
garlic – 7 cloves
pickled lard – 2 oz /70 g
tomato paste – 3 tbsp
vegetable oil – 2 tbsp
butter – 2 oz /50 g
1 bay leaf
ground black pepper – 1 tsp
10 peppercorns
6 allspice berries
sugar – 1 tbsp
1 lemon juice
salt – to taste
fresh parsley – 2 tbsp /5 g
water – 12 cup /3 l
You will need:
stockpot
pan
bowl
mortar or blender
Instructions
Pour the beef with 12 cup /3 l of water, bring to a boil and skim the froth, add 1 medium bulb onion, 1 medium carrot, fresh parsley stems, allspice and peppercorn, cover with a lid and boil for 1h 30 min over low heat.
Chop 7 oz /200 g of bulb onion and the bell pepper.
Cut 7 oz /200 g of carrot, the beet and white cabbage into strips.
Heat the vegetable oil in a pan and lay out the cut beet, fry for 3 minutes over medium heat.
Then add the tomato paste, 1 lemon juice and sugar and fry stirring for 5 minutes over medium heat.
Add 7 fl oz /200 ml of water into the pan, bring to a boil and simmer with a lid covered over low heat for 15 minutes.
In another pan melt the butter and fry 7 oz /200 g of the cut bulb onion for 3-4 minutes, add 3 minced garlic cloves, 7 oz /200 g of cut carrot, bell pepper and chopped tomatoes, stir and simmer over medium heat for 5-7 minutes.
Take the meat out into a bowl, separate from bones and cut into average pieces, take the veggies out of the broth.
Add the cut potato, white cabbage and a bay leaf into the broth, bring to a boil, cover with the lid and cook over low heat for 10 minutes.
Add the braised vegetables, beet and cut meat into the stockpot. Stir, bring to a boil and cook over low heat with the lid covered for 10 minutes.
Crush the cut pickled lard, 4 garlic cloves, fresh parsley leaves and ½ tsp of salt in a mortar or blender and add into the stockpot with the borscht.
Salt and pepper to taste, stir and boil for 2 minutes over low heat.
Switch the heat off, cover the stockpot with the lid and leave for 15 minutes.
Serve your Ukrainian borscht hot with sour cream, horse-radish, green onion, pickled lard, garlic pampushki (buns) or fresh bread.
Notes
It is possible to use 1 tbsp of 9% vinegar instead of lemon juice.
Sugar is used to balance tomato paste and lemon or vinegar acidity.
A genuine Ukrainian borscht should be thick to "stand a spoon in".
Did You Make This Recipe?
---
Enjoy