Fesenjān is on the menu in Book recipe, and we are going to teach you how to make this delicious recipe from scratch!
Fesenjān (Fesenjoon) is a regal Iranian stew that is made using pomegranate molasses and walnuts. It's commonly made with chicken or duck, and it has an amazing flavor. The ingredients combine to create a sauce that is tangy, rich, nutty, and has an amazing mouthfeel. This is one you should definitely try out!
Follow along with the ???? recipes below????????????????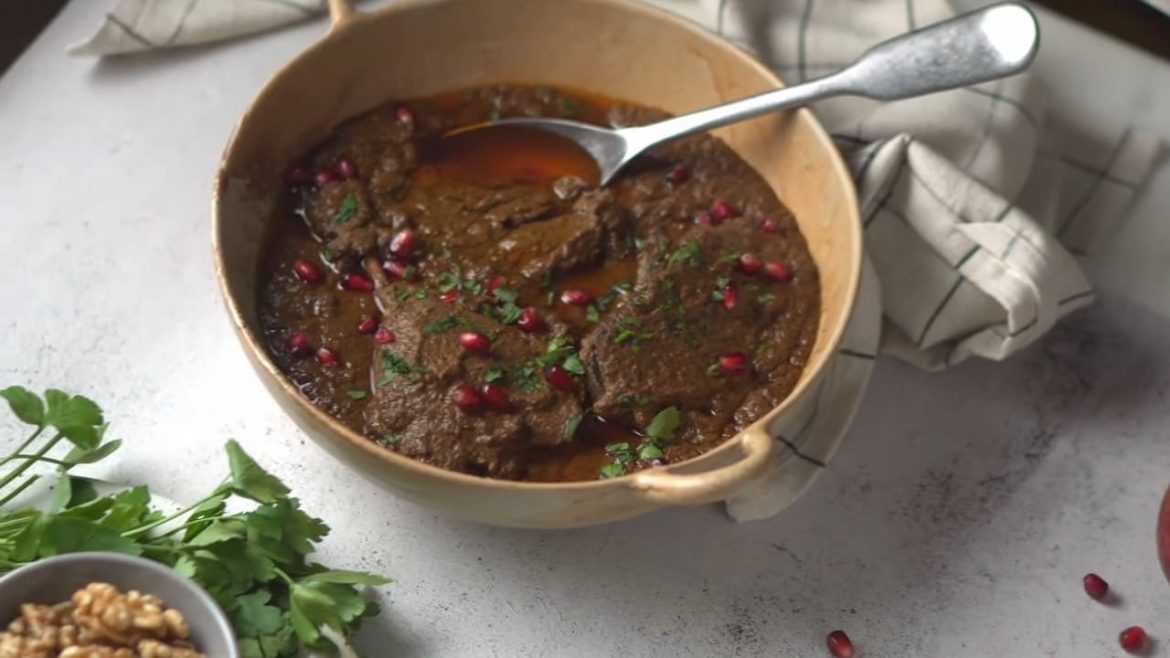 Ingredients
1.5-2 kg (3-4 lb) Chicken or Duck
300g (10.5 oz) Walnuts
2 Medium Onions
1L (1 Quart - 34 fl oz) Duck or Chicken stock
60ml (1/4 cup) pomegranate molasses
30 ml (2 Tbsp) Vegetable Oil (If you are using chicken)
1 Tbsp Tomato Paste
1 Tsp turmeric
1/2 Tsp Cinnamon
Pinch (20-30 strands) of saffron
Instructions
Break down your chicken or duck into 2 Legs and 2 Thighs (Instructions here)
Place your walnuts in a food processor or blender, and process into a cookie dough-like consistency
Dice your onions into a medium or small dice
Place your saffron in a mortar and grind it into a powder, then dissolve it in 60ml of hot water
Place your chicken or duck into a cold pot skin side down and turn the heat up to medium
Allow the fat to render out of your poultry for 10 minutes, then flip and do the other side for 5 minutes
Remove the poultry and add in the onions, saute in the fat for about 2 minutes
Add the turmeric once the onions start to soften and saute for 4-6 more minutes
Deglaze the pot with a small amount of water, then add the walnut paste. Mix together to combine and stir constantly for 5 minutes
Once the oils start to seep out of the walnut, add the tomato paste and pomegranate molasses
Cook this for a few more minutes until the mixture appears glossy then add the salt, black pepper, cinnamon, saffron water, and stock
Mix thoroughly with the walnut and onions, till the walnut paste has dissolved into the liquid and the bottom of the pot feels clean
Add your poultry back to the pot, then turn the heat up to high
14- Once it comes to a simmer, turn the heat down to a very low setting and cover with a tight-fitting lid
Allow it to cook for 2 hours (1-hour chicken) and then check your meat for tenderness. Remove it from the pot when soft and cooked through
Place the pot back on the stove and allow it to continue cooking till it has simmered for a total of 3 hours
Add the meat back to the pot, allowing it to warm through, then serve immediately
Garnish with pomegranate seeds and parsley, serve with steamed basmati rice
Did You Make This Recipe?
---
Enjoy
Let us know what you think of today's Fesenjān tips, tricks, and hacks!