Fish is on the menu in Book recipe, and we are going to teach you how to make this delicious recipe from scratch!
I have two special recipes for you today. The first one is cauliflower pilav – a recipe that goes perfect as the side dish, it can be a great main dish when eaten alone.
The second recipe is somewhat of an invention of mine my guests love to eat. It's a super delicious, marinated fish that's surely going to convince you that heaven exists and it's here on earth. Even those who do not like fish and cauliflower will not get enough of it. Enjoy ????
Follow along with the ???? recipes below????????????????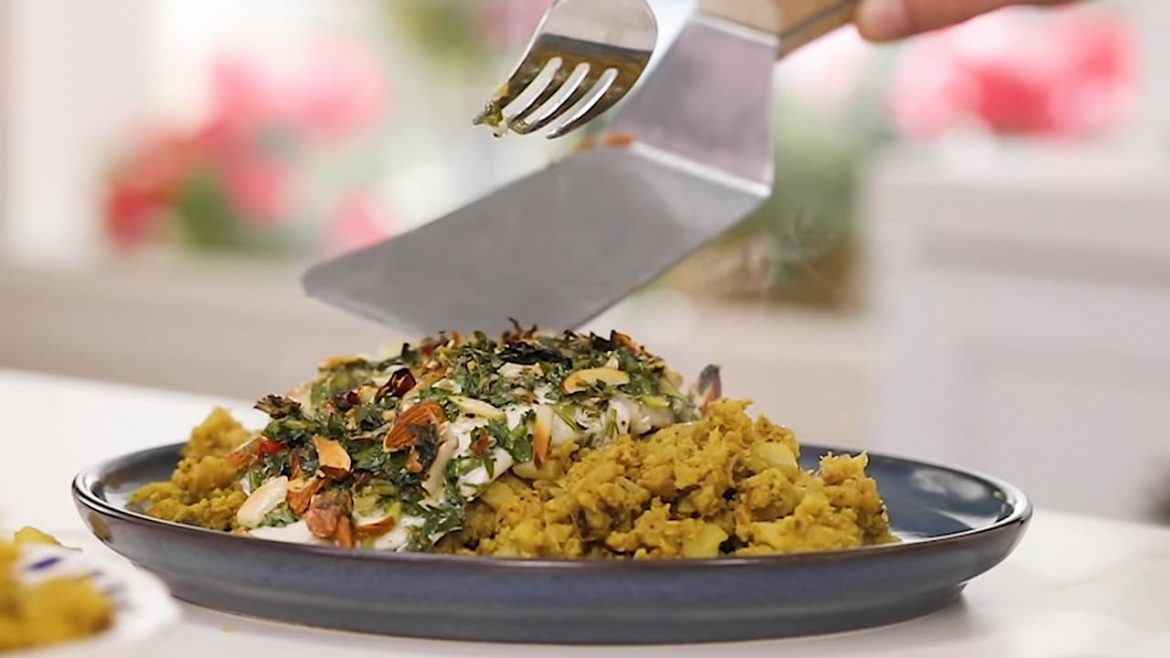 Ingredients
½ cauliflower (500-600g), finely chopped
2 cloves garlic, finely chopped
3 tablespoons olive oil
2 handfuls of walnut, finely chopped
1 teaspoon salt
1.5 teaspoons black pepper
1.5 teaspoons curry powder
Half a cup of water
For the green sea bass,
8 cloves garlic, finely chopped
7 dried red chili peppers, chopped
2 handfuls of raw almonds, sliced
Half bunch parsley (100g), chopped
3 tablespoons white wine vinegar
8-9 tablespoons olive oil
Salt
Black pepper
6 boneless sea bass fillets, skin on
Instructions
Preheat the oven on the grill with a fan to 200 C (392F).
Divide the cauliflower in half and cut it into small pieces.
Put the half amount of cauliflower and a garlic clove in a food processor and pulse it until having a crumbly texture.
If you put them all at once, the bottom part might be puree and on the top, there might be big chunks.
In the last part of cauliflower, add a garlic clove again and also a walnut, and pulse together.
Heat the olive oil in a big pan and add cauliflower and cook for around 5 minutes on high heat until they get a brown crisp.
Add salt, black pepper, and curry powder to it and pour water to combine all flavors and clean the bottom of the pan.
When the bottom of the pan is clean and the cauliflower is not soggy, your pilaf is ready.
To make the topping of the green sea bass, put garlic, almond, red chili pepper, and parsley in a bowl.
Add white wine vinegar, olive oil, salt, and black pepper to the bowl and give everything a good mix.
Oil an oven tray and place the boneless sea bass fillets. Make a small incision with a knife without cutting. Thus, the sauce can go deeper and make the fish more flavorsome.
Spread in a generous tablespoon of topping on sea bass and cover all over it.
Put the fish preheated oven on the highest rack and cook for about 8-9 minutes.
Be careful not to cook the fish too much.
Time for serving, get a big plate, and put the cauliflower. Place the green sea bass on it and enjoy your meal. Bon a petit!
Did You Make This Recipe?
---
Enjoy
Let us know what you think of today's Fish tips, tricks, and hacks!