Today's menu is pasta with slow-cooked ragu sauce.
Ragu sauce is multi-functional, so you can make a variety of dishes with one sauce.
The recipe is quite simple but having to cook it for hours can be a challenge.
You can make pasta as I did in the video but also you can top it on gratin or even hot dog.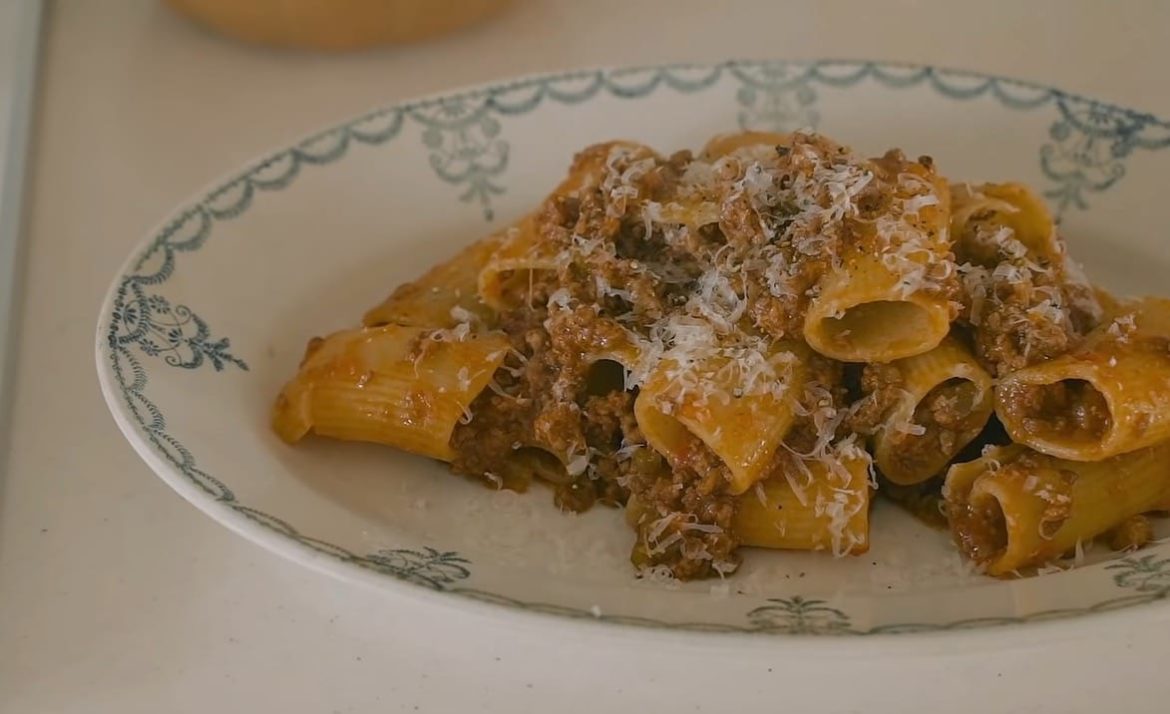 Ingredients
400g minced beef
300~400g minced pork (equal or less than the beef)
1tbsp sugar
1/2 cup wine
1 large onion
1 stalk celery
1/2 carrot
2 tbsp tomato paste
400g canned whole tomatoes
400ml water
bay leaves
Salt and pepper
Instructions
Finely chop onion, celery, and carrot.
Fry mined beef and port in a pot coated in olive oil.
When the meat is almost cooked through, add sugar and wine, and keep frying until completely cooked.
I tried replacing wine with cooking wine and it was not bad.
Add all the chopped veggies and fry for 10~15 until softened.
Add tomato paste, whole tomatoes, water, and bay leaves and simmer on low heat.
I simmered for 5 hours, stirring from time to time.
I personally believe the cooking time helps the ragu enrich the flavor.
You have reduced to the right consistency if it does not drip when dipping and lifting a spatula in it.
Once the sauce is reduced, season with salt and pepper.
Portion and freeze the finished sauce so you can thaw each portion as you need it.
Add salt and pasta in boiling water and cook according to package instructions.
Oil a pan with olive oil and fry up the ragu sauce.
Add a ladle of pasta water, bring to a boil, and mix the cooked pasta into it.
Serve in a bowl and sprinkle cheese and pepper to finish off.
Notes
You can use any pasta of your liking, but I recommend using thick ones like tagliatelle.
Paccheri is also a nice pasta to have a ragu with.
Did You Make This Recipe?
Recipe video
---
Enjoy
If any of my Italian viewers have any tips for making better ragu, tell me in the comments!