Fall in love with a new kind of falafel – super delicious and ready super fast!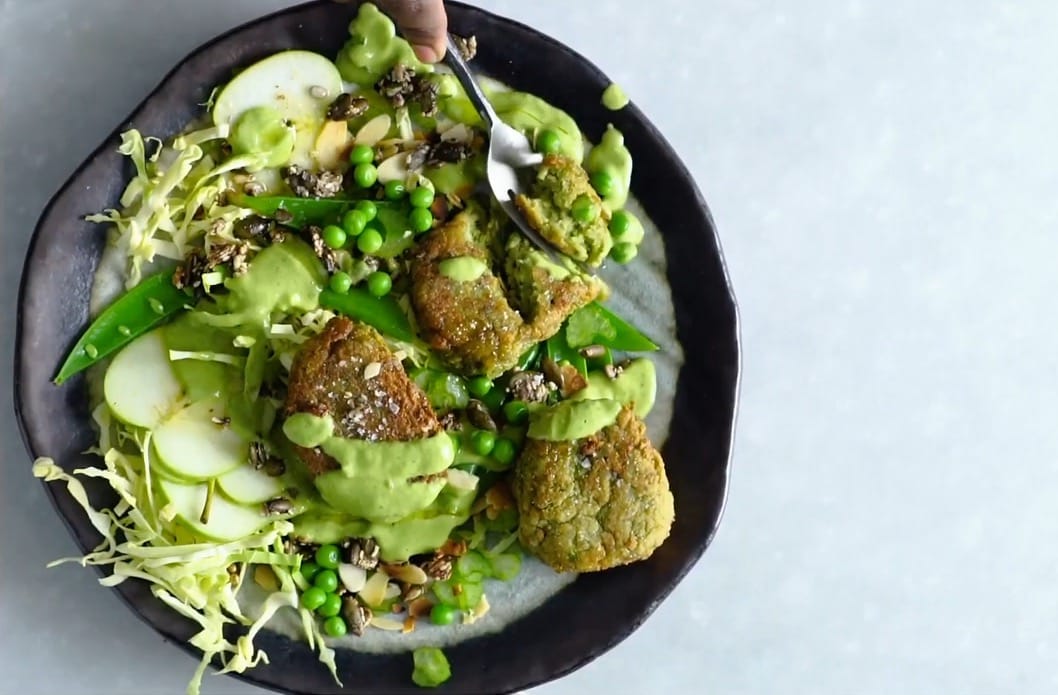 Ingredients
Salad
Chickpeas: Canned, 1 cup drained and rinsed
Peas: Frozen, 3Ž4 cup defrosted
Red onion: 1Ž2 medium, chopped
Garlic: 2 cloves
Lemon juice: 1 tablespoon
Parsley: 1Ž4 cup
Cumin: Ground, 11Ž2 teaspoon
Red pepper flakes: 1Ž4 teaspoon
Salt: 1 teaspoon
Black pepper: Ground, 1Ž2 teaspoon
Baking soda: 1 teaspoon
Woolworths Chickpea Flour: 2 tablespoon
Sunflower oil for frying
Baby green cabbage: 2, sliced thinly
Woolworths Granny Smith Apples: 2, sliced thinly
Celery: 2 stalks, chopped thinly
Sugar snap peas: 120 g, blanched
Flaked almonds: 50 g, toasted
Woolworths Caramelised Cinnamon Seed Sprinkle
Green Goddess Dressing, to drizzle
Avocado: 1, mashed
Garlic: 1 clove, crushed
Lemon: 1, juiced
Water: 4 tablespoons
White wine vinegar: 5 tablespoons
Extra virgin olive oil: 4 tablespoons
Italian parsley: 3 tablespoons, chopped
Chives: 2 tablespoons, chopped
Basil: 2 tablespoons, chopped
Salt, to season
Instructions
Combine the chickpeas, peas, red onion, garlic, lemon juice, parsley, cumin, red pepper flakes, salt, pepper, baking soda and chickpea flour in a food processor bowl. Pulse until well combined but not puréed. Adjust seasoning if necessary.
Heat sunflower oil in a heavy-based pan and form the mixture into small patties.
Fry the patties in batches without crowding the pan. Cook them for about 5 minutes on each side until golden brown.
When cooked, remove the patties from the pan and place on some kitchen paper.
Place all Green Goddess Dressing ingredients, except salt, into a blender or food processor and blend until smooth. Season to taste.
Arrange salad ingredients on a platter and add the falafel, almonds, and dressing, sprinkle seeds.
Did You Make This Recipe?
Recipe video
---
Enjoy