Turkish Breakfast Dishes are on the menu in Book recipe, and we are going to teach you how to make this delicious recipe from scratch!
I love a big multi-component breakfast and Turkish Breakfasts have loads of dishes that tick every box. We're making Menemen (Cheesy Tomato Eggs), Borek (Flaky pastries), a delicious tomato salad, and Marinading Olives. All served alongside some desserts and bread.
More Turkish recipes
Follow along with the ???? recipes below????????????????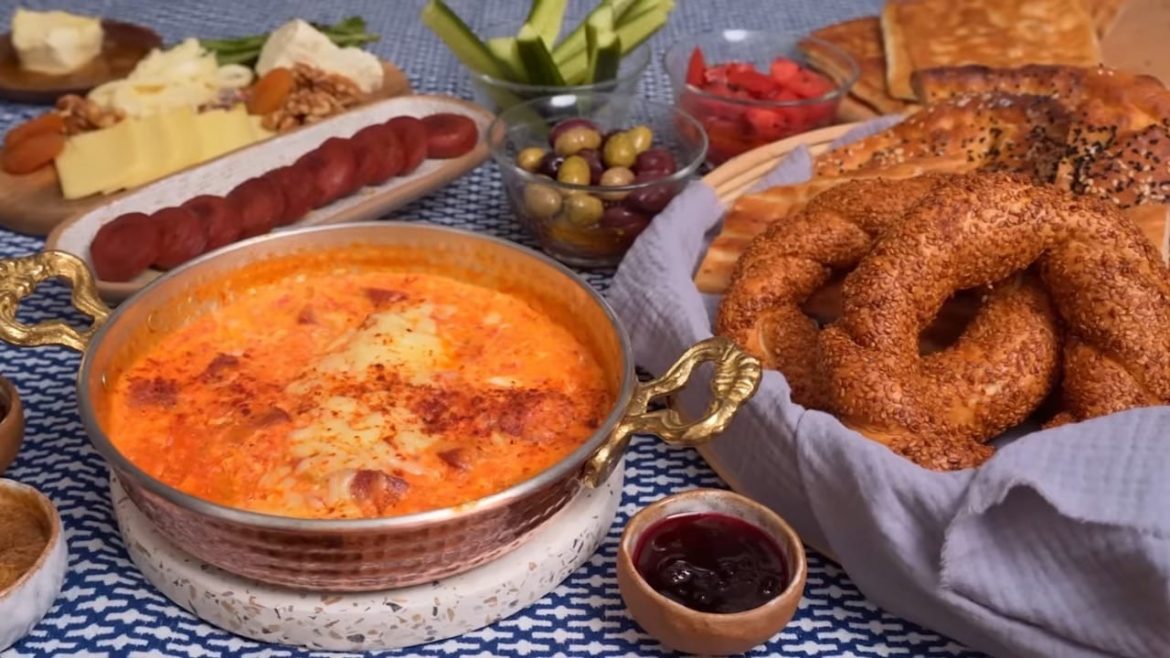 Ingredients
Olives:
250g Mixed Green and Black olives
2 Tbsp Olive oil
1 Tsp Turkish Oregano
1 Tsp Pul Biber
Juice half a lemon
Tomato salad:
3 Vine-ripened plum tomatoes
3 Sprigs of thyme
3 Tbsp Olive oil
1 Tsp Nigella seeds
1/4 Tsp salt
Menemen:
3 Vine-ripened plum tomatoes
2 Eggs
1 Mild Green Chilli
75g Sucuk (Turkish Sausage - 1 Sausage)
1/2 Cup Shredded cheese (stretchy varieties work best)
1-2 Tbsp Butter
1/2 Tsp Salt
Borek:
1 Packet Filo Pastry (2 sheets per borek)
Cheeses
Tomato
Green Chilli
Cured meats
Other ingredients:
Turkish Sausage
Honey
Clotted Cream
Jam
Molasses
Tahini
Instructions
To make the olives:
Mix together the olives with the other ingredients
Allow marinating for 20-30 mins or longer in the fridge
To make the tomato salad:
Chop the tomatoes into a large dice
Add the thyme leaves and salt then mix well
Add olive oil and nigella then mix and let sit for 30 minutes
To make the Menemen:
Peel the tomatoes and chop to a medium dice
Slice the chili into rings
Melt the butter in a pan and then add the chili, saute until softened
Add the tomato and salt, then mix and cover with a lid. Allow simmering on medium-low heat until softened and reduced
Crush the tomatoes using a potato masher, then cook off the excess liquid
Add the sausage (sliced into small pieces) and a handful of cheese
Add your eggs (either scrambled or whole) and mix in, then cover and cook for a few more minutes
Once the eggs are almost set, add on the remaining cheese and melt it
Serve hot
To make the borek:
Lay 2 sheets of borek on top of each other, and cut off part of the sheets so the pastry is square
Lay the offcut across the center of the sheet, then place your fillings on top of the offcut in the center
Add salt and pepper, then fold the sheets of pastry into a square
Fry over medium-low heat in olive oil for 2-3 minutes per side until golden
Place on a paper towel to drain and then serve while hot
Did You Make This Recipe?
---
Enjoy
Let us know what you think of today's Turkish Breakfast Dishes tips, tricks, and hacks! which one is your favorite Breakfast?