Turkish Breakfast: Olives, Sucuk, Simit, Borek, Jams, Cheese, Tea is on the menu in Book recipe, and we are going to teach you how to make this delicious recipe from scratch!
Today is the day of the grand Turkish breakfast! We thought since we don't have it on the channel and you guys have been asking us forever to do it the Refika way, it's the right time to present you guys with the bits and details for a perfect Sunday breakfast for you and your loved ones, the way we do it.
From a selection of perfect cheese to our beloved börek, to a massive assortment of jams, to sucuk and olives… and of course Turkish tea, we have a complete package for you this Saturday afternoon.
Don't forget to watch t.he entire video for tips and tricks, and don't forget to leave us a comment and tell us how your grand Turkish breakfast table has turned out! ????
Follow along with the ???? recipes below????????????????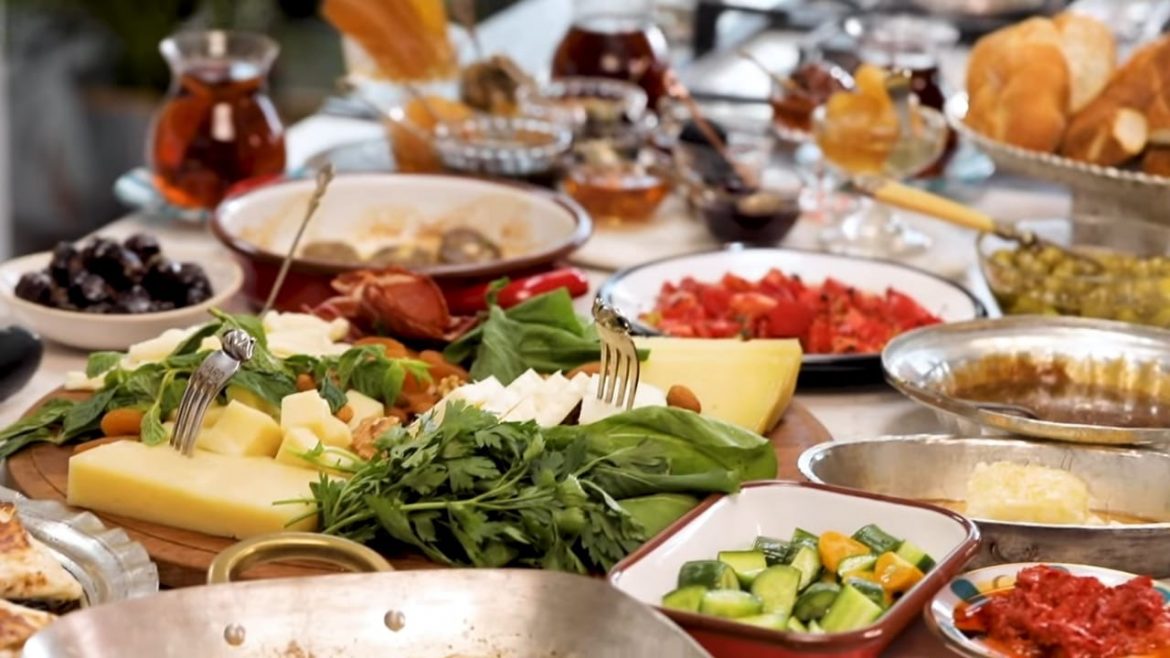 Ingredients
Green Olives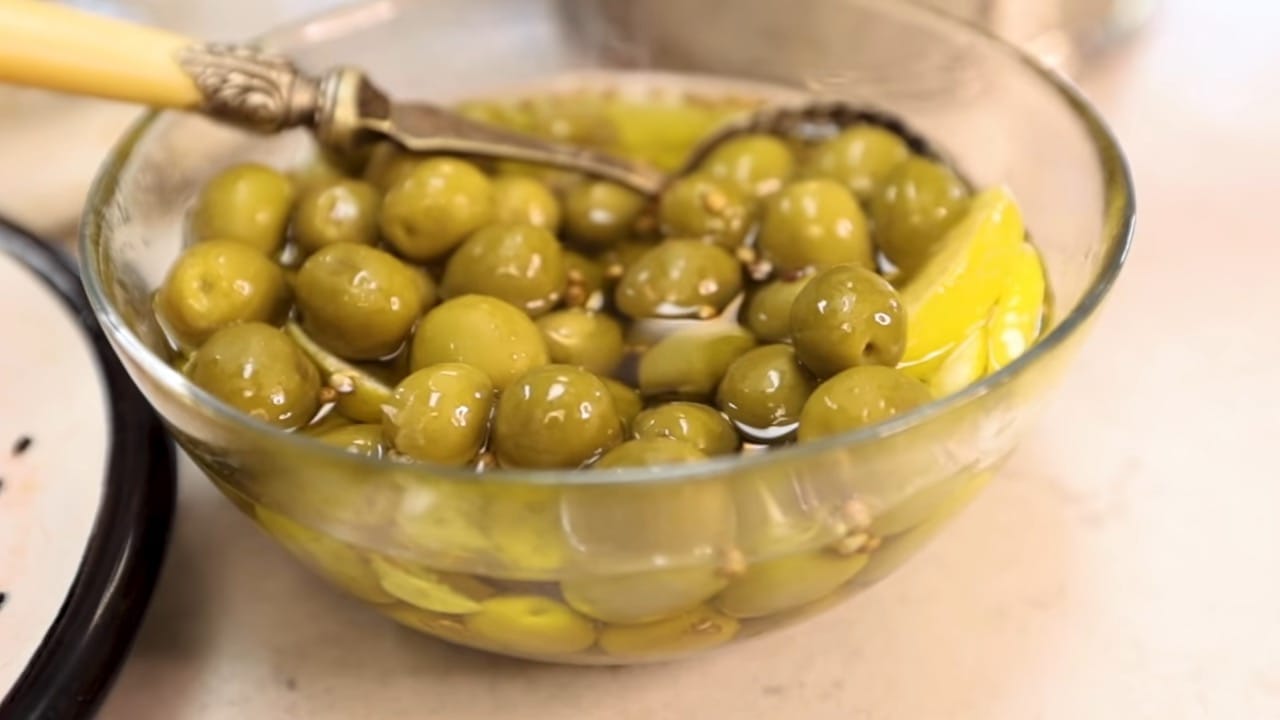 1 cup green olives
½ lemon , thinly sliced
1 clove of garlic
½ teaspoon coriander seeds
6 tablespoons olive oil
Black Olives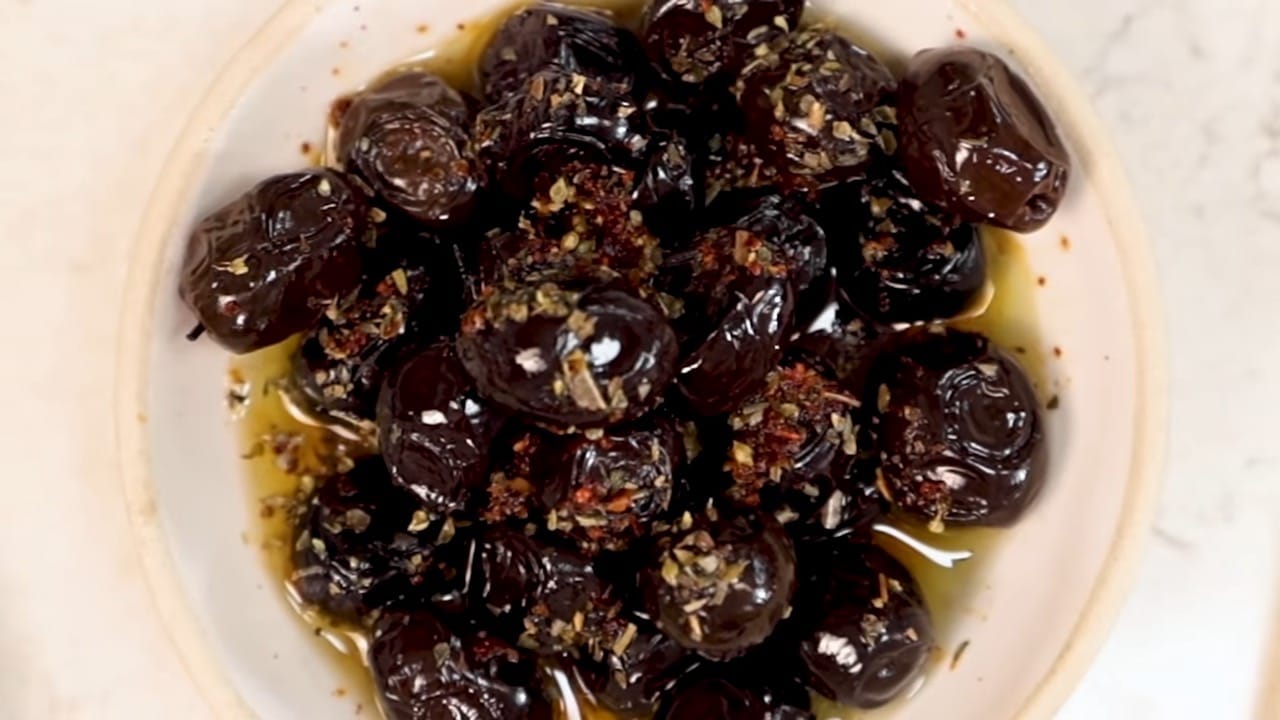 1 cup black olive
1 teaspoon oregano
1 teaspoon red pepper flakes
4 tablespoons olive oil
Tomato and cucumber salad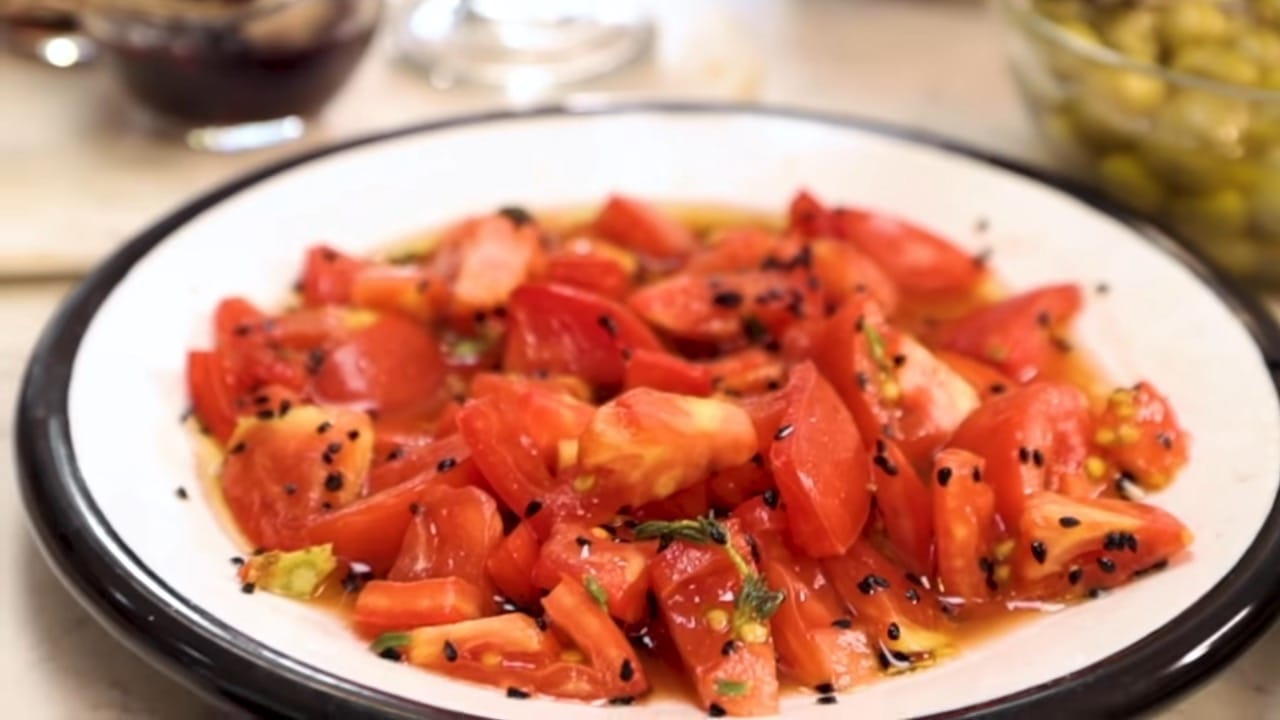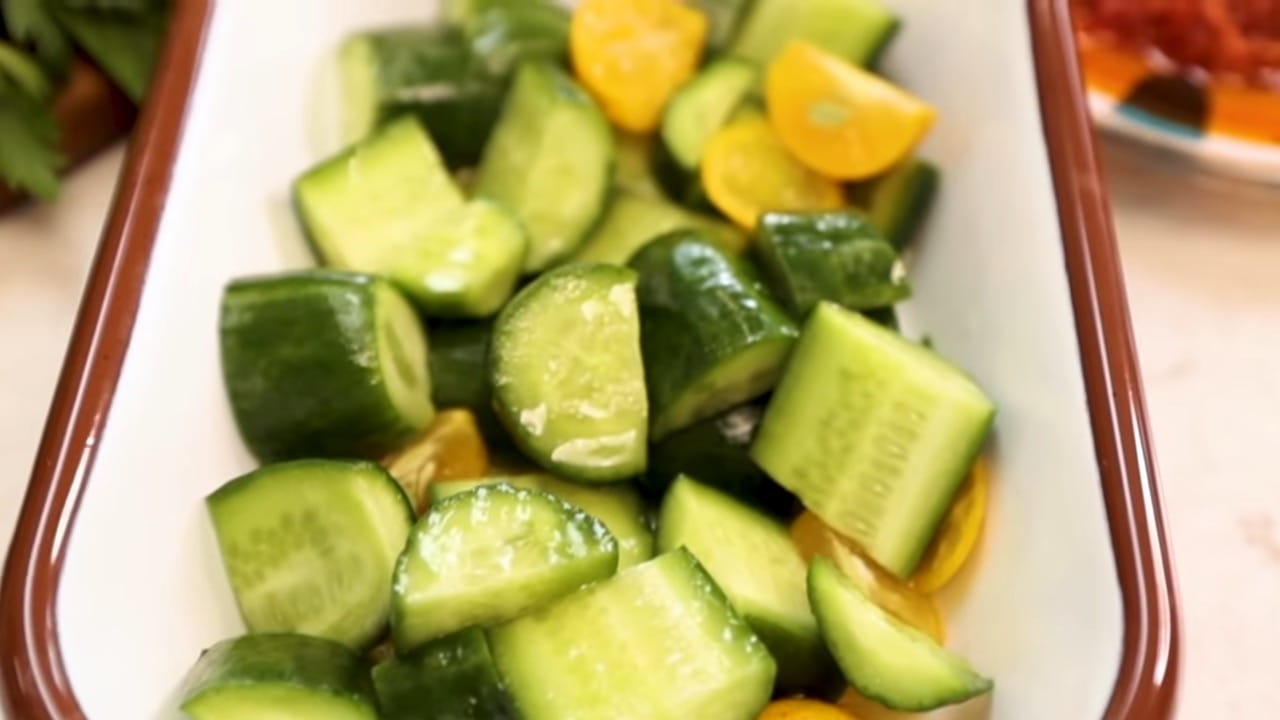 2 tomatoes, chopped
2 sprigs of thyme, leaves picked
1 teaspoon nigella seeds
3 tablespoons olive oil
Salt, to taste
2 small cucumbers, chopped
2 kumquats, sliced (alternatively, clementine or lemon)
Salt, to taste
Olive oil
Jams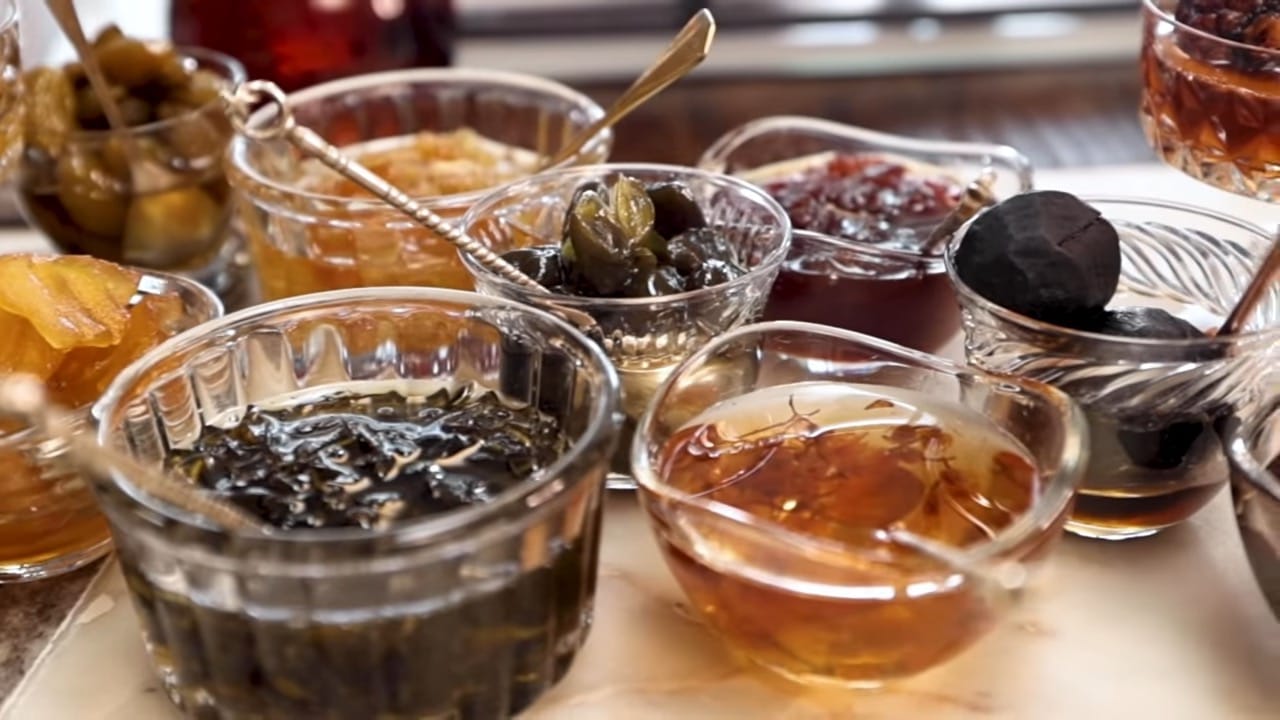 Any Turkish breakfast needs to include jam! The classic and most consumed ones are strawberry, cherry, and apricot. However, from pistachios to sage, everything can be made into a jam.

(Click on the ???? link ???? for the recipe)

Molasses and Tahini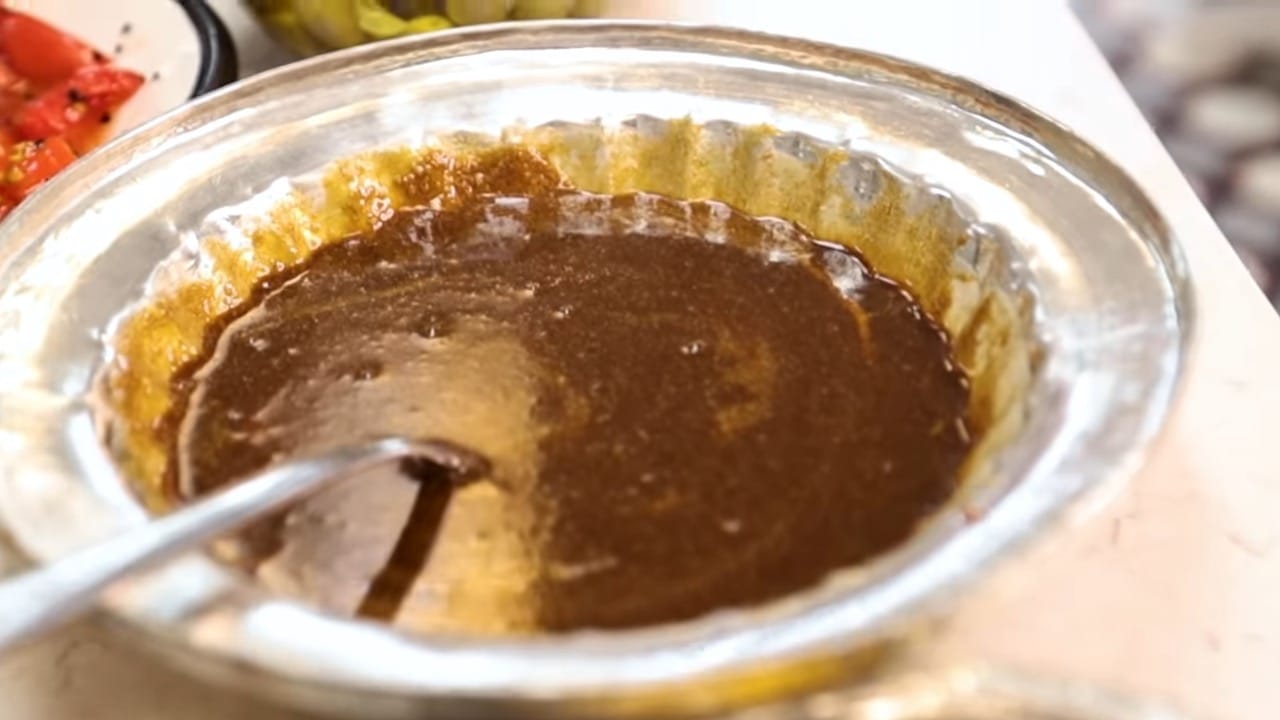 Molasses and tahini are two inseparable friends for Turkish breakfast. There are many types of molasses-like mulberry or carob but the grape is usually the most preferred to go with tahini. Mix an equal amount of tahini and molasses and dig in. 

Kaymak (Double clotted cream) and Honey

Another perfect marriage in a Turkish breakfast is honey and double clotted cream. Just place a couple of spoons of double-clotted cream in a dish and pour some honey over it. 
Börek- Gözleme (makes 5 servings)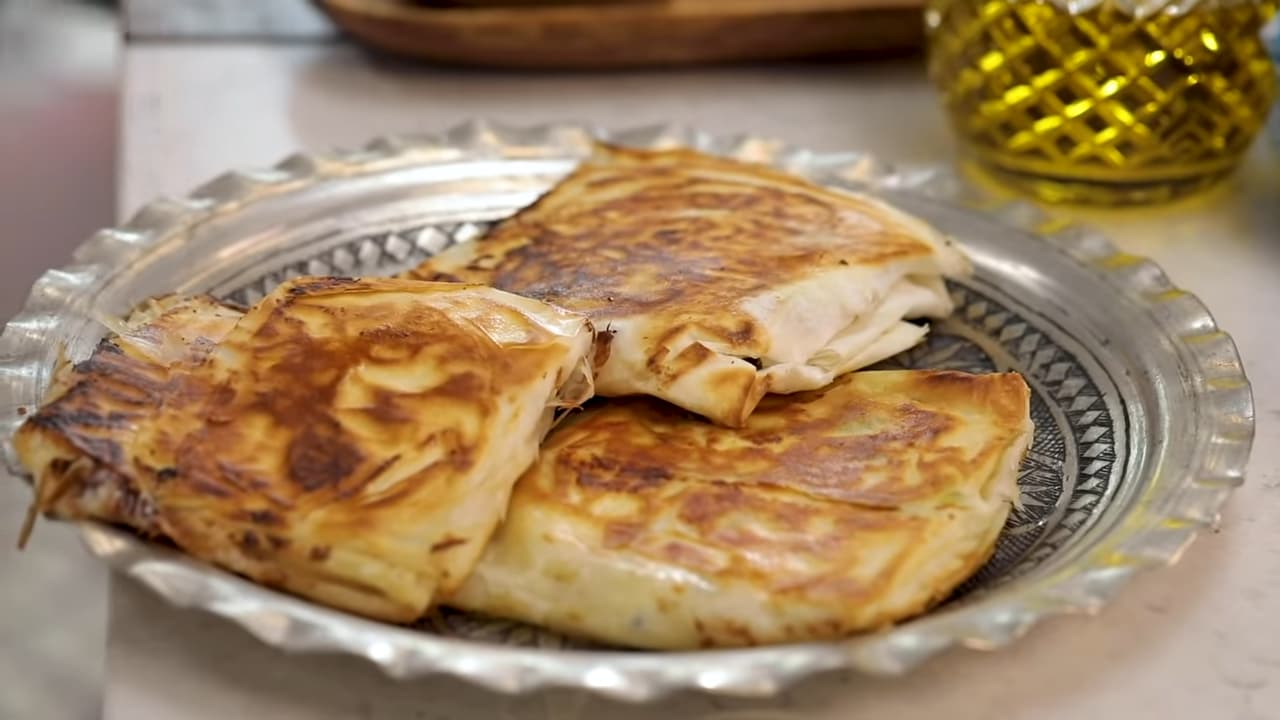 10 sheets of phyllo dough
5 slices of white cheese (you can use any cheese that you want)
1 tomato, thinly sliced
2 green peppers, sliced
1 onion, thinly sliced and rubbed with a pinch of salt
Fresh mint leaves
Nigella seeds
Pastrami
Black pepper
Salt
Chocolate spread
String cheese
Sunny-side up eggs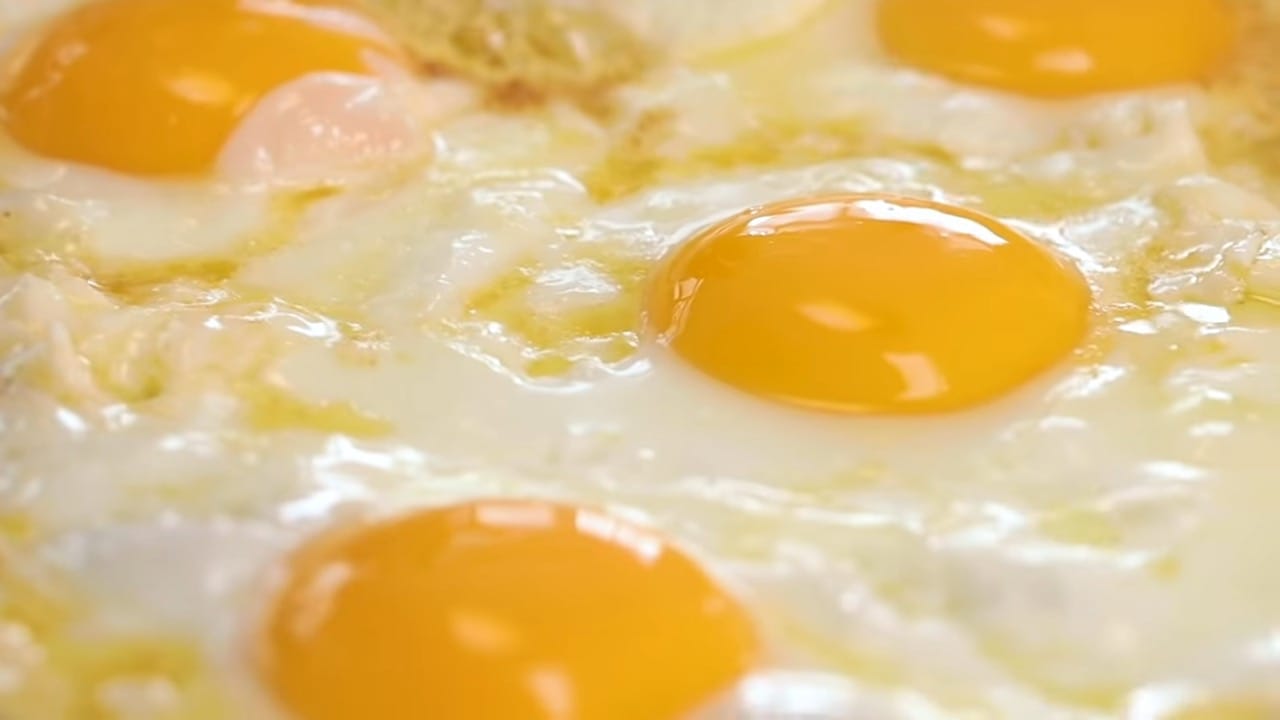 5 eggs
1 tablespoon butter
Salt
Red pepper flakes
Instructions
Green Olives
Crush the coriander seeds and the garlic. Mix them with the olives and the lemon slices. Squeeze some lemon and add the olive oil. You can store this beauty for up to one week and it will get tastier every day.
Black Olives
Mix the olives with the oregano, red pepper flakes, and olive oil in a bowl. Voila! Ready to enjoy.
Tomato and cucumber salad
Put all the ingredients in a dish and give them a good mix. This is a simple but perfect salad to dip your bread in. When it is off-season, you can use pepper paste with a drizzle of olive oil instead of tomatoes.
Another common fresh vegetable for breakfast is cucumber. Mix the cucumber with kumquat. Sprinkle some salt to your taste and finish with a drizzle of olive oil.
Turkish Breakfast Cheese Plate
To make the ultimate Turkish breakfast cheese platter, we chose four popular types of cheese- and of course our favorites- from among the many varieties of Turkish cheese.
White cheese is also known as feta. It can be young or aged but usually, younger cheese is preferred for breakfast and it is one of the essentials of the Turkish breakfast.
Dil peyniri (string cheese). It's a fresh cheese that tastes like you are eating milk with bites! The taste is close to mozzarella.
Bergama Tulumu is the parmesan of Turkey. More aged than white cheese, it has a more creamy texture. Can be mild and slightly sweet to strong.
Kaşar cheese is one of the most popular cheeses in Turkey. There are two types of Kaşar cheese, fresh and aged. Both types are eaten at breakfast. Fresh kaşar has a milky, mild taste and it gets stronger by aging.
To prepare the cheese plate, make different cuts for different cheeses and volume up the plate. Slice, dice, string or simply crumble.
Fresh herbs such as parsley, rocket, mint, or basil are always great for a breakfast or cheese plate.
Turkey is one of the best places for nuts and fruits so make sure to put some hazelnuts, almonds, or walnuts on your plate. Fresh or dried apricots, figs, or mulberries will give your plate some sweetness and color.
You can serve some cured meat as well. Pastırma is the most common one in Turkey.
Börek- Gözleme (makes 5 servings)
Place 2 sheets of phyllo dough on your counter. Sprinkle some salt between the sheets. 
Rip apart the one side of the phyllo dough to make it square-ish. Place the ripped pieces onto the center of the big piece.
At this stage, you can put whatever you like in your börek. If you want to make a traditional one, roughly crumble the white cheese, 4 slices of tomatoes, and green pepper.
Add a couple of fresh mint leaves and nigella seeds. You can add a slice of pastrami and some black pepper as well.
Fold the dough over the filling, forming a square.
Cook each side for about 2 minutes until it is crispy and golden-brown.
To make a little naughty börek, fill with melting cheese and chocolate spread.
Sunny-side up eggs
Heat a copper pan and melt the butter.
When the butter starts to brown, it is time to crack in the eggs.
Turn down the heat.
Cook until the egg white is brown on the bottom but the yolk is still runny. When you make a big batch, stir the egg whites without touching the yolks so the runny parts can cook easily.
Season with salt and red pepper flakes and dip the bread in the runny yolks!
Did You Make This Recipe?
---
Enjoy
Let us know what you think of today's Turkish Breakfast tips, tricks, and hacks!
#TurkishTea #TurkishBreakfast #TürkKahvaltısı #SerpmeKahvaltı