Muhammara is on the menu in Book recipe, and we are going to teach you how to make this delicious recipe from scratch!
Muhammara is a Syrian dip that is made using roasted red peppers and walnuts. When combined with pomegranate molasses and a few spices, they form a dip that is full of Sweet, Sour, and Umami flavors. It's a perfect dish for snacking on or serving as part of a Mezze spread.
Follow along with the ???? recipes below????????????????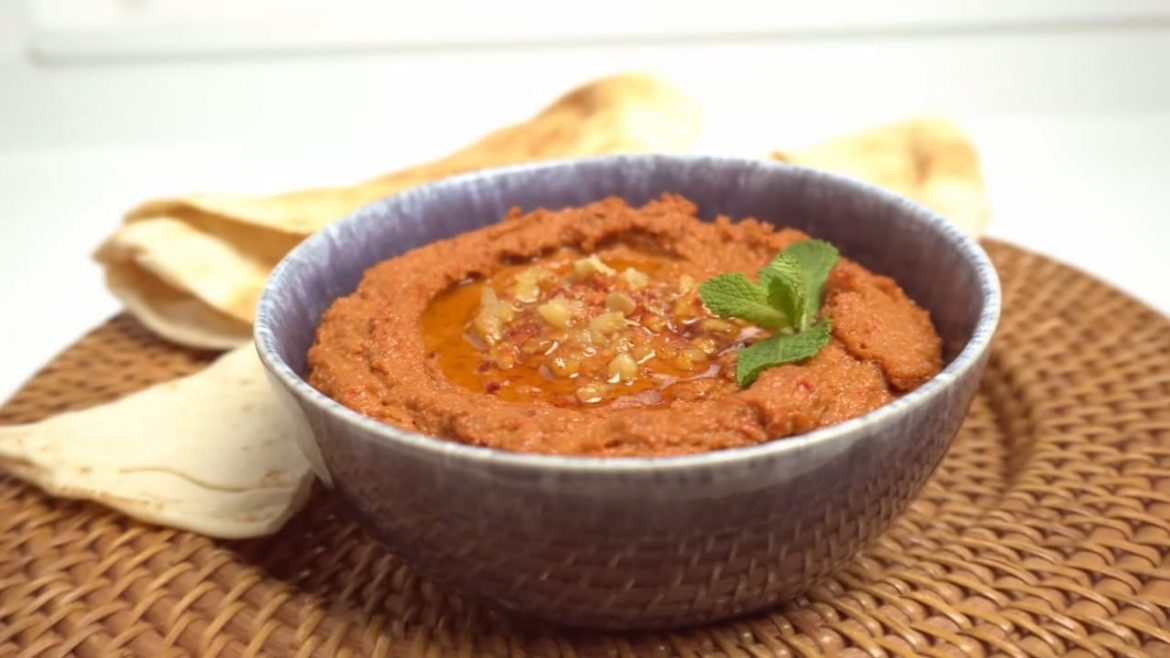 Ingredients
250g Cooked Red Pepper Flesh (about 3-4 Red bell peppers or 4-5 Paprika peppers)
60g Walnuts (extra for garnish)
60g Breadcrumbs
4 Tbsp Olive Oil
4 Tbsp Pomegranate Molasses
1 Tsp Aleppo Pepper
1 Tsp Salt
3/4 Tsp Ground Cumin
1/2 Onion
1 Tbsp Tahini
If you'd like to make the Lebanese version, you also need:
2 Tbsp Tomato paste
1/2 Tsp Sumac
Instructions
Place a pan over medium heat, and add your walnuts to the pan
Allow them to heat in the pan while stirring them for 5 minutes until a toasted aroma emerges. Remove from the pan immediately and allow to cool
Add your breadcrumbs to the pan and toast them for 5 minutes until they go a golden brown color, remove from the pan and allow to cool
Wash your peppers and trim off their stalks, then line a baking sheet with foil and place a wire rack on top
Place the peppers on the rack leaving some room around them, then slice an onion in half and add to the rack
Place the baking sheet under your broiler for about 8 minutes, until the top surface of your peppers is burnt. Rotate the peppers until all sides have been charred. You can also do this directly on the flame of a grill or stove
When your peppers have softened completely and are charred all over remove and place in a large bowl. Cover it immediately with plastic wrap and allow it to sit for 15 minutes
After 15 minutes, remove your peppers from the bowl and remove their skin, then open them and remove the core and any seeds
Once the peppers have cooled you can add them and the remaining ingredients to a food processor or blender
Blitz all the ingredients together until the dip forms. This will take about 2 minutes. You can leave it running for as long as you want to get a smoother consistency.
Plate in a bowl, then use a spoon to form a well in the center. Drizzle on some olive oil or pomegranate molasses, and add some Aleppo Pepper or Chopped walnuts for garnish
Serve and Enjoy
Did You Make This Recipe?
---
Enjoy
Let us know what you think of today's Muhammara tips, tricks, and hacks!